Notre Dame burns, plus issues of race on stage. I'm Carolina A. Miranda, staff writer at the Los Angeles Times, with your unredacted report on everything essential in art (and narco novelas):
Notre Dame in flames
The world watched in horror this week as Notre Dame, the 11th century Gothic cathedral that is one of the most important cultural symbols of France, burned. While the roof may be lost, the structure was spared — though it remains "vulnerable." Investigators are saying the fire may have been sparked by an electrical short.
Times reporters Emily Baumgaertner and Deborah Vankin have a thorough report on the crucial next steps in conservation. "The whole world is watching," says Marc Walton, director of the Center for Scientific Studies in the Arts at Northwestern University. "It has to be built for the next 1,000 years."
Times art critic Christopher Knight considers Notre Dame's historic and cultural legacies and its place among France's great cathedrals: "Architecturally not the most profoundly beautiful nor commanding, it was nonetheless destined to be the greater symbol."
Chicago Tribune architecture critic Blair Kamin writes that "the cathedral has come to represent French survival, having outlasted the Hundred Years' War, the French Revolution and two world wars."
Lauren Collins was on the roof of the building just last month to see how an ongoing renovation was coming along. "I was amazed at how fragile everything was, and how intimate its upkeep," she writes in the New Yorker. "The cathedral was the work of people, not machines."
MIT associate professor Michael Scott Cuthbert reports on Notre Dame's incredible musical history.
Sort of related: a 5th century church considered an architectural forebear of Notre Dame still stands in Syria — albeit in ruins.
And as donation pledges pile up for Notre Dame's rebuilding, many ask what about money for the poor or remembering the recent destruction of non-European cultural treasures such as the National Museum of Brazil or the ancient city of Palmyra.
One positive result: The Notre Dame fire helped inspire a rebuilding effort for three black churches in Louisiana lost to arson. As of this writing, more than $2.1 million has been raised for the churches on a GoFundMe page.
West Coast represent
Times classical music critic Mark Swed found all kinds of adventurous opera in Europe with West Coast connections — director Yuval Sharon's "The Magic Flute," "The Outcast," with a libretto by L.A. novelist Barry Gifford. But good luck seeing these works in the U.S. "Night after night I attended operas that were in one way or another West Coast-centric," he writes. "Most have little chance of crossing the pond." He writes about the reasons why.
Classical notes
Back in L.A., Mark Swed attended a birthday tribute to the late choreographer Merce Cunningham, "Night of 100 Solos: A Centennial Event" at Royce Hall and wrote: "I cannot find a metaphor for what it is like to witness what this was — a great life lived in dance being re-created without any sense of it being re-created, but actually being lived."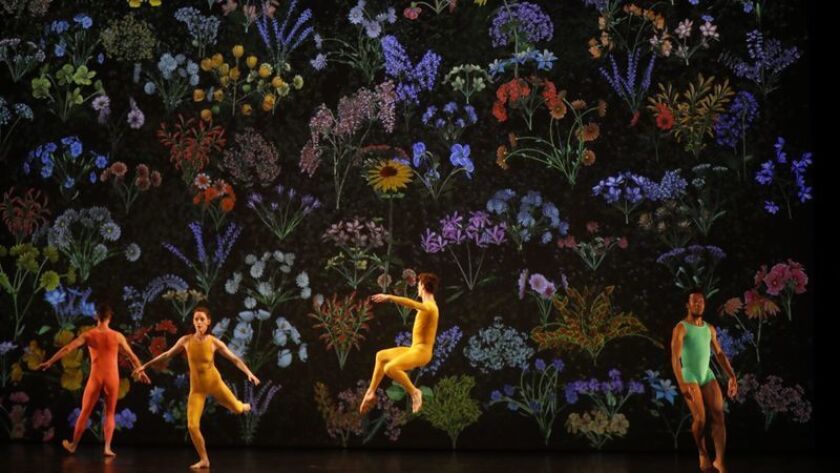 Swed also saw Esa-Pekka Salonen conduct "a climactic" version of Stravinksy's "Rite of Spring" at Disney Hall that left the "audience applauding for nearly half an hour."
The show was part of a concert series devoted to Stravinksy. On Thursday, this included the score for the ballet "Orpheus" and a performance of "Persèphone," with dance, song and spoken drama, directed by Peter Sellars — "the best of many worlds."
Driver's seat
Actor Adam Driver landed on Broadway this week as the hot-headed Pale in "Burn This," opposite Keri Russell. "What I initially loved about the play was the theme of loss," says Driver in a Q&A. "This was written in the 1980s and it was Lanford Wilson's AIDS play."
A three-decade collaboration
For nearly 30 years, director Oskar Eustis and Pulitzer Prize-winning playwright Suzan-Lori Parks have collaborated in some form. They've teamed up again on Parks' "White Noise" at New York's Public Theater, which explores questions of race. "The characters are like friends of mine," Parks tells Times contributor Richard Stayton. "You'd never think that behind this love they have for each other, there's this whole other thing. Racism is a virus and we all have it."
Plays about our moment
This is a good segue to Eleanor Burgess' "The Niceties," a "potent debate drama" at the Geffen Playhouse centered on an argument between a professor and her student that explores divergent views on progressive politics. Times theater critic Charles McNulty, says it "accurately describes a rupture that is happening not only in academia but also in politics, as establishment figures face off against a new generation of leaders."
McNulty also reviews "Tiny Beautiful Things" at the Pasadena Playhouse, adapted by Nia Vardalos from Cheryl Strayed's collection of "Dear Sugar" columns. It is, he writes, "a show of deep feeling and satisfying simplicity."
On the stage
The Times' Daryl H. Miller reports on a "polished" version of the stage musical "Singin' in the Rain" at the La Mirada Theatre for the Performing Arts.
Miller also writes about "Falsettos" at the Ahmanson Theatre, about a man who leaves his wife and son for a male lover. Its lack of connecting dialogue and "frenetic" melodies "can be a challenge," but when these "relax into lyricism" the music and words "reach deep inside and trigger all sorts of emotions."
In the galleries
Times contributing reviewer David Pagel caught a "gratifying" show of sculpture and painting by Julia Haft-Candell and Suzan Frecon at Parrasch Heijnen Gallery, and says Oli Epp's U.S. solo debut at Richard Heller Gallery "raises big questions about art, life and technology."
Of Christina Quarles' painting exhibition at Regen Projects, he finds "a sustained meditation on the complex ways our private desires and public identities interact with each other to shape our understanding of who we are."
'Narcos' vs. narco novelas
When I'm not poring over art monographs, I am watching an unhealthy number of Latin American TV dramas about drug trafficking. These are very different from U.S. shows, rendering an invisible narco state that inhales its victims voraciously, whether they intend to be inhaled or not. It's "the woman who falls in love with the wrong man, the bystander who becomes an accidental witness and therefore must be killed, the journalist who digs in the wrong place."
Ready for the weekend
I've got all the latest art happenings listed in my weekly Datebook, which include paintings by Mi Kafchin inspired by the unreal and the conspiratorial.
Philip Brandes has the 99-Seat Beat, which rounds up what's doing in small theaters, such as a gender scrambled take on "Macbeth" at Loft Ensemble.
Plus, Matt Cooper has the week ahead in music, art, dance and theater, as well as his weekend picks, including dance by Ballet Preljocaj.
In other news …
— L.A. composer Ellen Reid has won the Pulitzer Prize in music. (Plus, The Times nabbed one — its 45th overall — for investigative journalism!)
— Yo-Yo Ma stages a Bach concert at the U.S.-Mexico border.
— Laura Raicovich on museums being focused on "perpetual growth."
— "Still a little naughty." Scenes from the U.S. Pole Dance Championship.
— New York's City Ballet has been ordered to reinstate male dancers fired over explicit text messages.
— Cuban authorities have been arresting artists protesting Decree 349, a law that criminalizes independent artistic activity.
— Related: Artist Coco Fusco was recently denied entry into Cuba, presumably for her activism against the decree, while Tania Bruguera will not attend the 13th Havana Biennial in protest of the crackdowns.
— Plus, critic Christian Viveros-Fauné reports on the "milquetoast" Havana Biennial.
— L.A. artist Judy Baca is "heartbroken" over the unannounced removal of one of her freeway murals.
— The Los Angeles Times has a new book club hosted by veteran journalist Donna Wares.
And last but not least …
"I rolled up my flannel sleeves, exposing my prodigious forearms" and other scenes set in poorly researched men's fiction.
carolina.miranda@latimes.com | Twitter: @cmonstah
---