The Sports Report: Rajon Rondo doesn't help Lakers in return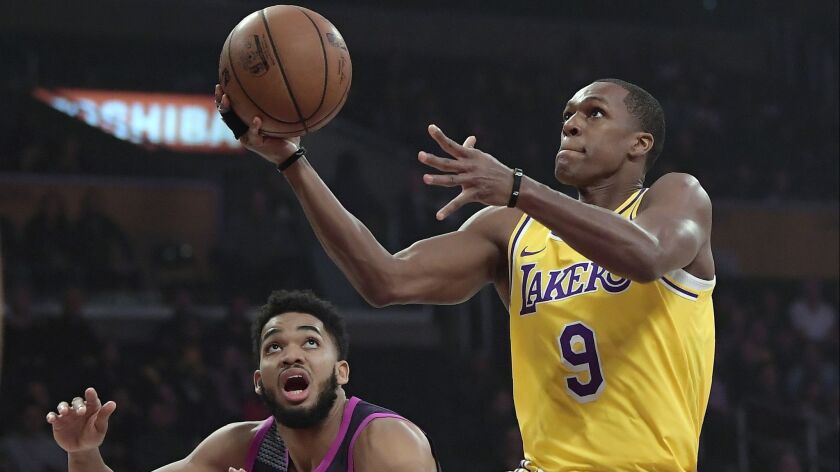 Howdy everyone, and welcome to the Friday edition of the Los Angeles Times daily sports newsletter. My name is Houston Mitchell and I'm your host for the festivities. Subscribe to this newsletter by clicking here.
Let's get to it.
Lakers
Rajon Rondo was supposed to return Thursday and help the Lakers stem the recent tide of play and steer the Lakers back into the playoff hunt. Well, he did return, but the Lakers lost to Minnesota, 120-105.
Minnesota center Karl-Anthony Towns scored 27 points and had 12 rebounds.
This just proves what everyone knows: The Lakers need LeBron James and without him they bear a strong resemblance to the poor team of the last couple of seasons.
Meanwhile, James was chosen to be one of two captains for this year's NBA All-Star game. Read more about it here. I'd write more about it myself, but does anyone care about the All-Star game?
Dodgers
The Dodgers attempted to address their need for right-handed hitting (a need mysteriously created by them trading two right-handed hitters in Yasiel Puig and Matt Kemp) by signing free-agent outfielder A.J. Pollock to a five-year, $60-million deal.
Bill Plaschke is not happy, because it likely means the team is not getting Bryce Harper.
For a deeper look at the trade, make sure you are subscribed to our Dodgers newsletter, which you can sign up for here.
Rams
Jared Goff could be forgiven a bit if he was a little intimidated stepping onto the Super Bowl field to take on Tom Brady.
But he's not.
"I was probably 7 or 8 years old when he was winning Super Bowls to begin with," Goff said Thursday, "and now I get a chance to play in one with him."
Goff said he was ready for the challenge.
"You don't have a choice — you better get ready," Goff said. "It'll be fun. I'm excited."
Read more in this Gary Klein story.
When is the Super Bowl?
It will be on Sunday, Feb. 3 at 3:30 p.m. on CBS.
Who will win?
The last polls we did were successful, so let's do it again. Who will win the Super Bowl? Click here to vote. We'll announce the results on game day.
USC football
Losing Kliff Kingsbury has cost the Trojans a top recruit.
Five-star athlete Bru McCoy, the jewel of USC's 2019 recruiting class, has decided to transfer just two weeks after starting classes at USC as an early enrollee.
McCoy, a receiver, had not committed when USC until they hired Kingsbury to be the offensive coordinator. Kingsbury convinced McCoy that he would be a vital piece of his new offense. A few days later, Kingsbury left the Trojans for the NFL.
UCLA basketball
The honeymoon is officially over for interim coach Murry Bartow, as his Bruins lost to Arizona State, 84-73, before a lackluster crowd at Pauley Pavilion.
"The energy's great, the spirit's great," Bartow said, "we just have to play better."
That's what the band on the Titanic said too.
Dylan Hernandez takes a look at the sputtering ship here.
USC basketball
Kevin Porter Jr., who had been suspended a couple of games because of a conduct issue, returned to the floor Thursday night against Arizona and led the Trojans to an 80-57 victory over Arizona.
USC coach Andy Enfield said he saw enough improvement in Porter's understanding of his expectations as an elite college basketball player to let him play, but that his situation would be evaluated weekly from here on out.
"Kevin came in and played within the flow of the offense and played good defense, and he just fit in perfectly," Enfield said. "You can see he's talented in certain areas. We need him to learn on the fly here because he's missed so much time this year."
Golf
Jon Rahm shot a 10-under-par 62 to take the lead in the Farmers Insurance Open at Torrey Pines. Rahm was playing on the North Course, and his 62 was two strokes better than the previous low on the North since it was renovated by Tom Weiskopf before the 2017 tournament. Jason Day shot 64 last year on his way to the tournament title.
Meanwhile, some guy named Tiger Woods shot a 70.
Horse Racing
Triple Crown winner Justify won the Eclipse Award for Horse of the Year, defeating Accelerate in voting, 191-54. Monomoy Girl finished third with two votes. Which brings to mind a question: Who voted for Monomoy Girl?
Anyway, for a breakdown of all the winners, click here.
Sports Podcast
On the latest episode of the "Arrive Early, Leave Late" podcast, columnist Bill Plaschke gives his prediction for Super Bowl LIII between the Rams and the New England Patriots.
He also discusses Los Angeles having a team in the Super Bowl for the first time in 35 years, his feelings toward the Patriots, what it's been like covering the Rams and his expectations for the big game.
Later, longtime prep sports reporter Eric Sondheimer talks about how the Los Angeles teachers' strike affected high school sports, including the upcoming playoffs and the long-term ripple effect.
You can listen to the podcast by clicking here.
Best sports movies ever
It's Oscars season, so The Sports Report is going to take advantage of that natural tie-in to poll all of you on what the best sports movie of all time is. We will break it down first by sport, starting with football. So, what are the five best football movies of all time? Remember, we're asking for best, not favorite (unless they coincide of course). You can click here to vote, or you can email me your picks by clicking here. Almost 4,000 ballots have already been cast, so make sure your voice is heard!
A quick breakdown of the football nominees:
Any Given Sunday (1999): Starring Al Pacino
The Blind Side (2009), starring Sandra Bullock
Brian's Song (1971), starring James Caan and Billy Dee Williams
Concussion (2015), starring Will Smith
Draft Day (2014), starring Kevin Costner
The Freshman (1925), starring Harold Lloyd
Friday Night Lights (2004), starring Billy Bob Thornton
Gridiron Gang (2006), starring Dwayne "The Rock" Johnson
Gus (1976), starring Don Knotts, Ed Asner and Gus, the football kicking mule
Horse Feathers (1932), starring The Marx Brothers
Invincible (2006), starring Mark Wahlberg
Jerry Maguire (1996), starring Tom Cruise
Knute Rockne, All American, (1940) starring Pat O'Brien and Ronald Reagan
Leatherheads (2008), starring George Clooney
The Longest Yard (1974), starring Burt Reynolds
The Longest Yard (2005), starring Adam Sandler
Necessary Roughness (1991), starring Scott Bakula
North Dallas Forty (1979), starring Nick Nolte and Mac Davis
The Program (1993), starring James Caan
Radio (2003), starring Cuba Gooding Jr.
Remember the Titans (2000), starring Denzel Washington
The Replacements (2000), starring Keanu Reeves and Gene Hackman
Rudy (1993), starring Sean Astin
Semi-Tough (1977), starring Burt Reynolds and Kris Kristofferson
Varsity Blues (1999), starring James Van Der Beek
The Waterboy (1998), starring Adam Sandler
We Are Marshall (2006), starring Matthew McConaughey
Wildcats (1986), starring Goldie Hawn
Again, we're asking for best, not favorite (unless those two things coincide of course). You can click here to vote, or you can email me your picks by clicking here.
This date in sports history
1939: Joe Louis knocks out John Henry Lewis in the first round to win boxing's heavyweight title.
1945: Dan Topping, Del Webb and Larry MacPhail but the New York Yankees for $2.8 million.
1981: The Oakland Raiders defeat the Philadelphia Eagles, 27-10, in Super Bowl XV.
1987: The New York Giants defeat the Denver Broncos, 39-20, to win Super Bowl XXI.
1998: The Denver Broncos defeat the Green Bay Packers, 31-24, to win Super Bowl XXXII.
Notable births on this date
1924: NFL star Lou "the Toe" Groza.
1962: NHL star Chris Chelios.
Ask a Times sportswriter
A new feature of this newsletter will be you, the loyal subscriber, being able to ask any Times sports reporter a question. Just click here to send me an email. Include in the email who you want to ask a question of and what your question is. I'll pass it on and it will be answered in a future newsletter. Ever wanted to ask Bill Plaschke a question? Want to ask Tania Ganguli a question about the Lakers? Have a question for Sam Farmer about the NFL? Click here and ask away. But make sure you let me know which sportswriter you want answering the question.
And finally
That concludes the newsletter for today. If you have any feedback, ideas for improvement or things you'd like to see, please email me here. If you want to subscribe, click here.
---
Get our high school sports newsletter
Prep Rally is devoted to the SoCal high school sports experience, bringing you scores, stories and a behind-the-scenes look at what makes prep sports so popular.
You may occasionally receive promotional content from the Los Angeles Times.