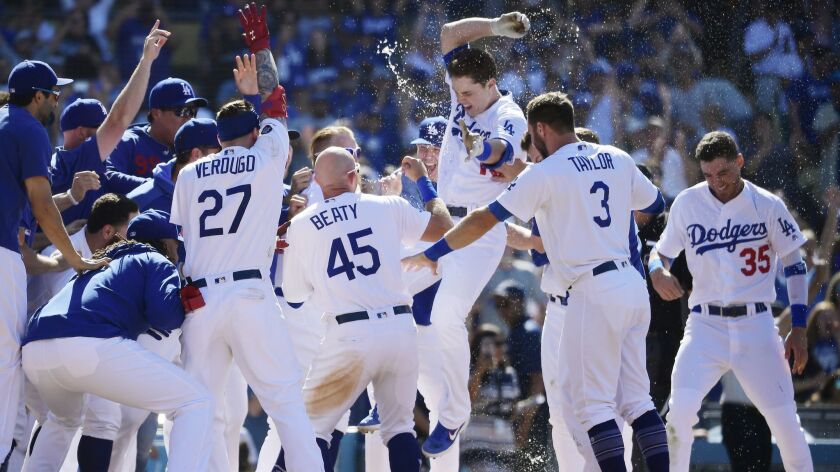 Howdy, my name is John Cherwa and if you've been reading this newsletter for the last two weeks, after today you should feel like you are Indiana Jones surviving the Temple of Doom. The good news is that Houston Mitchell will be back tomorrow. Standing O's are acceptable at this point.
What a way to go out
How appropriate that our lead story is another walk-off home run, as this is my walk-off newsletter … if you don't count the horse racing newsletter. So, now to Mike DiGiovanna's report. Long and short.
"Will Smith was hanging out with his triple-A teammates in the clubhouse of Oklahoma City's Chickasaw Bricktown Ballpark Saturday night when Alex Verdugo hit an 11th-inning walk-off home run for the Dodgers.
"'We were actually watching the game when Dugie hit it,' said Smith, one of the Dodgers' top catching prospects. 'It was pretty cool.'
"Less than 24 hours later, Smith starred in a rerun of not only Saturday night's game against Colorado but Friday night's game, which the Dodgers won on a Matt Beaty walk-off homer in the ninth.
"Smith, who was called up to the Dodgers late Saturday and caught a 6 a.m. flight from Oklahoma City to Los Angeles on Sunday, drove a pinch-hit three-run homer to right-center field in the ninth inning to lift the Dodgers to a stunning 6-3 victory over the Rockies before 50,023 in Dodger Stadium.
"No team in major league-history had won consecutive games on walk-off homers by rookies before this weekend. Beaty, Verdugo and Smith, who also hit a walk-off homer on June 1 against Philadelphia in his first stint with the Dodgers, made it three in a row to complete a three-game sweep of the Rockies.
"'That was sick,' said Chris Taylor, whose pinch-hit three-run homer in the seventh turned a 2-0 deficit into a 3-2 lead. "I think we're all still in shock. Three nights in a row, walk-off homers by three rookies. It's special to be able to do that.
"'I think it takes some serious nerve to calm yourself in those situations, and [Smith] has done it twice. It's pretty impressive. It's too bad we don't have another home game. We were saying it's [rookie outfielder Kyle] Garlick's turn.'
It marked the first time since May 31-June 2, 2010, that the Dodgers won three straight games in walk-off fashion, those coming against Arizona. Beaty, 26, Verdugo, 23, and Smith, 24, were in high school then. Today, they're adding new meaning to baseball's 'Let the Kids Play' marketing slogan.
Women's World Cup
We're finally to game day for the quarterfinal match of the U.S. vs. Spain. And you can't help but think of, say, Nick Saban of Alabama football (the real football), talking about how tough their Division I-AA opponent will be, well, the U.S. is talking up Spain like it beat Thailand, 13-0.
I hope our own Kevin Baxter didn't buy into it, but our faithful scribe is accurately reporting what members of the women's team are saying. So, let's move on to two versions of his story, the long version here and shorter version below.
"The rest of the world is catching up to the U.S. women's soccer national team.
"That progress hasn't shown up on the scoreboard yet, where the Americans have lost one game in the last 23 months. But with domestic leagues growing around the globe and national federations increasing their investments in women's soccer, the level of play in the Women's World Cup has never been better.
"'The quality of every team, top to bottom, continues to get better,' said U.S. forward Megan Rapinoe. 'All these teams that maybe in the past haven't been so formidable are getting so much stronger.'
"The U.S. faces one of those teams Monday when it meets Spain in a round-of-16 game in Reims, where the Americans opened their World Cup with a 13-0 victory over Thailand nine days ago. The winner will play France in the quarterfinals Friday in Paris.
"Few teams have improved more than Spain since the last world championship. Playing in the tournament for the first time four years ago, Spain went quietly, scoring two goals and earning only a tie to finish last in its group.
"Since then, the women's game has grown tremendously. Barcelona, which finished second in the country's domestic league, last month became the first Spanish team to reach the Champions League final and in 2018 the U-17 national team won its World Cup and the U-20s finished second in that tournament.
"'There's less distance between the top teams,' midfielder Alexia Putellas said in Spanish. "When we play them, we can see what that level is like. And we know the work we have to do to get there.'
"U.S. coach Jill Ellis says Spain's experience is reflected in a major expansion of women's soccer throughout Europe. Of the nine European teams that qualified for this World Cup, five won their groups and eight advanced to the second round, making up half the field of 16.
"Half of those teams are already in the quarterfinals."
Round of 16 games (PDT)
Saturday's results
Germany 3, Nigeria 0
Norway 1, Australia 1 (Norway wins on penalty kicks)
Sunday's results
England 3, Cameroon 0
France 2, Brazil 1
Monday's schedule
Spain vs. United States, 9 a.m., FS1
Sweden vs. Canada, 12 p.m., FS1
Tuesday
Italy vs. China, 9 a.m., FS1
Netherlands vs. Japan, FS1
Rest of the schedule (PDT)
Quarterfinal games, June 27-29
Semifinal game, July 2, noon, Fox
Semifinal game, July 3, noon, FS1
Third-place game, July 6, 8 a.m., Fox
Final, July 7, 8 a.m., Fox
Push for Kawhi Leonard
This next story isn't entirely important but just sort of funny. I'm never sure who actually looks at billboards on the freeway but you know in Los Angeles you'll have plenty of time to read it. The only place traffic moves more slowly is on a rental car bus trying to navigate around the LAX traffic loop. (Can you guess where I'm writing this from?)
Anyway, our Andrew Greif sleuthed (if there is such a word) this one out and it only has one version.
"With NBA free agency opening just around the corner on June 30, a pair of digital billboards wooing NBA Finals most valuable player Kawhi Leonard went live over the weekend in Southern California.
"The billboards are located along northbound Interstate 5 in Downey. One is an image of a California vanity license plate featuring the word KAWHI. Another says King of SoCal plus #KAWHI2LAC.
"The Clippers are one of several teams attempting to sign Leonard, a Southern California native and two-time NBA champion, in free agency should he decline a player option with Toronto for next season, which he is expected to do.
"The person or group behind the effort wasn't immediately known but a Clippers spokesman said the organization had nothing to do with the billboards. Because Leonard is still currently under contract with Toronto, the billboards could constitute a tampering violation if the Clippers were involved."
Odds and ends
Angels beat Cardinals to conclude Albert Pujols' emotional return to St. Louis. … Santa Anita's tragic racing season ends Sunday amid an uncertain future. … Ex-NFL players want to join XFL even if there's skepticism it will survive. … Sparks fall to Mercury as losing streak stretches to four games. … Martin Truex Jr. wins NASCAR Cup race at Sonoma. … Darrell Waltrip provided plenty of lasting memories during Fox's NASCAR coverage.
Other newsletters
We also have five other newsletters you can subscribe to for free. They are emailed to you and we don't sell your name to other companies, so no spam from us. They are:
Our Dodgers newsletter, written by Houston Mitchell. Subscribe here.
Lakers newsletter, written by Tania Ganguli. Subscribe here.
Horse racing newsletter, written by John Cherwa. Subscribe here.
Boxing/MMA newsletter. Subscribe here.
Soccer newsletter, written by Kevin Baxter. Subscribe here.
Monday's local sports schedule
Dodgers at Arizona, 6:30 p.m., Sportsnet LA, AM 570
Born on this date
1895: Boxer Jack Dempsey
1911: Race car driver Juan Manuel Fangio
1931: Golfer Billy Casper
1945: Tennis player Betty Stove
1958: Golfer T.C. Chen
1960: Golfer Juli Inkster
1961: NHL player Bernie Nicholls
1963: Soccer player Preki
1964: NHL player Gary Suter
1982: NHL player Jarrett Stoll
1984: NBA player J.J. Redick
1987: Soccer player Lionel Messi
Died on this date
1984: NHL president Clarence Campbell, 78
And finally
It's always fun to go in the way-back machine and look at someone from the distant past. And in honor of Jack Dempsey's birthday, we'll look at the legendary boxer. Just click here.
That concludes the newsletter for today. If you have any feedback, ideas for improvement or things you'd like to see, please email us here. If you want to subscribe, click here.
---