Newsletter: Essential Arts: Salonen's West Coast return, banned music and correcting the record on abstraction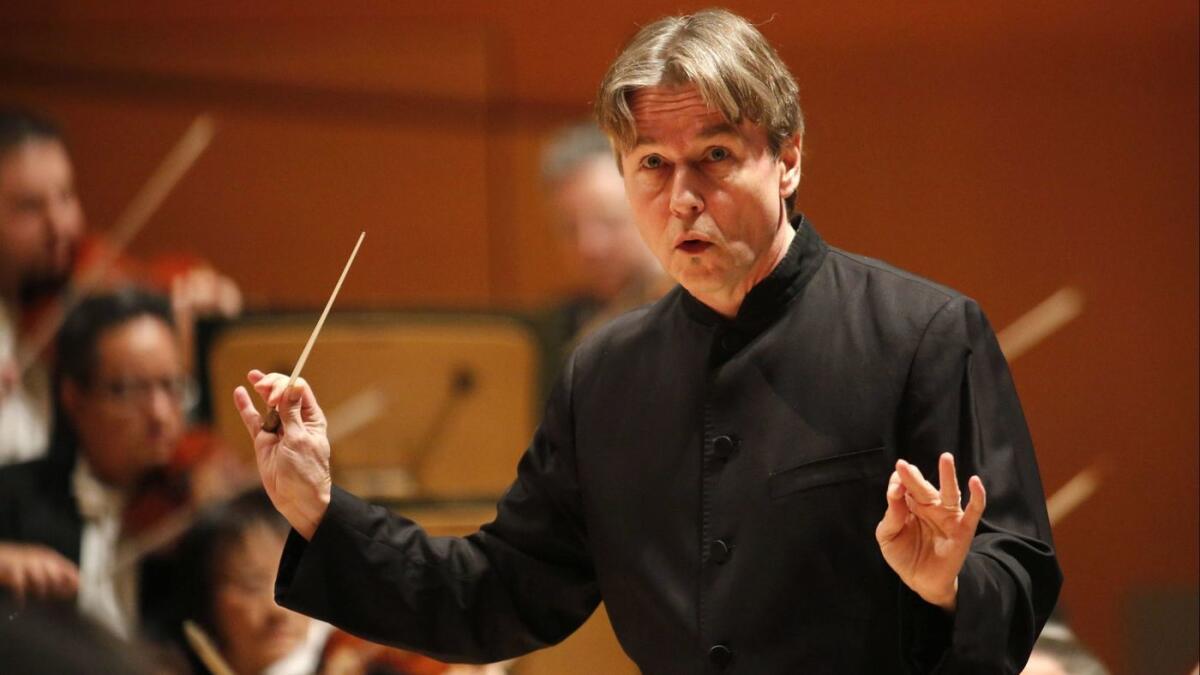 Allo, Los Angeles! I'm Los Angeles Times staff writer Carolina A. Miranda, happy that the sun is back and my dog is dry and it's time for the week's essential arts news:
GOIN' BACK TO CALI
Esa-Pekka Salonen, the visionary music director of the L.A. Phil from 1992 to 2009, is taking over the San Francisco Symphony in 2020. Salonen, who is currently at the Philharmonia in London, tells Times classical music critic Mark Swed that he didn't think he'd serve as a musical director in the U.S. again, but when San Francisco came calling, he reconsidered. "It's California," he says. "Somehow things are possible in this part of the world that are not possible elsewhere." Los Angeles Times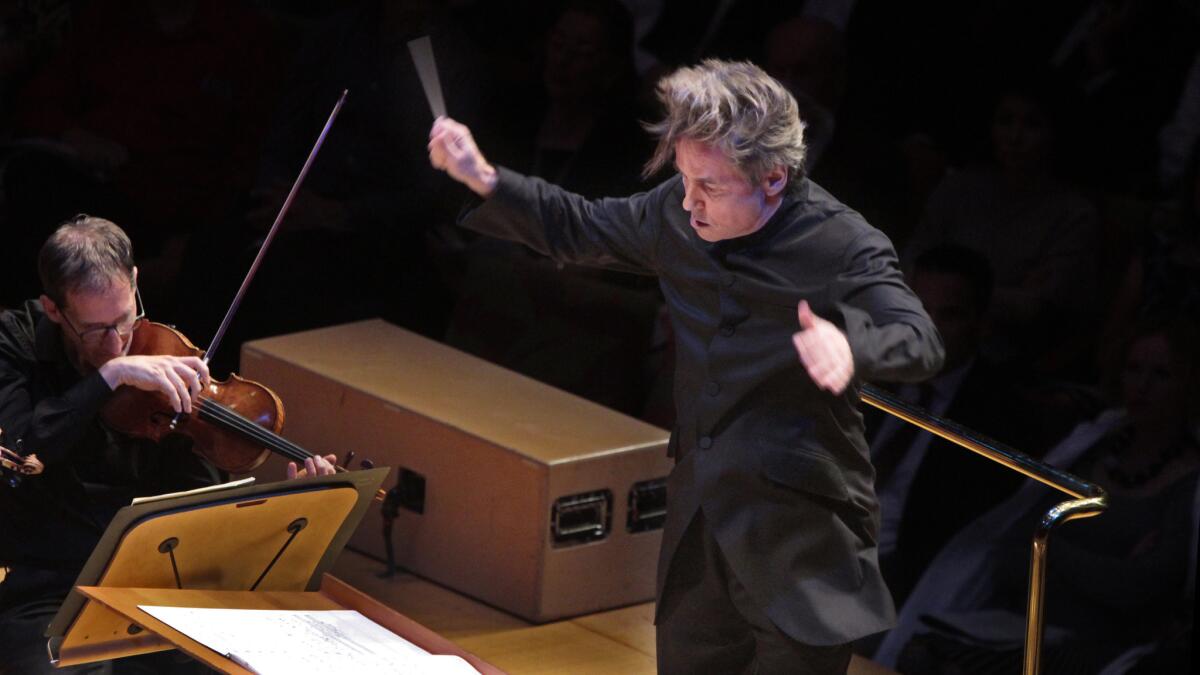 Salonen, notes music writer Alex Ross, "has a knack for landing in environments where the grid is less fixed." New Yorker
Plus, "the move solidifies the West Coast's position as the center of American orchestral experimentation," writes Michael Cooper. New York Times
MUSIC FROM BANNED COUNTRIES
In response to President Trump's executive order that banned travel from seven Muslim majority countries, the Kronos Quartet created a musical program "Music for Change: The Banned Countries." Performed at UC Santa Barbara, the music, which hailed from Middle Eastern and African nations, reports Mark Swed, offered "a journey of discovery." Los Angeles Times
Swed also checked out Michael Tilson Thomas' "Four Preludes on Playthings of the Wind" at Walt Disney Concert Hall, an "extraordinary" homecoming for the L.A.-born composer and conductor. Los Angeles Times
BEAUTY AND HORROR
In bright patterns composed of paint, fabric and other materials, L.A. artist Merion Estes channels some of the darker aspects of human existence, including political strife and environmental collapse. The artist has a solo show at the Craft & Folk Art Museum. Art critic Christopher Knight reviews her "extravagant paintings." Los Angeles Times
GETTING THE STORY STRAIGHT
Knight also has a look at the exhibition of Victor Hugo's drawings at the Hammer Museum in the context of the rapturous reviews emerging from a show of Swedish painter Hilma Af Klint's work at the Guggenheim Museum. Some reports have been hailing her as the first modern artist to take to abstraction. Knight says not so fast: Not only do Hugo's moody ink blots, made while he was in exile, predate Af Klint's work by half a century, the idea that the invention of abstract art could be attributed to any one artist overlooks that abstraction "is found in most every culture in every age, including prehistoric." Los Angeles Times
THE MAN FRAMING R&B
Over the course of a storied career, photographer Bruce Talamon has chronicled the musicians who have given R&B its grooving inflections. Now a decade's worth of his photos are being gathered in his new book "Bruce W. Talamon, Soul. R&B. Funk. Photographs 1972-1982." Funnily, his career began with a lie at a Miles Davis concert. "The usher said, 'You have to go back to your seat, sir,' " Talamon told The Times' Makeda Easter. "And I said … 'Well, I'm a photojournalist from Jet magazine.'" He got the pic. Los Angeles Times
A FAMILY OF ARTISTS
A show on view at the Armory Center for the Arts in Pasadena brings together art work by three generations of Inuit women from a single family: Pitseolak Ashoona, her daughter Napachie Pootoogook, and her daughter Annie Pootoogook. It tells a story of these women at a time when tradition was succumbing to ravages of colonialism. Their work conveys "the harshness" and "the difficulty" of life in the Arctic, curator Andrea Hanley tells me, "but the beauty of it too." Los Angeles Times
THE SELLING OF STREET ART
L.A. artist Ron English recently acquired a Banksy mural at auction and then announced he would whitewash it as a statement about the art market. The art market got super excited. The Times' Jessica Gelt has the whole ironic story. Los Angeles Times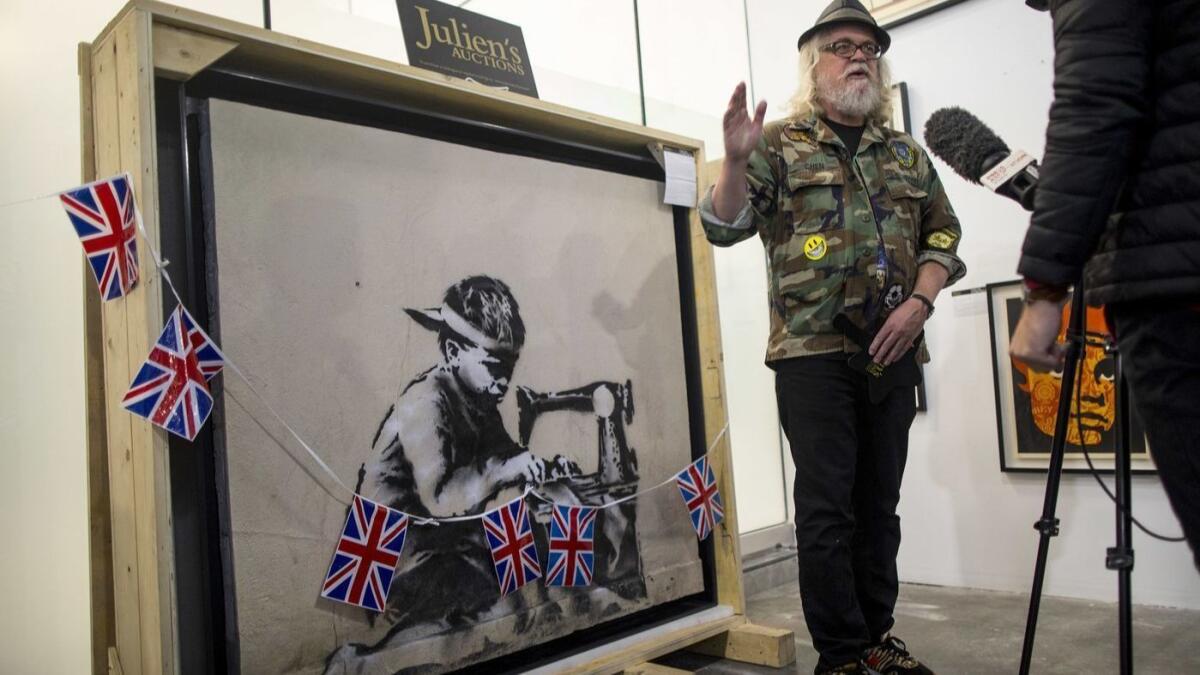 MUSEUM NEWS
Italy's Supreme Court has ruled that "Victorious Youth," one of the J. Paul Getty Museum's most prized antiquities, should be repatriated to Italy. A rep for the Getty tells The Times's Deborah Vankin that the museum "will continue to defend our legal right to the statue." Los Angeles Times
Elsa Longhauser, the director of the Institute of Contemporary Art, Los Angeles, will step down from her post next year. Los Angeles Times
Vankin also reports on the Academy Museum's just announced lineup of shows, including an exhibition devoted to filmmaker Hayao Miyazaki. Los Angeles Times
And the Hammer Museum has announced curators for the 2020 "Made in L.A." biennial: Myriam Ben Salah and Lauren Mackler, plus, for the first time, an assistant curator for performance, Ikechukwu Onyewuenyi. Los Angeles Times
GRAMMY NOMINATIONS ARE IN
The Times' Jessica Gelt rounds up Grammy nominations in musical theater, which featured an upset: The TV special "Jesus Christ Superstar Live in Concert" got nominated along popular Broadway shows. Los Angeles Times
Contributor Richard S. Ginell breaks down the Grammy's classical music categories: The Seattle Symphony leads with a total of three nominations, and contemporary operas by Mason Bates and John Adams are part of the mix. Los Angeles Times
Plus, our music team has the scoop on all the Grammy nods. Los Angeles Times
A CLOSET OF ONE'S OWN
Jessica Gelt reports on "Sara Berman's Closet" on view at the Skirball Cultural Center. The installation — a meticulous re-creation of Berman's fastidious closet, with its all-white, starched clothing — is a tribute to the late Berman by her daughter, illustrator Maira Klaman, and her grandson, Alex Kalman. The piece, writes Gelt, is "a testament to the power of an individual life." Los Angeles Times
ON STAGE
Daryl H. Miller has a look at Musical Theatre West's staging of "Elf: The Musical." It's got spectacle and "a spirit of irrepressible optimism," he notes, but overall the show "lacks the magic of the 2003 movie headlined by Will Ferrell." Los Angeles Times
READY FOR THE WEEKEND
Matt Cooper has his weekend picks, which include a theatrical tribute to the Virgin of Guadalupe. He also surveys the week ahead in SoCal classical music, with plenty of "Messiah" and more holiday music; museum openings, including a show of work by National Geographic women photographers; theater openings and dance,
F. Kathleen Foley rounds up the 99-seat Beat which includes a holiday comedy with shirtless elves, and in my weekly Datebook list all the latest shows, including 2,000 years of treasures from Sri Lanka.
IN OTHER NEWS…
— Anish Kapoor has reached an out-of-court settlement with the National Rifle Association after the group used his work in a TV ad. Artnet
— The Molina family from Long Beach made a $10 million gift for the Smithsonian's first permanent Latino gallery space. Long Beach Post
— Critic Ben Brantley is seriously digging Bryan Cranston's turn in the stage version of "Network." New York Times
— "A chimerical balance of fitting in while managing to stand out on its own terms." Critic Mark Lamster reviews Johnston Marklee's design of the Menil Drawing Institute. Dallas Morning News
— The L.A. City Council backs historic status for two L.A. Times buildings in downtown — but not the 1973 addition by William Pereira. Los Angeles Times
— David Gebhard and Robert Winter's "An Architectural Guidebook to Los Angeles," first published in 1965, has a new, updated edition. Los Angeles Times
— Speaking of guides: a comic about what to see at LACMA after hitting the local dispensary. Hyperallergic
— I don't know about you about I love reading about the plague. The Atlantic
AND LAST BUT NOT LEAST…
Nine times great artists made bad art. Artsy
Sign up for our weekly Essential Arts & Culture newsletter »
carolina.miranda@latimes.com | Twitter: @cmonstah
Get our L.A. Goes Out newsletter, with the week's best events, to help you explore and experience our city.
You may occasionally receive promotional content from the Los Angeles Times.