David Bowie, Glenn Frey, Lemmy Kilmister: Three distinct pillars of '70s rock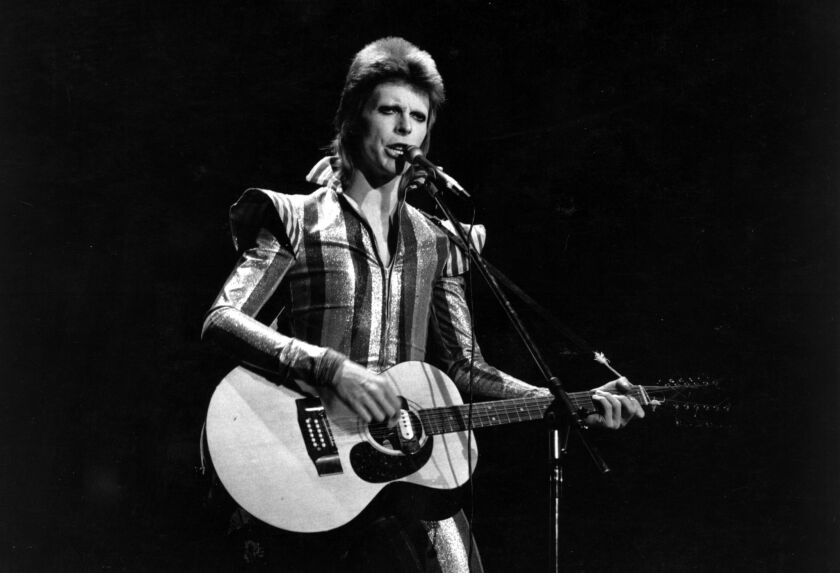 It's been a tough month for rebel icons in rock. At the end of December, bassist-grunter-street philosopher Ian "Lemmy" Kilmister of Motorhead died in Los Angeles. Two weeks later, shapeshifting superstar David Bowie died. On Monday, the Eagles co-founder Glenn Frey passed away.
Momentous losses, compounded by the reality that each gained his first burst of success in the same few years. The Eagles formed in 1971. Kilmister busted out with Hawkwind that same year and went on to form Motorhead in 1975, just as the Eagles were conquering America one tequila sunrise at a time. Bowie was a superstar by '75. He released "Changes" in '71.
The diverging careers of Kilmister, Frey and Bowie are a testament to the blossoming of the music in the 1970s. After a 1960s period in which styles seemed to march in lock-step with whatever the Beatles were doing, rock ventured into so many directions that its center was hard to target.
Profound philosophical differences separated the three. You could loathe Bowie's theatrics, adore the Eagles' "realness" and be baffled by Motorhead's single-minded aggression. You could hate the treacly "Tequila Sunrise" and Bowie's Ziggy get-up because Motorhead's "Overkill" rendered them moot.
As an illustration of rock's tangle of styles in the 1970s, what follows is a point by point celebration of three fascinating artists, each distinctive in his own way but generational brethren.
Onstage persona
Bowie
Star man, Ziggy Stardust, Alladin Sane, Thin White Duke.
Frey
Ranch hand; "desperado"
Kilmister
Lemmy
Facial hair
Bowie
Clean like a lady. Or an alien.
Frey
Marlboro Man, three-day stubble.
Kilmister
Mutton chops, ever and always.
Famous lyric
Bowie
"Ashes to ashes, funk to funky/ we know Major Tom's a junkie/Strung out on heaven's high/Hitting an all-time low."
Frey
"Well, I'm running down the road/ Tryin' to loosen my load/ I've got seven women on my mind/ Four that wanna own me/ Two that wanna stone me/ One says she's a friend of mine."
Kilmister
"You know I'm born to lose/ and gambling's for fools/ But that's the way I like it baby/ I don't wanna live for ever/ And don't forget the joker!"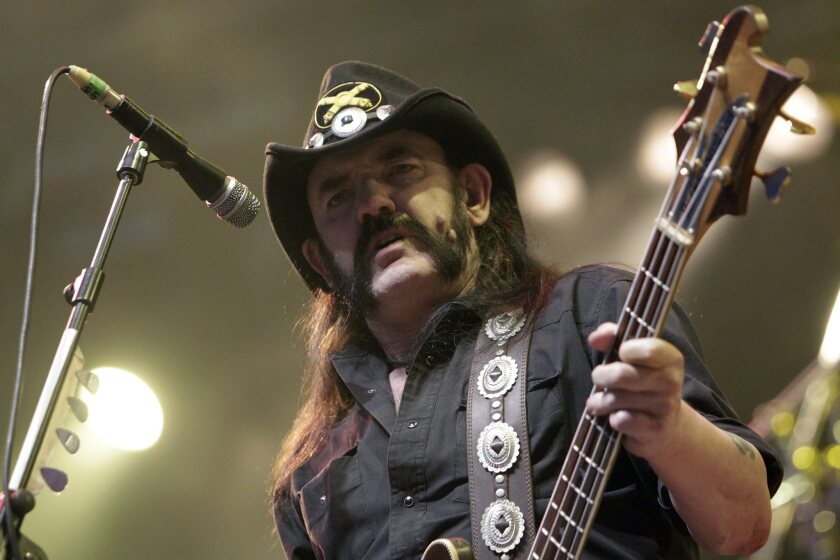 Style in the '70s
Bowie
Iconic innovator: Spangles, makeup, polyester pantsuits, high-heeled boots, floor-length skirts, powder blue suits, kimonos.
Frey
Coastal casual: Bell bottoms, sneakers, denim and flannel.
Kilmister
Biker casual: Leather, denim, boots. And the occasional short-short cut-offs.
On dancing
"Let's dance to the song
They're playin' on the radio
Let's sway
While color lights up your face
Let's sway
Sway through the crowd to an empty space" -- David Bowie, "Let's Dance"
"Something is wrong with this picture
She doesn't like the way I dance
Why is everybody just standing around
Looking for true romance?" -- Glenn Frey, "Love in the 20th Century"
"Dance, 'til your bones are tired,
Dance, 'til you feel inspired,
Dance, get your hormones fired,
Dance, we're dancing wired." -- Motorhead, "Dance"
---
For the Record, Jan. 26 4:35 p.m.: An earlier version of this post incorectly cited lyrics from Chris Montez's "Let's Dance" for David Bowie's song of the same name.
---
On cocaine
"It's not the side effects of the cocaine
I'm thinking that it must be love
It's too late to be grateful." -- David Bowie, "Station to Station"
"There's lots of shady characters, lots of dirty deals
Every name's an alias, in case somebody squeals
It's the lure of easy money, it's got a very strong appeal." -- Glenn Frey, "Smuggler's Blues"
"Bye, bye, bye, baby
'Cause here I come
Won't get to sleep tonight
Because the white lines turn me on." -- Motorhead, "White Line Fever"
Cocktail
Bowie: Whiskey
Frey: Tequila Sunrise
Kilmister: Jack & Coke (a.k.a., "a lemmy")
On love

"If you say run, I'll run with you
If you say hide, we'll hide
Because my love for you
would break my heart in two
If you should fall into my arms
And tremble like a flower." -- David Bowie, "Let's Dance"
"Before I met you baby, I was alone
Thought I was happy livin' on my own
But now I realize
This world was made for two, like me and you
With you by my side, everything's fine
There ain't no mountain, sugar, we can't climb." -- Glenn Frey, "True Love"
"Long legged lover,
I'm gonna rip you limb from limb,
Get you smashed as a rat in some bar,
Sink my claws into your velvet skin." -- Motorhead, "Limb From Limb"
On women
"She's so swishy in her satin and tat
In her frock coat
and bipperty-bopperty hat
Oh God, I could do better than that." -- David Bowie, "Queen Bitch"
"City girls just seem to find out early
How to open doors with just a smile
A rich old man
And she won't have to worry
She'll dress up all in lace and go in style." -- Glenn Frey with the Eagles, "Lyin' Eyes"
"Hey babe you know you look so fine
Send shivers up and down my spine
I don't care about our different ages
I'm an open book with well thumbed pages
You're jailbait, and I just can't wait
Jailbait baby come on." -- Motorhead, "Jailbait."
Place in the universe
"Though I'm past one hundred thousand miles
I'm feeling very still
And I think my spaceship knows which way to go." -- David Bowie, "Space Oddity"
"I like the way your sparkling earrings lay
Against your skin so brown
And I wanna sleep with you in the desert tonight
With a billion stars all around." -- Glenn Frey, "Peaceful, Easy Feeling"
"If the stars fall down on me
And the sun refuse to shine
Then may the shackles be undone
And all the old words cease to rhyme." -- Motorhead, "God Was Never on Your Side"
Follow @liledit on Twitter and Instagram
MORE:
Linda Ronstadt, whose backing band was the hub for the Eagles, remembers Glenn Frey
Glenn Frey's influence lives on in Father John Misty, Jenny Lewis and more
Watch Iggy Pop and Josh Homme debut 'Gardenia' on 'Colbert'
David Bowie: The Man Who Changed the (Music) World (1947-2016)
An insider's look behind the making of David Bowie's secretive 'Blackstar' album
---
Inside the business of entertainment
The Wide Shot brings you news, analysis and insights on everything from streaming wars to production — and what it all means for the future.
You may occasionally receive promotional content from the Los Angeles Times.