From the Archives: This is a job for Superman's pals: Noel Neill (Lois Lane) and Jack Larson (Jimmy Olsen)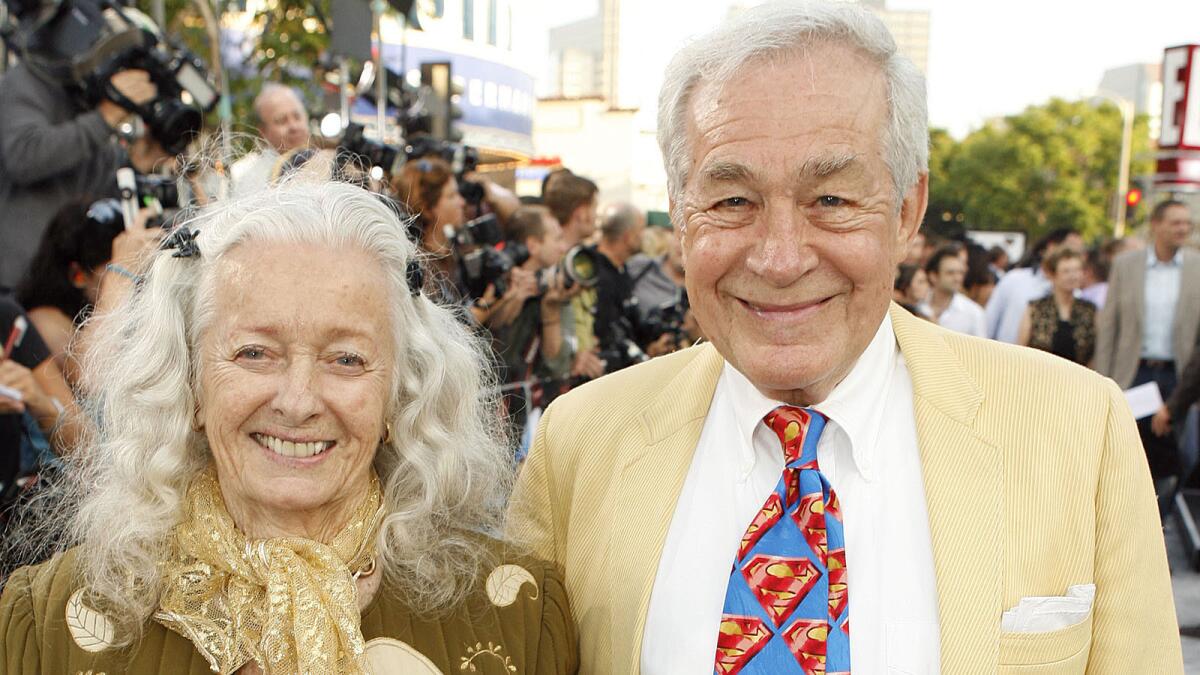 Noel Neill, who grew to popularity playing Lois Lane in the 1950s TV show "The Adventures of Superman," has died. This article, an interview with her and fellow "Superman" castmate Jack Larson, was published in 2006.
For Noel Neill and Jack Larson, Bryan Singer's film is just the latest adventure spawned by the '50s TV show.
Noel Neill and Jack Larson spent some of their best years in bondage, trussed up together waiting for Superman to break down a wall and save them.
The actors who played Lois Lane and Jimmy Olsen on the 1950s TV show "Adventures of Superman" are back at it with bit parts in "Superman Returns" -- Neill as a dying heiress, Larson as a bartender.
"Superman Returns" director Bryan Singer grew up a fan of the TV show, which starred the late George Reeves as the Man of Steel. So when it came time to do his own take on Superman, Singer made sure to have Reeves' old comrades on hand.
See the most-read entertainment stories »
"They said, 'Well, we can't have you as Lois Lane.' I said, 'I know, you want a younger one,' " Neill, 85, joked in an interview.
"They said, 'But we have a part for you with Kevin Spacey, and your name is Gertrude,' " Neill continued, rolling her eyes at the name. "She's a rich widow, which is fine. Only she's dying."
Wearing a Superman lapel pin and a wide belt buckle with the Superman logo, Neill spoke over iced tea alongside Larson at Patrick's Roadhouse, a breakfast and lunch spot along the Santa Monica beaches that's the site of a hamburger joint the two used to hang out at in the 1950s. Both still live nearby.
In "Superman Returns," Larson, 73, was cast as a bartender in a scene opposite Brandon Routh, who plays Clark Kent and Superman, and the new Jimmy Olsen, Sam Huntington. It prefaces a pivotal moment in Superman's return to action after a mysterious five-year absence.
"It was a nice scene, and [Singer] promised me it couldn't be cut out of the film," said Larson, who went to Australia to shoot the segment. "I didn't want to go to Australia and end up on the cutting-room floor, but it was the scene where he decides to be Superman again."
Larson was a young stage actor when he signed on to play cub newspaper photographer Jimmy for the TV show in 1951.
Neill, a veteran film actress who had been under contract at Paramount, played feisty reporter Lois in a pair of movie serials starring Kirk Alyn as Superman. Phyllis Coates played Lois in the first season of "Adventures of Superman," but after she departed, the producers brought Neill in to replace her.
"I was happy they called and said do it again, and I said fine. They said come by the studio and see if your old suit still fits," Neill said.
The show was an instant hit, making stars of Reeves, Larson and later Neill when she joined the cast. It came with drawbacks, though.
They had strange shooting schedules throughout the show's six seasons, pounding out two episodes a week, then winding up on hiatus for a year or two. Neill and Larson said they were paid only a few hundred dollars a week, and they got no residual payments from syndicated reruns after the mid-1960s.
Kellogg's, the show's sponsor, supplemented the actors' income with cereal commercials -- but only for the male performers. The sponsors were prudish about showing Neill's Lois having breakfast with Reeves' Clark Kent or Larson's Jimmy.
"They felt it was naughty to have Lois having breakfast with single men," Neill said.
Reeves, best known previously for a small part in "Gone With the Wind," was a fun-loving prankster who smoked cigarettes in long, elegant holders in his Superman suit and loved to make grand entrances crashing through walls to rescue Lois and Jimmy, Larson and Neill said.
I get asked why I'm masking a smile so much. Jimmy's in deadly peril, and I'm laughing. It's because George said something funny just before he breaks through the wall.
— Noel Neill
"George would come around the side of the wall, blow a kiss and say, 'Don't worry. Superboo's going to save you.' He would call himself Superboo," Larson said. "I get asked why I'm masking a smile so much. Jimmy's in deadly peril, and I'm laughing. It's because George said something funny just before he breaks through the wall."
Plans for a seventh season collapsed with the death of Reeves, killed by a gunshot wound to the head that police determined was self-inflicted.
Reeves had been depressed over being typecast as Superman, lamenting to Larson that he was a hero to children but wished he had just one adult fan. Yet Larson and Neill have doubts that Reeves killed himself.
Neill had seen him a few days earlier and said he was in good spirits and ready for a new season. Larson disputes theories that Reeves was murdered because of a romantic entanglement, saying if there was foul play, it most likely involved a group of people partying at Reeves' house the night he died.
(An investigation into his death is dramatized in a film coming out in September titled "Hollywoodland," starring Ben Affleck as Reeves, as well as Adrien Brody, Diane Lane and Bob Hoskins.)
After Superman's first TV adventures ended, Neill largely gave up acting, though she did have a bit part in 1978's "Superman" starring Christopher Reeve, and she and Larson appeared together in an episode of TV's "Superboy" in the early 1990s.
MORE:
Jack Larson dies at 87; actor played Jimmy Olsen in 'The Adventures of Superman'
Noel Neill, first actress to play Lois Lane, dies at 95
Renowned Iranian film director Abbas Kiarostami dies at 76
Michael Cimino, Oscar-winning director of 'Heaven's Gate' and 'Deer Hunter,' dies at 77
Get our L.A. Goes Out newsletter, with the week's best events, to help you explore and experience our city.
You may occasionally receive promotional content from the Los Angeles Times.