Newsletter: Today: Michael Cohen's Towering Guilty Plea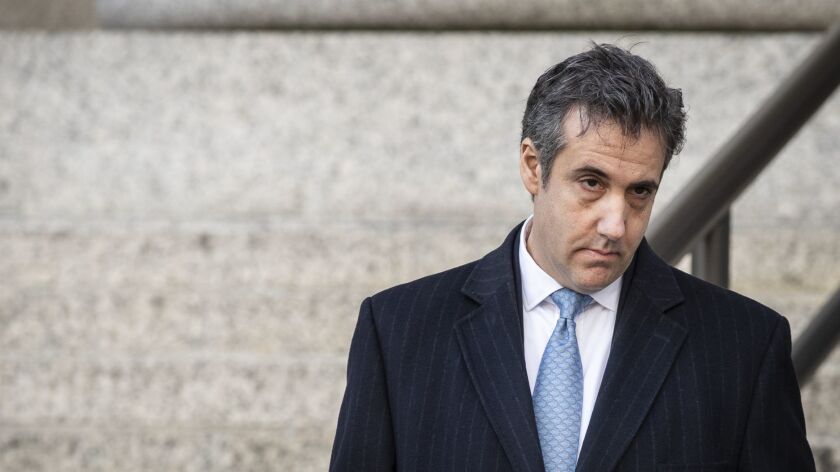 A guilty plea by President Trump's onetime personal lawyer for lying to Congress is putting more pressure on the president.
TOP STORIES
Michael Cohen's Towering Guilty Plea
For years, Michael Cohen worked with Donald Trump as his lawyer and fixer. Now, he is posing a double legal threat to the president. Cohen, who previously had implicated Trump in a felony involving hush money, has pleaded guilty to lying to Congress about the extent of Trump's efforts to develop a luxury tower in Moscow during the 2016 presidential campaign. Cohen said he did so out of "loyalty" to help Trump's "political messaging." The president, who has repeatedly contended that he has no financial interests connected to Russia, called Cohen a "weak person" who was "making up a story." Two hours later, Trump abruptly canceled his meeting with Russian President Vladimir Putin at this weekend's Group of 20 summit in Buenos Aires, citing Russia's seizure of three Ukrainian naval vessels and 24 sailors.
More Politics
-- Pentagon officials are considering whether to keep U.S. troops along the southwest border an additional 45 days, potentially extending their mission to assist the Border Patrol into next year.
-- Andres Manuel Lopez Obrador will be sworn in as president of Mexico this weekend. His relationship with Trump is already complicated, but the question is: Will it become toxic?
-- Are Trump's threats against GM more bark than bite? They certainly fit a pattern.
The Moment of Reckoning
California Democratic Party Chairman Eric Bauman has resigned after a Times investigation found multiple party members accused him of making crude sexual comments and engaging in unwanted touching or physical intimidation in professional settings. Now, the party's remaining leaders must wrestle with how to change a workplace culture that some say has been unprofessional for decades.
A Big Question for Paradise: 'When?'
Across Butte County in Northern California, the aftermath of the Camp fire has displaced about 50,000 people from Paradise and the nearby towns of Concow and Magalia. Some have no intention of returning after escaping with their lives. Others wait and wonder when they can go back, as rain makes their return even more complicated. "Two months? Three months? Six months? I have to know what to do," said one man. "Where do I go from here?" Authorities hope some eastern and southern portions of Paradise can be opened to residents next week.
The Sunset Years
For 120 years, Sunset magazine has been synonymous with California living: backyard barbecues, hot tubs, midcentury architecture, weekend getaways. But as with so many legacy publications, Sunset's best years appear to be in the rearview mirror. More than a dozen current and former employees and contributors interviewed by The Times describe an organization in disarray, with editors quitting and freelance writers not being paid. And the magazine's holiday issue? It's been delayed because of a lack of ads.
Sign up to get Today's Headlines delivered to your inbox. »
FLASHBACK FRIDAY
Once upon a time, downtown L.A. was the shopping destination for Angelenos. Long before Black Friday and Cyber Monday became a phenomenon, stores banded together for an event called Dollar Day, usually held in the spring and fall. By the 1970s, the phenomenon had largely died out.
YOUR WEEKEND
-- Did someone say, "pancake social"? Here's how to pull one off at home.
-- Your December garden chore list: Water wisely, plant liberally and beware of frosts.
-- Cindy Crawford on diets (relax!), playlists (audiobooks) and spa destinations (Koreatown).
-- Make a weekend escape to Coronado for a sunny North Pole vibe. Or check out Santa Barbara for its first Christmas market.
MUST-WATCH VIDEO
Body camera video shows a Butte County sheriff's deputy narrowly escaping the Camp fire after his cruiser stopped working.
CALIFORNIA
-- A cold front that brought wind and heavy rain unleashed debris flows in fire-ravaged neighborhoods, triggering evacuations and school closures up and down the state.
-- Sens. Dianne Feinstein and Kamala Harris say the state needs more than $9 billion in disaster aid to recover from this fall's wildfires.
-- Los Angeles officials will consider raising speed limits on more than 100 miles of city streets. Why? Oddly enough, it's so police can crack down on speeding.
-- Two former officials at the Department of Alcoholic Beverage Control pleaded guilty to running a bribery scheme that for years targeted karaoke bar owners in L.A.'s Koreatown.
HOLLYWOOD AND THE ARTS
-- Margaret Atwood reveals more about why she's writing a sequel to "The Handmaid's Tale": "Number one, it's fun."
-- Can't get enough Awkwafina? Comedy Central has given a series order to a show about her life.
-- How Native Americans in the arts are preserving tradition in a changing world.
NATION-WORLD
-- Suicides and drug overdoses increased deaths in the United States last year and drove a continuing decline in how long Americans are expected to live.
-- It was another day of drama in the trial of Joaquin "El Chapo" Guzman, as former drug traffickers with nicknames such as El Gordo ("the Fat One") and Chupeta ("Lollipop") delivered chilling testimony.
-- In Syria, state media said the country's air defense systems had deterred a major bombardment of military bases, and suspicion immediately fell on Israel.
-- China's government has ordered a halt to work by a medical team that claimed to have helped make the world's first gene-edited babies.
BUSINESS
-- In Southern California, home sales reportedly dropped 7.5% last month from a year earlier, hitting their lowest level for an October since 2011.
-- The mystery of the meat hoodie: Why does this ad keep popping up on the internet?
SPORTS
-- A quarter of the way into the NBA season, columnist Bill Plaschke asks: Who are the Lakers? What are the Lakers?
-- In college football, playoff spots and New Year's six bowls are up for grabs. Get ready for the weekend with this viewers' guide.
OPINION
-- Pardoning former Trump campaign chairman Paul Manafort would be unambiguous grounds for impeachment. Take it off the table, Mr. President.
-- Take a holiday from your cellphone. It's like unlocking a time-stretching superpower. (Just wait until after you're done reading this newsletter.)
WHAT OUR EDITORS ARE READING
-- What did Albert Einstein mean by "God does not play dice"? (Aeon)
-- Amanda Bynes' comeback brings up pointed questions about the way society handles struggling celebrities. (The Atlantic)
-- Hip-hop architecture: The idea is still fairly new, but it is indeed a thing. (Hyperallergic)
ONLY IN CALIFORNIA
Ol' Blue Eyes' Palm Desert retreat is back. On the market, that is. Villa Maggio, a midcentury house built for Frank Sinatra, is being offered for $4.5 million after two previous listings since 2015. The onetime Ratpack hangout has 13 bathrooms, nine fireplaces, two saunas, a helipad and a name alluding to Sinatra's character in "From Here to Eternity." Who could ask for anything more?
If you like this newsletter, please share it with friends. Comments or ideas? Email us at headlines@latimes.com.
---