The Sports Report: Two days until the Super Bowl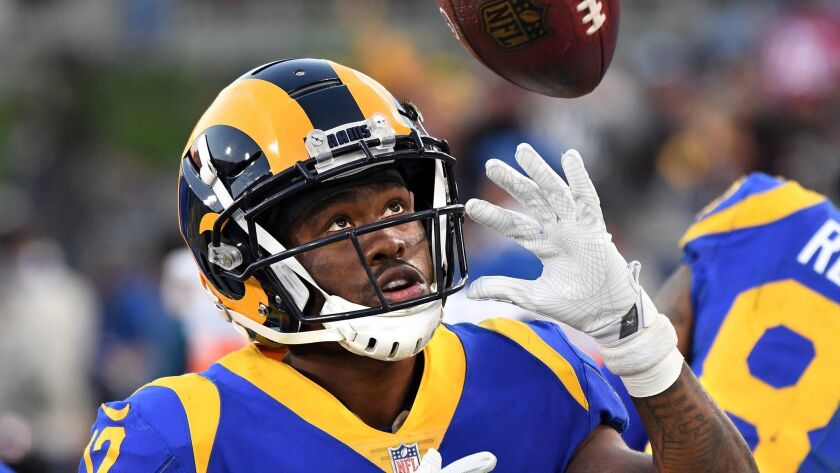 Howdy everyone, and welcome to the Friday edition of the Los Angeles Times daily sports newsletter. My name is Houston Mitchell and I'm your host for the festivities. Subscribe to this newsletter by clicking here.
Let's get to it.
Rams
Rams receiver Brandin Cooks is very familiar with the Super Bowl, at least what he can remember of it. You see, he started for the New England Patriots last season in their loss to the Philadelphia Eagles. On his first reception, he was hit so hard he suffered a concussion and had to sit out the rest of the game.
"I will be lying if I said I didn't think about it like all year, offseason and training camp and stuff like that," Cooks said of his shortened Super Bowl experience. "Now that I'm here, I kind of got that thought process out of mind and I'm focused on the task at hand."
Playing with quarterback Tom Brady, Cooks caught 65 passes for 1,082 yards and seven touchdowns.
"He's one of the hardest workers I've ever been around," Brady said. "He's one of the most mature players for his age I've ever seen."
And he bonded quickly with Jared Goff.
"The way I can tell if a receiver and I are going to jell is the way that he tracks a deep ball," Goff said. "I think it's something that you can't really teach, you can't really drill it. It's just something that you either you have or you don't from a young age and he has it.
"When a guy can do that, you can kind of have a little bit of room for error as a quarterback. When I can throw a deep ball with not exact perfection and he can go and get it, it causes that chemistry to go up. He's the type of guy who can do that."
Let's hope he can do it for more than one catch on Sunday.
The Rams will be playing in Inglewood soon, and while the new stadium will be cool, it hasn't been good news for all of the city's businesses.
Take Beverly Brinson, owner of Ms. B's M&M Soul Food Restaurant, located almost in the shadow of the new stadium. Her landlord has raised rent from $6,282 to $14,000 per month, she said, and her lease has been converted to a month-to-month tenancy. She has failed to find a less expensive spot in Inglewood or the surrounding communities. She has 19 employees, all of whom could be one month from unemployment, and she says she barely sleeps anymore.
Read her story here.
And then read how Walter Payton's Super Bowl ring ended up in a college kid's couch.
For all of our Super Bowl coverage, click here.
Super Bowl podcast
This week, the "Arrive Early, Leave Late" podcast goes behind the scenes at Super Bowl LIII with the Los Angeles Times reporters who will be covering Sunday's game between the Rams and the New England Patriots.
Arash Markazi grew up dreaming of working for the Los Angeles Times and now he's here as a columnist and sports enterprise reporter. His first assignment — Super Bowl week in Atlanta. He talks about his new job, offers his take on the events and parties surrounding the game and reveals exactly where he plans to be within Mercedes-Benz Stadium while the game is taking place.
You can listen to the podcast here.
When is the Super Bowl?
It will be on Sunday at 3:30 p.m. on CBS.
Who will win?
Who will win the Super Bowl? Click here to vote. We'll announce the results on game day.
Lakers
LeBron James is back and all is right with the world! Now the Lakers just have to trade the rest of the team for Anthony Davis and then James, Davis and Rajon Rondo can beat everyone 3-on-5.
The Lakers, 6-11 with James out of the lineup, are now 1-0 with him back in it after Thursday's 123-120 overtime victory over the Clippers. James finished with 24 points, 14 rebounds and nine assists in 40 minutes.
Best basketball movies
We are determining what the greatest sports movie of all time is by asking The Sports Report subscribers to vote for their choices, first divided by sport. Up next are the five best basketball movies of all time. You can vote by clicking here or by emailing me at houston.mitchell@latimes.com. Here are the nominees:
Above the Rim (1994), starring Tupac Shakur
Air Bud (1997), starring Air Buddy
The Air Up There (1994), starring Kevin Bacon
BASEketball (1998), starring Trey Parker and Matt Stone
The Basketball Diaries, starring Leonardo DiCaprio
Blue Chips (1994), starring Nick Nolte
Celtic Pride (1996), starring Damon Wayans
Coach Carter (2005), starring Samuel L. Jackson
Eddie (1996), starring Whoopi Goldberg
Fast Break (1979), starring Gabe Kaplan
The Fish That Saved Pittsburgh (1979), starring Julius Erving
Glory Road (2006), starring Josh Lucas
He Got Game (1998), starring Denzel Washington
Hoop Dreams (1994), documentary featuring William Gates and Arthur Agee
Hoosiers (1986), starring Gene Hackman
Just Wright (2010), starring Queen Latifah
Juwanna Mann (2002), starring Miguel Nunez Jr.
Like Mike (2002), starring Lil Bow Wow
Love & Basketball (2000), starring Omar Epps and Sanaa Lathan
One on One (1977), starring Robby Benson
Rebound (1996), starring Don Cheadle
Rebound (2005), starring Martin Lawrence
Semi-Pro (2008), starring Will Ferrell
The Sixth Man (1997), starring Kadeem Hardison
Space Jam (1996), starring Michael Jordan
Sunset Park (1996), starring Rhea Perlman
Uncle Drew (2018), starring Kyrie Irving
White Men Can't Jump (1992), starring Wesley Snipes and Woody Harrelson
Again, you can vote by clicking here or by emailing me at houston.mitchell@latimes.com. Remember to vote for five.
This date in sports history
1959: Dodger great Zack Wheat is elected to the Baseball Hall of Fame.
1968: Vince Lombardi resigns as coach of the Green Bay Packers.
1970: Ford Frick, Earle Combs and Jesse Haines are elected to the Baseball Hall of Fame.
1973: Monte Irvin is elected to the Baseball Hall of Fame.
1984: David Stern becomes NBA commissioner.
1994: Tonya Harding's ex-husband Jeff Gillooly pleads guilty to his role in the attack on Nancy Kerrigan. He accepts admits to racketeering charges in exchange for testimony against Harding.
2004: The New England Patriots defeat the Carolina Panthers, 32-29, to win Super Bowl XXXVIII.
2009: The Pittsburgh Steelers defeat the Arizona Cardinals, 27-23, to win Super Bowl XLII.
And finally
That concludes the newsletter for today. If you have any feedback, ideas for improvement or things you'd like to see, please email me here. If you want to subscribe, click here.
---
Get the latest on L.A.'s teams in the daily Sports Report newsletter.
You may occasionally receive promotional content from the Los Angeles Times.