Newsletter: Essential Arts: Those curatorial changes at LACMA? Our critic says they do not bode well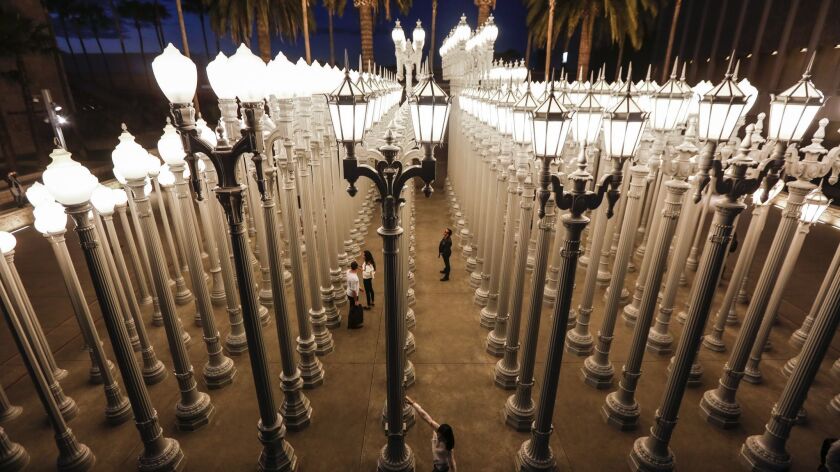 Spring has arrived, and so have a slew of cultural happenings. I'm Carolina A. Miranda, staff writer at the Los Angeles Times, with your weekly roundup of all things culture — and Norwegian death metal:
THE FUTURE OF LACMA
Times art critic Christopher Knight reports and comments on changes at the Los Angeles County Museum of Art that will see the European and American art departments combined into one, a move unheard-of for a museum its size. "The idea is to show LACMA's diverse art collections as changing, cross-cultural theme exhibitions, rather than as relatively permanent displays organized by department," he writes. "Originally skeptical of the plan, I'm less confident than ever."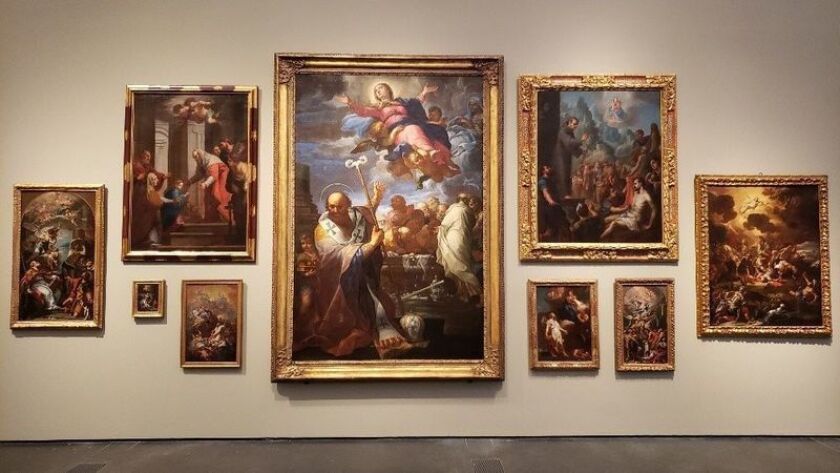 Sign up for our weekly Essential Arts & Culture newsletter »
MUSICAL POETRY
Poet Roger Bonair-Agard, steelpan player Andy Akiho, drummer Sean Dixon and cellist Jeffrey Zeigler have gotten together to form a rather indefinable poetry-and-music act called "(M)iyamoto Is Black Enough." Times classical music critic Mark Swed says a recent performance at the Wallis was "riveting," and "incandescent in its synergy between music and poetry."
During his recent jaunt through Europe, Swed also caught performances of a pair of operas in Germany that channel the Babylonian: Verdi's "Nabucco," staged by director Kirill Serebrennikov in Hamburg, and a production of Jörg Widmann's "Babylon" in Berlin.
PLAYING NOW IN L.A. & NYC
Times theater critic Charles McNulty has been doing the theater thing on two coasts. First up: Ruben Santiago-Hudson's theatrical memoir "Lackawanna Blues" at the Mark Taper Forum here in Los Angeles. The play has been transformed into a movie, but seeing it on stage is the "most potent way" to experience the story, writes McNulty, one that "lovingly captures the customs of the community."
At New York's Lyceum Theatre, he took in a production of the new teen angst musical "Be More Chill" — and it's totally techno. "Once a sanctuary from mindless technological hubbub," writes McNulty, "the theater now seems compelled to compete with the flash and frenzy of our screen lives."
And, of the Roundabout Theatre Company's new production of "Kiss Me Kate," McNulty writes: "No one is likely to go home feeling outraged or under-entertained. Yet some essential human chemistry is missing."
ON STAGE
Anna Ziegler's "Photograph 51" at South Coast Repertory is inspired by the life of Rosalind Franklin, the chemist whose work ultimately led to the discovery of DNA's double helix structure. Contributor Margaret Gray describes it as a "stylish and informative production" that examines the story of an overlooked woman in science.
Take the '80s flick "The Goonies" and blend it with a Hans Christian Andersen fairy tale and you get "The Old Man and the Moon," currently playing at the Wallis, writes F. Kathleen Foley. The show, she reports, is "a charming original fable."
Plus, The Times' Daryl H. Miller profiles Inda Craig-Galván, the L.A. playwright who penned "Black Super Magic Mama," which was inspired by the killing of 12-year-old Tamir Rice by a police officer in Cleveland. "My son was about that age at the time," she tells him. "It's terrifying."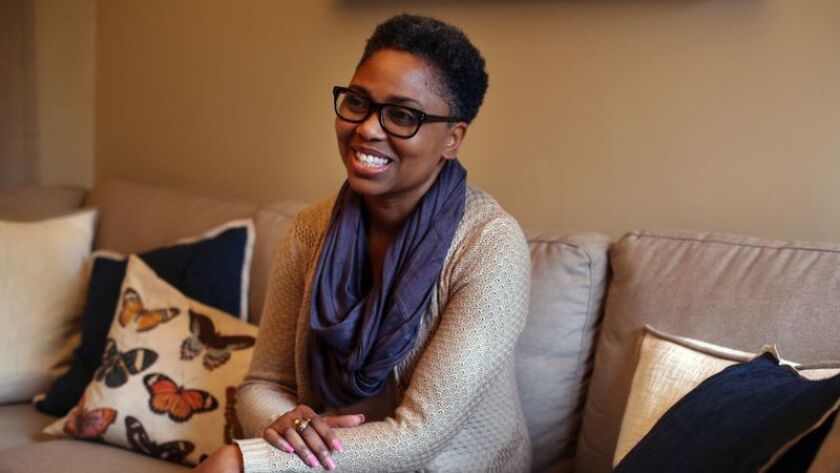 REVISITING MOCA
Arata Isozaki, the Japanese architect who designed the Museum of Contemporary Art on Grand Avenue, won the Pritzker Prize last week. The timing couldn't have been better: MOCA director Klaus Biesenbach is currently on a mission to restore the building's skylights, which were covered up years ago. This gave me a good opportunity to reconsider the museum's unusual architecture: "A little bit of wry Postmodernism in a buttoned-up late Modern complex that feels like someone slipped an asymmetrical, geometric-print shirt from the '80s underneath a beige, double-breasted suit."
MEGA-CITY ONE
New York's Hudson Yards, the largest mixed-use private real estate venture in the country, opened its doors to journalists and critics. And the reviews are fire!
New York Times architecture critic Michael Kimmelman writes that the glassy complex "glorifies a kind of surface spectacle — as if the peak ambitions of city life were consuming luxury goods and enjoying a smooth, seductive, mindless materialism."
Alexandra Lange, writing for Curbed, says: "This is what you get when you let a private developer make a neighborhood — there's no room for weirdness. Even if you hire different architects, their work comes out the same."
Matt Shaw at the Architect's Newspaper calls it "Little Dubai."
IN THE GALLERIES
Sculptor Kenzi Shiokava has an exhibition of his sculptures and assemblages on view at the Ben Maltz Gallery. Contributor Leah Ollman writes that his reclaimed wood sculptures show "how the act of salvage connotes not just material but spiritual renewal."
She also reviews the work of William Downs at E.C. Liná gallery — a series of ink drawings that cover the walls and create a scene that "surges with sensuality."
Ollman also reviews David Hockney's show at L.A. Louver, which features recent paintings and large-scale photo composites. "I may never have enjoyed Hockney's paintings more," she writes. "I know I've never appreciated his photographs less."
Sharon Mizota, meanwhile, checks out the "fascinating" work of experimental filmmaker Sara Kathryn Arledge at the Armory Center for the Arts in Pasadena and Tsuyoshi Ozawa's "Jizoing" at Blum & Poe in Culver City. The latter features photographs of the the Buddhist deity Jizo, the guardian of travelers, which can only be seen by climbing a pile of futons.
Mizota also reviews the "serene and nightmarish" sculptures at Zevitas Marcus gallery from Rona Pondick, an artist who makes resin casts of her own head, then places them on tiny bodies.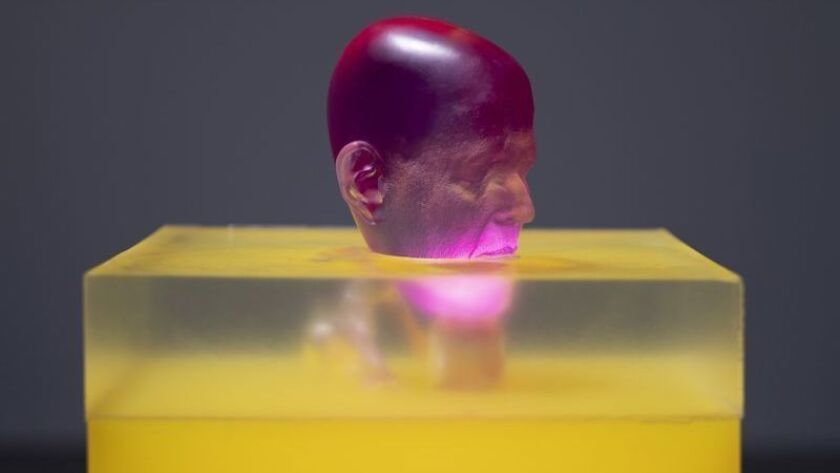 IN GOLDEN HEALTH
"Sun Seekers: The Cure of California," a new book by Kyra Kilston, looks at how the early health aficionados who came to California helped shape the culture of the region — evident in architecture by the likes of Richard Neutra and R.M. Schinder. In her review, Mizota describes Kilston's book as a work in which "content and desire conspire to create a fascinating picture."
PASSAGES
Okwui Enwezor, the influential curator who became the first African-born curator of the Venice Biennale and helped make art more global, has died at 55.
And John Richardson, the art historian behind a renowned multivolume biography of Pablo Picasso, has died at 95.
READY FOR THE WEEKEND
I've got the latest art listings in my weekly Datebook, including potent objects inspired by craft at Various Small Fires in Hollywood.
F. Kathleen Foley rounds up what's happening on L.A.'s small stages, including a "fiercely slice-of-life" look at the lives of girls.
And Matt Cooper has the week ahead in art, music, dance and theater, as well as his weekend picks, which includes a dance performance by the Batsheva Dance Company.
IN OTHER NEWS...
— Otis College of Art and Design President Bruce W. Ferguson is leaving for undisclosed reasons.
— An online petition is calling on New York's Museum of Modern Art and trustee Larry Fink to divest from private prisons.
— CalArts students protest a hike in tuition.
— A Desert X installation by Eric N. Mack has disappeared.
— The secret work of land art in the California desert.
— The Getty Center will exhibit a painting by Willem De Kooning that was cut out of its frame during a heist in 1985.
— Artists Ron Athey, Carmen Argote and Diedrick Brackens are winners of Artadia's 2019 Los Angeles awards.
— After many years and lawsuits, the half-built Target husk on Sunset Boulevard and Western Avenue will proceed.
— L.A. officials have broken ground on a people mover to LAX.
— A new doc on dancer Rudolf Nureyev is about to hit screens.
— An oratorio by a Berkeley composer pays tribute to "Dreamers."
AND LAST BUT NOT LEAST …
That sublime point where death metal, black metal and a comedian trolling a Norwegian record label intersect.
---
Your essential guide to the arts in L.A.
Get Carolina A. Miranda's weekly newsletter for what's happening, plus openings, critics' picks and more.
You may occasionally receive promotional content from the Los Angeles Times.