Our 15 favorite recipes of 2016
A great recipe is something you can carry with you, from kitchen to kitchen, pulling out when you need it. So adding to your collection is not only fun — something new to make for dinner — but as useful as new pairs of Italian shoes.
Every year, we pick our favorite recipes from the last 12 months, recipes that we've tested, sometimes more than a few times, in the Los Angeles Times Test Kitchen, to get them just right.
Here are our favorite recipes from 2016, in no particular order. We hope your own recipe box just got a little bigger.
Debbie Reynolds dies
My life has just spun along, sort of like a wheel on a car that somebody else is driving. I've just gone with it.
Actress Debbie Reynolds sang and danced her way into film history opposite Gene Kelly in the classic 1952 musical "Singin' in the Rain," a movie that helped turn her into a sweetheart of American film. She was 84.
Her death came just a day after her daughter, Carrie Fisher, died at the age of 60.
Carrie Fisher dies
Actress and writer Carrie Fisher, who rose to global fame as the trailblazing intergalactic heroine Princess Leia in the "Star Wars" franchise and later went on to establish herself as an author and screenwriter with an acerbic comic flair, died at age 60.
I remember the first time it was weird to me was when someone wanted to thank me because they'd become a lawyer because of me. The main thing they said is that they identified with me. I felt like that was somebody that could be heroic without being a superhero and be relatable.
She was the child of Debbie Reynolds and Eddie Fisher and had the rare distinction of making the front page of the L.A. Times before she was even born.
George Michael dies at 53
I got thrown out of choir, but that didn't stop me from telling everyone I was going to be a famous pop star.
George Michael, the English singer-songwriter who shot to stardom in the 1980s as half of the pop duo Wham!, went on to become one of the era's biggest pop solo artists with hits such as "Faith" and "I Want Your Sex." He was 53.
California ballot proposition campaigns rake in a record $473 million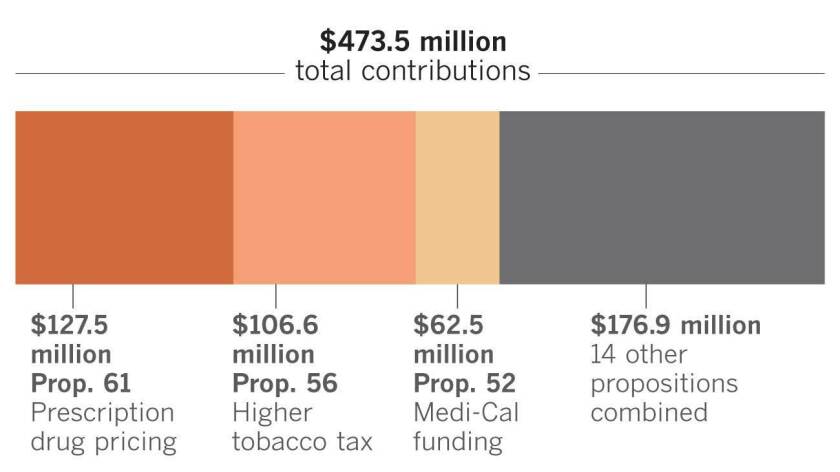 This year's crop of state propositions, the most appearing on a California ballot in 16 years, has attracted campaign contributions of $473 million, a record.
On average, more than $1.5 million was raised every day to influence the outcome of propositions.
Farmworkers win overtime
Gov. Jerry Brown signed historic legislation that will gradually add hundreds of thousands of California farmworkers to the ranks of those who are paid overtime after eight hours on the job or 40 hours in a single week.
Leaders of the United Farm Workers of America, which sponsored the overtime bill, called Brown's decision a victory in a nearly 80-year quest to establish broad rights and protections for farm laborers. But the move shocked the agricultural community, which lobbied heavily against its provisions, saying the new law would hurt a valuable state industry already on the decline.
Gov. Brown signs sweeping California climate change law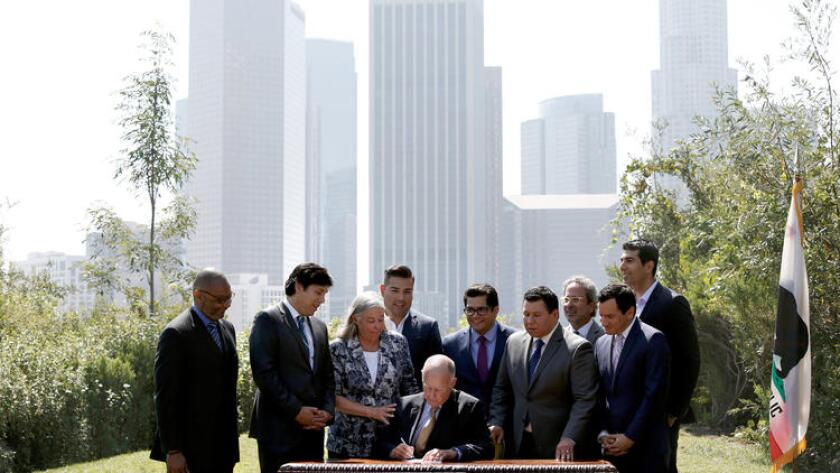 Legislation signed by Gov. Jerry Brown on Thursday requires the state to slash greenhouse gas emissions to 40% below 1990 levels by 2030, a much more ambitious target than the previous goal of hitting 1990 levels by 2020.
Cutting emissions will affect nearly all aspects of life in the state — where people live, how they get to work, how their food is produced and where their electricity comes from.
"What we're doing here is farsighted, as well as far-reaching," Gov. Jerry Brown said at the bill's signing ceremony.
American Independent Party ... oops
With nearly half a million registered members, the American Independent Party is bigger than all of California's other minor parties combined. The ultraconservative party's platform opposes abortion rights and same-sex marriage, and calls for building a fence along the entire United States border.
Based in the Solano County home of one of its leaders, the AIP bills itself as "the Fastest Growing Political Party in California."
But a Times investigation found that a majority of its members registered with the party in error. Nearly 3 in 4 people did not realize they had joined the party, a survey of registered AIP voters conducted for The Times found.
Death row and the death penalty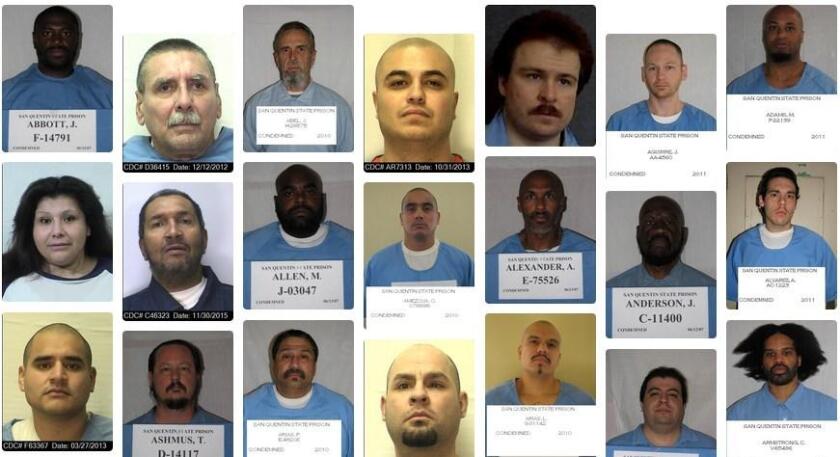 In November, California voters narrowly approved Proposition 66, which speeds up the legal process leading to an execution. The California Supreme Court blocked that measure weeks later in order to take time to consider a lawsuit challenging it. Voters had rejected another death penalty measure on the same ballot, Proposition 62, which would have ended the state's death penalty and changed sentences to life without parole. The state hasn't executed a prisoner in a decade. Thirteen men have been put to death since the death penalty was restored here in 1978.
Here's a look at the 728 men and 21 women on death row.
Kamala Harris becomes first Indian American senator, and California's first black senator
On election day, California voters chose Kamala Harris, the daughter of immigrants from India and Jamaica, to the U.S. Senate, tearing down a color barrier that has stood for as long as California has been a state.
In January, Harris, who is currently California's attorney general, will become only the second black woman in the nation's history to serve in Congress' upper chamber.
She was the favored candidate of California's Democratic Party from the start of a campaign that was the first big test of California's top-two primary system. She ran against longtime Orange County Rep. Linda Sanchez, another Democrat, but Harris started out ahead in polls and stayed there.
California gets highest minimum wage in the country
California's law, passed the same day as New York's similar minimum wage law, is expected to benefit millions of workers. It will raise the base wage over the next six years, reaching $15 an hour by 2022.
"This is the work of many hands, and many minds and many hearts," Gov. Jerry Brown said as he was signing the law.
Despite the fact that New York Gov. Andrew Cuomo signed his state's $15 minimum wage law a few hours before Brown did, California is still "the first in the nation, period," Senate Pro Tem Kevin De León told reporters.
L.A.'s downtown building boom