Newsletter: Today: The Walk Away and the Running Investigation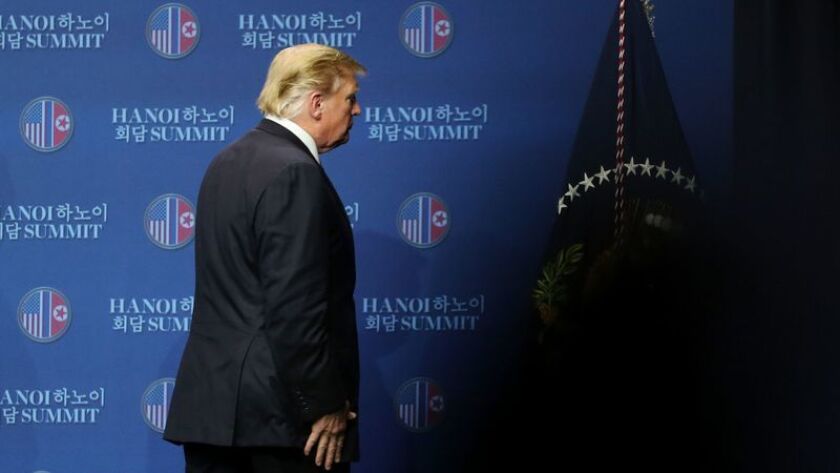 More uncertainty for President Trump lies ahead after a summit cut short in Hanoi and continuing investigations at home.
TOP STORIES
The Walk Away and the Running Investigation
President Trump is back in Washington, with a world of troubles at his door. The collapse of his summit with North Korean leader Kim Jong Un left each side blaming the other and no clear path forward. Two other key parts of his foreign policy — a still-secret Mideast peace proposal and not-so-secret efforts to unseat the president of Venezuela — also appear in disarray, at least for now, and his self-touted negotiating prowess is in question. Even among Republicans, Trump's facing a backlash after saying he takes Kim "at his word" that the dictator was unaware of North Korea's mistreatment of Otto Warmbier, the American college student who died in 2017. Meanwhile, Trump faces a new round of peril as members of Congress vow to follow up on his former lawyer Michael Cohen's claims of misdeeds and possible crimes by the president. Among those who could be called to testify: the Trump Organization's top accountant, Allen Weisselberg, and longtime executive Matthew Calamari, as well as Donald Trump Jr. and Ivanka Trump.
More Politics
-- Acting Defense Secretary Patrick Shanahan plans to endorse Trump's declaration of a national emergency along the southern border, according to people familiar with his thinking, in what's being viewed as a test of his loyalty to Trump. But senior Republican Sen. Lamar Alexander of Tennessee has warned Trump to reconsider his emergency declaration, hinting the GOP-controlled Senate could rebuke him and overturn it.
-- The Senate has confirmed former coal industry lobbyist Andrew Wheeler to lead the Environmental Protection Agency, which is responsible for ensuring clean air and safe drinking water.
-- If special counsel Robert S. Mueller III's report ever becomes public, the Washington Post and Simon & Schuster imprint Scribner are planning to release a book version of it.
PG&E's Concession
Pacific Gas & Electric Co. has acknowledged what many already suspected: that its equipment probably sparked the Camp fire, which destroyed nearly 14,000 homes and killed 85 people four months ago. The official investigation is continuing, but the statement comes after PG&E filed for bankruptcy in January in anticipation of being responsible for losses from the fire. As one resident of Paradise who lost his home said: "I'm not surprised, but what can you do?"
One Man's Dying Wish
Eduardo Hernandez was in a Pasadena hospital when authorities in Mexico contacted his wife with the news that he had days to live. For 10 years, she had not heard from him. Now, as his life slipped away in a country where he had no family or legal status, he had a final wish: to reunite with his wife and children. Would they come? Read on in this week's Column One feature.
Don't Touch My Bike … or Trademark
In the pursuit of justice, the government can take away weapons, ammunition and other contraband seized in raids — but can it take away trademarks? That was what federal prosecutors sought in their case against he Mongols motorcycle club and its violent members, and a jury agreed with them. A federal judge in Santa Ana, however, did not. He reasoned that it would step on the Mongols' 1st Amendment rights, as well as the 8th Amendment's ban on excessive penalties.
Sign up to get Today's Headlines delivered to your inbox. »
FROM THE ARCHIVES
Los Angeles just had the eighth coldest February on record, and for the first time since forecasters began keeping track it did not reach 70 degrees in downtown Los Angeles for the month. But on this date in 1936, an unusually hot day made it perfect beach weather. "Life guards reported that more than 100,000 persons on the beach from Del Rey to the Malibu in the Santa Monica Bay district, with 20,000 others venturing into the water in the Long Beach area during the day."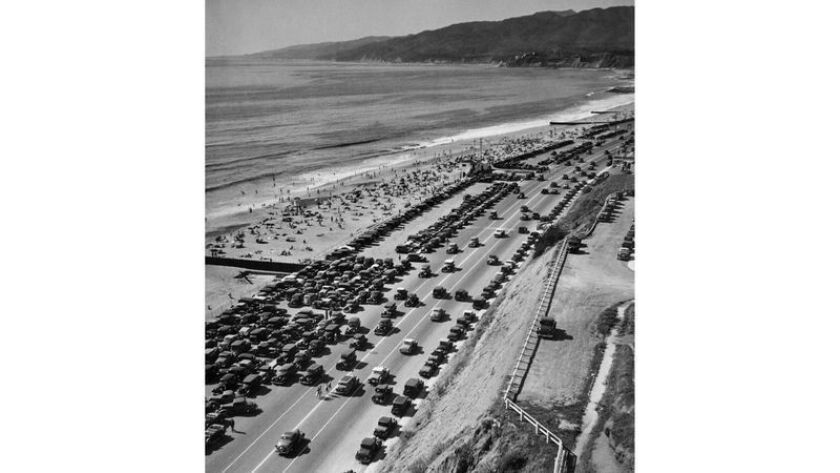 CALIFORNIA
-- Advocates for the homeless have sued five Orange County cities and the county for failing to provide more housing for people living on the streets.
-- The L.A. Board of Education will ask voters to raise their taxes in support of schools. The tax measure, if approved, is projected to raise about $500 million a year.
-- The snowpack has more than doubled in a month, and it's still storming in the Sierra.
-- L.A. Metro will study how to make driving more expensive, whether in your car or in an Uber.
YOUR WEEKEND
-- Restaurant review: At Dolan's Uyghur Cuisine, you can get a taste of northwest China's cultural crossroads.
-- Nut flours are popular with bakers because they add bulk to a recipe like wheat flour but add their own flavor too. They're also a cornerstone of gluten-free baking. Here's how to make your own.
-- For a Bay Area weekend, try a waterfront escape to Tiburon, which has killer views of San Francisco, a rich history and opportunities for outdoor fun on land or water.
-- At garden talks in Southern California this month, you can learn about chickens, native plants and sculptures.
HOLLYWOOD AND THE ARTS
-- André Previn, a four-time Academy Award-winning composer and former music director of the Los Angeles Philharmonic, has died at 89. He had plenty of mixed feelings about L.A.
-- Film critic Justin Chang says the psychological thriller "Greta" gets a boost from Isabelle Huppert's freaky, funny performance.
-- A show of Allen Ruppersberg's Conceptual art at the Hammer Museum is a don't-miss tour de force, according to critic Christopher Knight.
NATION-WORLD
-- Israel's attorney general has announced plans to indict Prime Minister Benjamin Netanyahu in three criminal cases that have been investigated for more than two years.
-- Venezuela's Juan Guaido, the opposition leader who declared himself president and has been abroad, says he's going home in the coming days despite safety concerns.
-- Pakistani Prime Minister Imran Khan says a captured Indian air force pilot will be released as a "peace gesture."
BUSINESS
-- The nation's economic growth declined at the end of last year for the second straight quarter, denying Trump the 3% annual increase he had promised that Republican tax cuts would spur. And economists say growth this year and next won't hit that level either.
-- A new report says California consumers lost out on at least $308 million in 5-cent deposits on cans and bottles in 2018, largely because it's increasingly difficult to find a place to recycle them.
SPORTS
-- Soccer star Zlatan Ibrahimovic talks about being a movie villain, restricting social media for his kids and his return to the Galaxy.
-- The Dodgers made their pitch, but free-agent outfielder Bryce Harper has agreed to a 13-year, $330-million contract with the Philadelphia Phillies. It's the largest free-agent deal in the history of North American sports.
OPINION
-- Michael Cohen fired his shots, but there was no magic bullet to end our national nightmare.
-- Erin Aubry Kaplan: Why don't we ever hear the details of how white people evolve on racial issues?
WHAT OUR EDITORS ARE READING
-- Despite concerns flagged by intelligence officials and the White House's top lawyer, Trump ordered his chief of staff to grant his son-in-law and senior adviser, Jared Kushner, a top-secret security clearance last year, according to four people briefed on the matter. (New York Times)
-- A look at how this weekend's Conservative Political Action Conference has changed to be more in the style of Trump. (Vox)
-- Dr. Seuss books can be racist, but students keep reading them and other problematic texts. Should they? (NPR)
ONLY IN CALIFORNIA
Columnist Chris Erskine recently went to San Clemente to talk about writing, at a Friends of the Library luncheon. Before long, he was discussing the merits of his hometown of Chicago versus those of L.A. Yes, he loves both places. "One thing I gleaned from the luncheon is that Californians are a prideful bunch as well. One attendee told the story of a Midwestern undertaker who moved his business here, and how he was immediately struck by how much better the corpses looked."
If you like this newsletter, please share it with friends. Comments or ideas? Email us at headlines@latimes.com.
---