The Sports Report: Who will be the next UCLA basketball coach?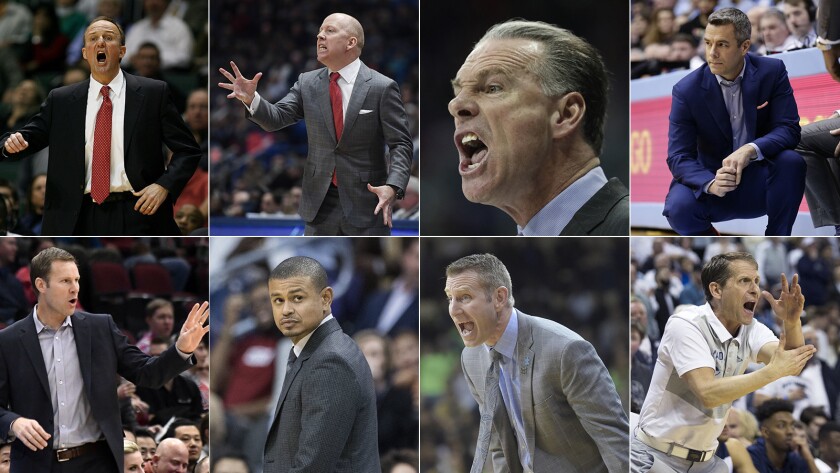 Howdy everyone, and welcome to the Wednesday edition of the Los Angeles Times daily sports newsletter. My name is Houston Mitchell and I'm your host for the festivities. Subscribe to this newsletter by clicking here.
Let's get to it.
UCLA basketball
With the season appearing lost at this point, a lot of talk surrounding the Bruins is on who they will hire to coach the team next season. In this article, Ben Bolch takes a look at the top or most frequently named candidates. They are:
Tony Bennett, 49, Virginia
Jamie Dixon, 53, Texas Christian
Thad Matta, 51, formerly Ohio State
Mick Cronin, 47, Cincinnati
Kevin Keatts, 46, North Carolina State
Mike Hopkins, 49, Washington
Fred Hoiberg, 46, formerly Chicago Bulls
There are a few other coaches mentioned in the story, but here's an idea. A guy with UCLA ties, via his father, who may be available around June and seems to have the perfect temperament and style for a college coach: Luke Walton.
Kings
The Kings season continues to tumble into oblivion, and now it's getting ugly. During Tuesday's 6-1 loss to Carolina, goalie Jonathan Quick skated to the bench after the first goal of the game and had some strong words for coach Willie Desjardins. Quick felt interference should have been called and was upset his coach didn't challenge for it.
"You've got to appreciate how competitive he is," Desjardins said. "He felt that that was the call. He's battled a lot for this team. He's an incredible heart-and-soul guy. He's been with this team for a long time.
Was it an obvious interference call?
"No, it wasn't clear," Desjardins said. "I think it could have gone the other way. It was just a call that, we didn't think we were going to get the call. It was early. I probably should have challenged it. I think Quickie's a pretty smart guy. He felt that there was some contact there, so we probably should have challenged it."
And thus sums up the Kings season. One guy on the ice who seems to care about what is happening, while the rest of the team and staff appear to be in a state of perpetual distraction, unaware that there is a game going on around them.
It was the Kings' ninth loss in a row.
Rams
An important piece of the team's Super Bowl run tweeted out some good news on Tuesday. That's when veteran left tackle Andrew Whitworth said he would return next season.
"A ship is safe in the harbor, but that is not what ships are built for," -John A. Shed," Whitworth wrote. "Can't wait for the opportunity to ride with the boys again!"
Whitworth, 37, said after the Rams' Super Bowl defeat by the New England Patriots that he would take some time to evaluate his future, which the 13-year veteran said he does after every season.
The 6-foot-7, 335-pound Whitworth carries a salary-cap number of $16.5 million in the final year of a three-year, $33.75-million contract, according to overthecap.com.
Meanwhile, the Rams arrive at the NFL combine with a different aura about them this season.
Chargers
Jeff Miller gives his analysis of this year's combine:
"Anthony Lynn and the Chargers officially launch their reboot for another postseason push at the NFL combine this week.
"More than 300 players are set to audition at a gathering to help determine football acumen even though no football will be played. There won't even be helmets or shoulder pads.
"But there will be plenty of tests and measurements and individual interviews designed to fill in the answers that can't be found in hours and hours of game footage.
"The Chargers likely will focus on defensive help, particularly close to the line of scrimmage. Seven of their pending 13 unrestricted free agents play in the front seven.
"They also figure to be looking for an offensive tackle, at least one mock draft projecting the Chargers to take Dalton Risner, who played on the right side for Kansas State.
Beach volleyball
Yes, beach volleyball. Blake Richardson tells an interesting story of identical twins who play the sports for UCLA. An excerpt:
"Once the match had ended and they slapped hands with their opponents, Megan and Nicole McNamara took off running.
:They had just won the World University Classic Beach Volleyball Championship in Munich, Germany, last year — their first gold medal in international play — but this journey was not complete.
"The twins darted through an opening in the metal fence surrounding the court, bolted up the metal stairs through the crowd and traded high-fives with fans as they weaved their way toward the destination — the back-left corner of the bleachers.
"There, they found parents Sean and Kristina McNamara, and their coach since they were teenagers, Kyra Iannone. When tears flowed and all embraced, this odyssey was complete.
"They always knew that we could do it, even when we didn't believe in ourselves," Megan said. "So just being able to share that moment with them, it was something that I'll never forget."
"Their UCLA careers also have been unforgettable."
Odds and Ends
Dylan Hernandez takes a look at all the drama already in Dodger training camp this season…. Cody Bellinger will return to everyday role again for Dodgers in 2019…. Luke Walton wants Lakers to use pain of two losses to 'redeem ourselves'…. Acquisition of JaMychal Green proves to be a good fit for Clippers…. Oscar De La Hoya wants Floyd Mayweather Jr. to stop tampering with Ryan Garcia…. Galaxy's Ola Kamara pursuing possible transfer to team in China…. Angels' Kaleb Cowart returns to pitching, following trend inspired by Shohei Ohtani.
Today's local major sports schedule (all times Pacific)
New Orleans at Lakers, 7:30 p.m., Spectrum Sportsnet, ESPN, 710 ESPN
Clippers at Utah, 6 p.m., Fox Sports Prime Ticket, AM 570
Dodgers vs. Oakland, noon
Angels vs. Colorado, Noon, FSW, KLAA 830 AM
Chicago at Ducks, 7 p.m., NBCSN
Born on this date
1902: Golfer Gene Sarazen
1961: Former Laker James Worthy
1968: Former Clipper Loy Vaught
1971: NHL player Jaroslav Modry
1975: NFL player Duce Staley
1976: NFL player Tony Gonzalez
And finally
That concludes the newsletter for today. If you have any feedback, ideas for improvement or things you'd like to see, please email me here. If you want to subscribe, click here.
---
Get the latest on L.A.'s teams in the daily Sports Report newsletter.
You may occasionally receive promotional content from the Los Angeles Times.