Restaurant Critic
Welcome to the first edition of Tasting Notes, our revamped newsletter on the L.A. restaurant scene.
In 2018, my final of five years as Eater's national critic, I ate roughly 600 meals in 36 cities across North America. Since moving to Los Angeles in December to begin my job as a restaurant critic for The Times, I've barely budged from the metro area.
Do I miss the job of ceaselessly wandering the country — opining on the nation's buzziest openings, blitzing through barbecue restaurants in North Carolina or Texas, surveying the 1980s-era Cantonese restaurants in Vancouver and Richmond, British Columbia? Honestly, after all that time on the road, I do not. Before one rare flight, part of my psyche freaked out like a devoted pet whose person has pulled out the suitcase and started packing. I mean, I made it to LAX, but basically I had to pat myself on the head and promise I'd be back home very, very soon.
Sign up for the Tasting Notes newsletter »
It was a privilege to observe — to taste — how dining evolved over the last half-decade. I watched the palpable trends ripple across the country (octopus on menus is inescapable) and, much more meaningfully, witnessed the emergence of some incredible cooking talents: Mashama Bailey at the Grey in Savannah, Ga.; Edouardo Jordan of JuneBaby (and other restaurants) in Seattle; Justin Yu of Theodore Rex in Houston; Bonnie Frumkin Morales at Kachka in Portland, Ore.; and Junghyun Park of Atoboy and — my favorite upscale opening in America last year — Atomix in New York, to name only a handful. If you're traveling to these cities, please do check out these paradigm-shifters.
Of course Los Angeles' gifted, emergent chefs were part of this mix: Sqirl's Jessica Koslow, Here's Looking at You's Jonathan Whitener and Shibumi's David Schlosser, for starters.
A sense of deep obligation accompanied every trip: How do I convey the essence of this place? How can I do more than simply recommend Dearborn, Mich.'s silkiest hummus, or the tiny San Antonio storefront serving transcendent carnitas? How can I capture the quality of light, the state of a city's gentrification, the width of its boulevards, the mood of its citizens? I might not have always succeeded but I strove to write pieces where the locals could say, "Yes, we recognize ourselves in this story."
That aspect of the Eater gig is what most richly informs my new role at The Times. I've been a city-based critic previously in Atlanta, Dallas and San Francisco, but Los Angeles is different: It is its own magnificent universe. How could this city not satisfy my diminished but never entirely depleted wanderlust? I'll never tire of gorging through the strip malls of the San Gabriel Valley, never cease my zigzagging among the taco trucks of Boyle Heights, never stop marveling over which nuanced branch of Japanese cuisine (my God, Hayato) or Thai treasure (meet the tiny Northern Thai Food Club) will show up here next. I love covering a city where I could just Google "Iraqi restaurants Los Angeles" and end up reviewing Akkad in Glendale, where a kind stranger bought me dessert on my first visit.
And when I wanted an experience that felt wholly alien, like arriving on another planet altogether? I went with visiting friends to Nobu Malibu a few weeks back. What a sight on that patio, with the Pacific Ocean roaring and the decent miso black cod and the celebrities and the rubberneckers. I don't ever need to go back, but I was glad to behold the spectacle once.
Even in a setting that is entirely not my scene, I felt grateful that I've landed. Los Angeles, in its endlessness and compelling complexity, feels like home. I already recognize myself in this story.
Ask the critics
Any fresh intel on where to dine before a show downtown?
My fellow critic Patricia Escárcega wrote a gorgeous review of Sonoratown, a place that's open all day (though closed on Sundays and Mondays): The menu is short but its flour tortillas are transcendent.
For longer meals that move dinner along pretheater, I'll book the earliest reservations at Broken Spanish (Ray Garcia's modernist Mexican phenom), Rossoblu (definitely in my top five favorite L.A. pasta restaurants, maybe top three) or the Exchange in the Freehand hotel (come with a group and share the lamb shawarma).
Have a question for our critics? Ask here.
Our top food stories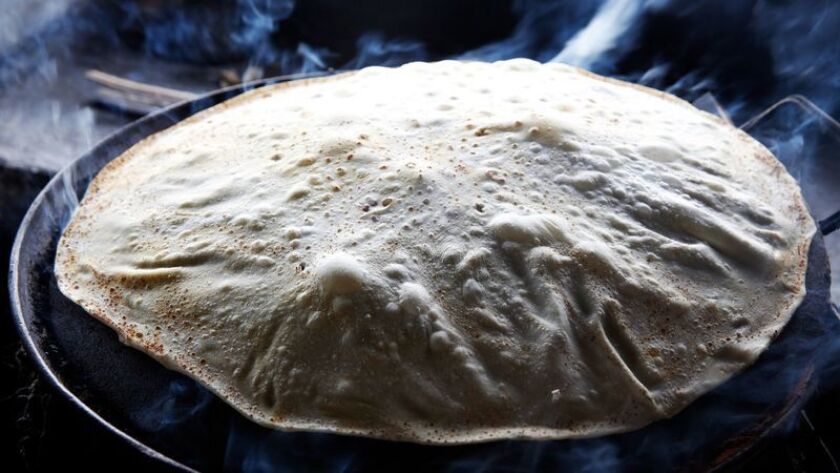 For your next culinary foray to Mexico, Patricia Escárcega makes the case for Hermosillo. She tours the capital of Sonora, reporting on its steakhouses, craft beers and caldo de cahuamanta, the state's famous manta ray and shrimp stew.
If, like me, Patricia's story made you hungry, check out her five recommendations for Sonoran restaurants around Los Angeles.
Patricia and I think and eat our way through Spago, asking ourselves: Is Wolfgang Puck's flagship restaurant still relevant? Is the food worth the splurge?
Soleil Ho, restaurant critic at the San Francisco Chronicle, moonlights in our pages to give us an umami-rich look at mam tom, the Vietnamese shrimp paste.
Right in time for the Fourth of July, Genevieve Ko brings us three sunny variations on dessert bars.
And Ben Mims breaks down the best cuts of beef for summer grilling.
From the Editors
After a long and distinguished run, Counter Intelligence, our weekly newsletter that rounded up the best of our Food section, is entering a new chapter. It's now called Tasting Notes and features Times restaurant critics Bill Addison and Patricia Escárcega. Read more here.
---