Muhammad Ali's peers react to the passing of a legend
Muhammad Ali's death Friday brought his longtime friend and promoter Bob Arum to recall the former heavyweight champion as "the most transforming figure that I have encountered – for America and the world."
Ali died at 74 in a Phoenix hospital, where he was moved this week for a respiratory illness, causing him to require life support Friday as family members came to his bedside.
He was diagnosed with Parkinson's more than 30 years ago, moving many to tears with his arm-shaking lighting of the Olympic torch at the 1996 Summer Olympics in Atlanta, and family spokesman Bob Gunnell told NBC Friday, "We don't have an official cause of death yet, but it has to be from complications of Parkinson's."
It was the three-time heavyweight champion's dynamic personality and fighting that will be most remembered.
Veteran boxing publicist Bill Caplan worked on two Ali fights, including his famed 1974 "Rumble in the Jungle" in Zaire against then-unbeaten George Foreman.
"He was a great athlete, but the greatest publicity man I've ever known. He would do anything you asked [promotional-wise] and would think of a lot of himself," Caplan said, recalling a scene months before the Foreman fight where the two heavyweights met casually inside an empty Hilton Hotel boardroom in Caracas, Venezuela.
World heavyweight boxing champion Muhammad Ali poses at the Royal Artillery Gymnasium in London while training for a 1966 fight against British champion Henry Cooper. Ali, who compiled a 56-5 professional record, is considered one of the greatest boxers of all-time.
(Trevor Humphries / Getty Images)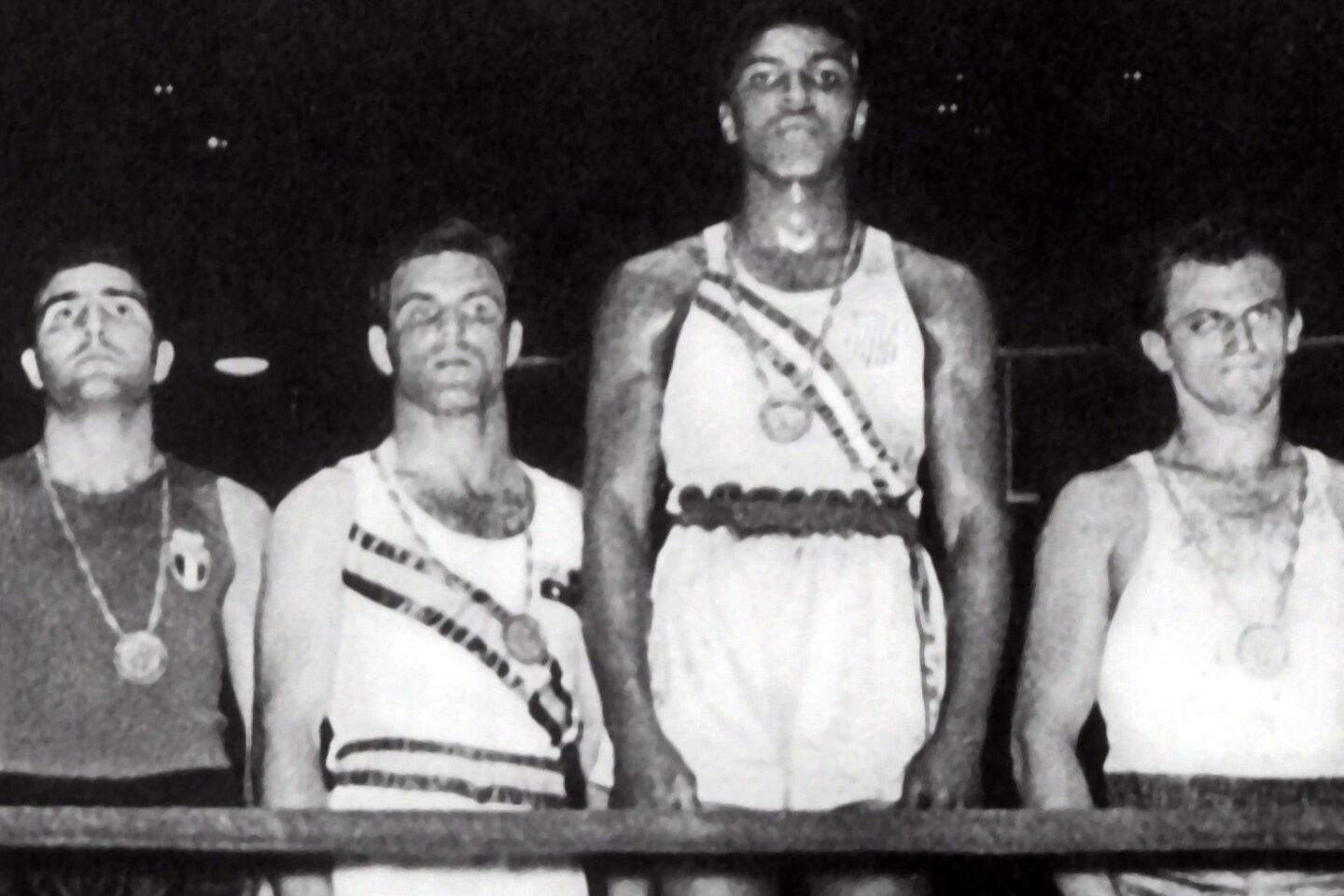 Muhammad Ali, second from right, stands on the medal podium at the Olympic Games in Rome after winning the light-heavyweight gold medal. Zbigniew Pietrzykowski of Poland, the man he beat in the final, is on his left.
(IOC / Allsport)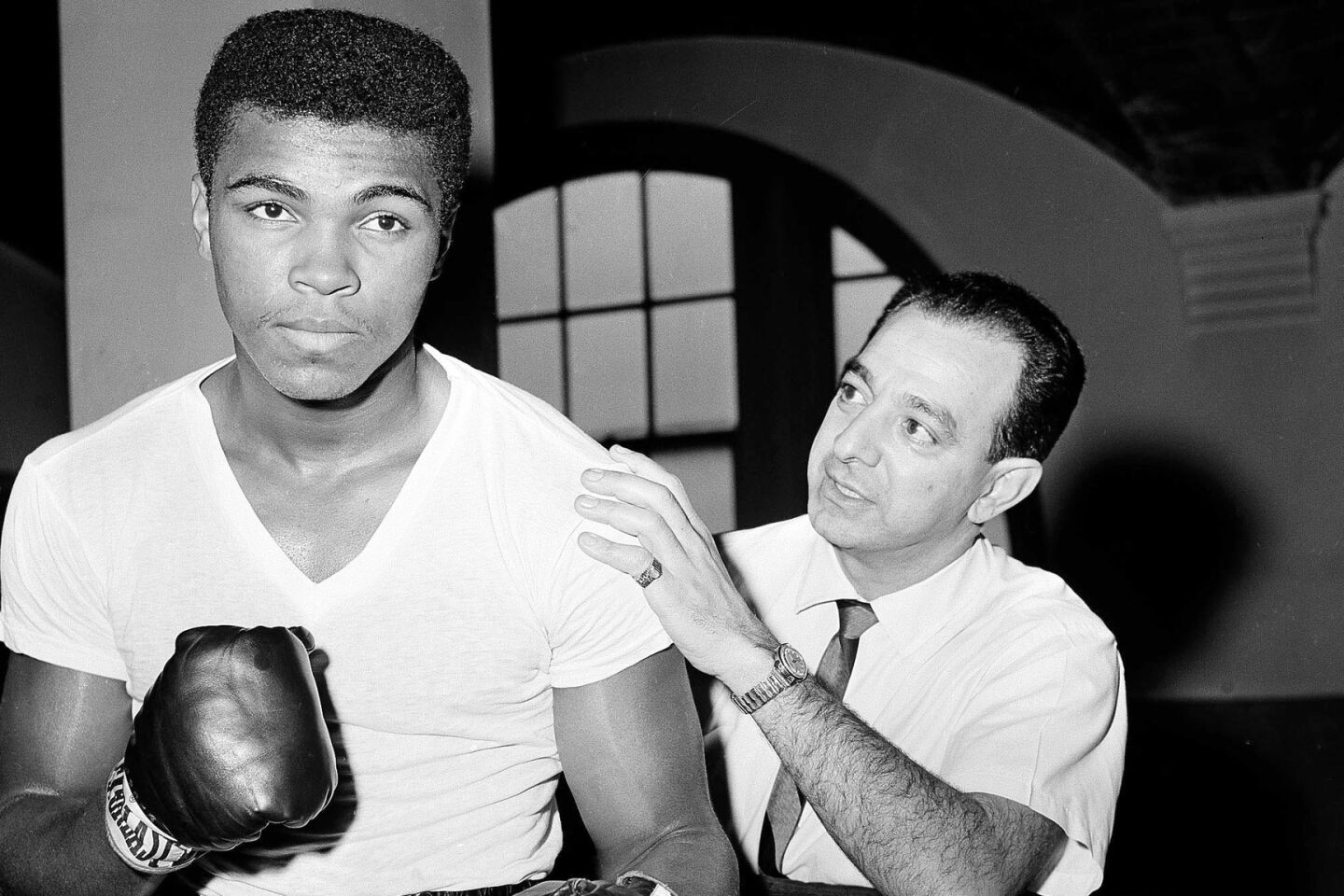 Boxer Muhammad Ali is seen with his trainer, Angelo Dundee, at City Parks Gym in New York on Feb. 8, 1962.
(Dan Grossi / Associated Press)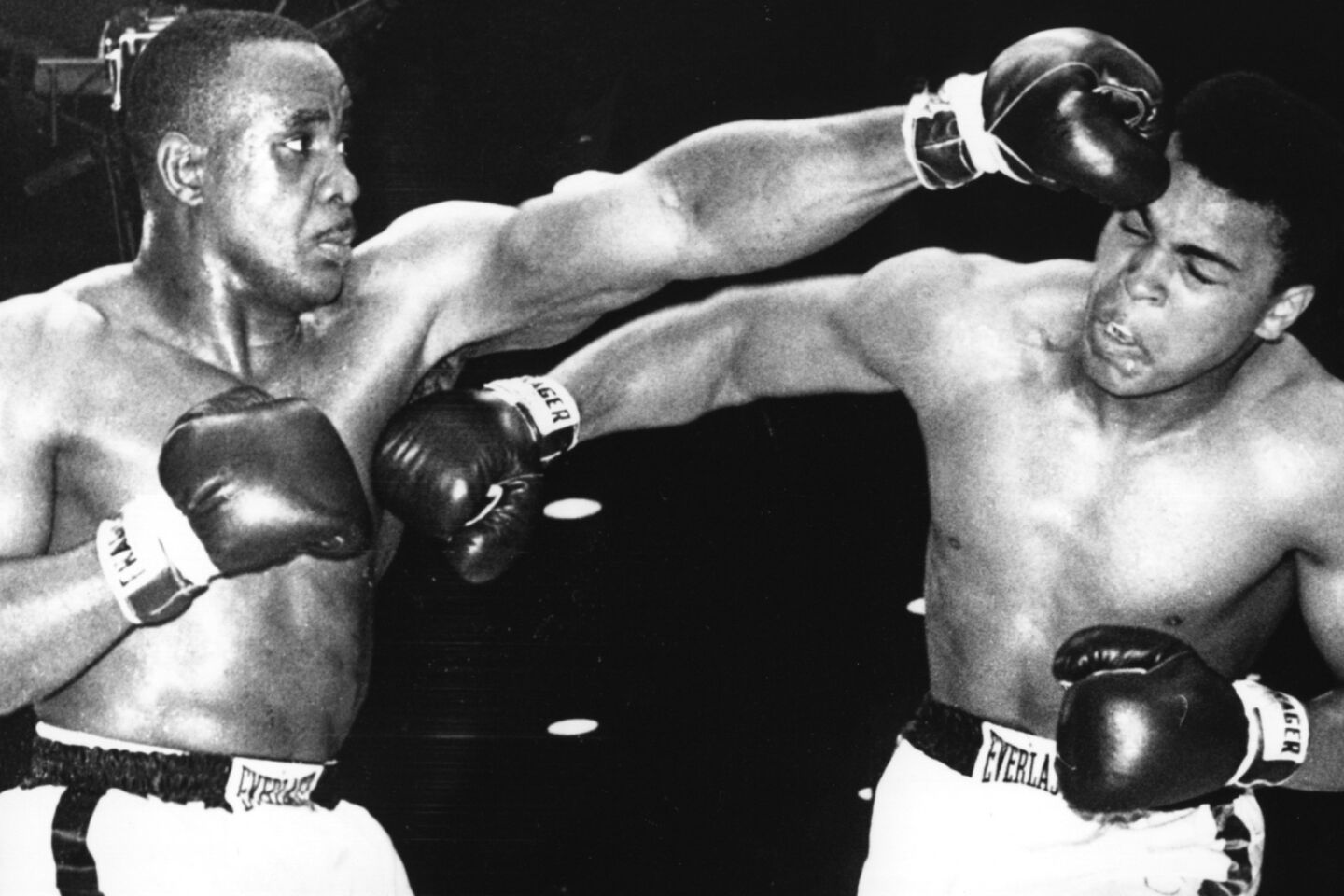 Heavyweight champion Sonny Liston, left, and Muhammad Ali exchange punches during their first fight in Miami on Feb. 25, 1964. Ali, then known as Cassius Clay, defeated Liston by technical knockout in the seventh round to claim the title.
(Hulton Deutsch / Allsport)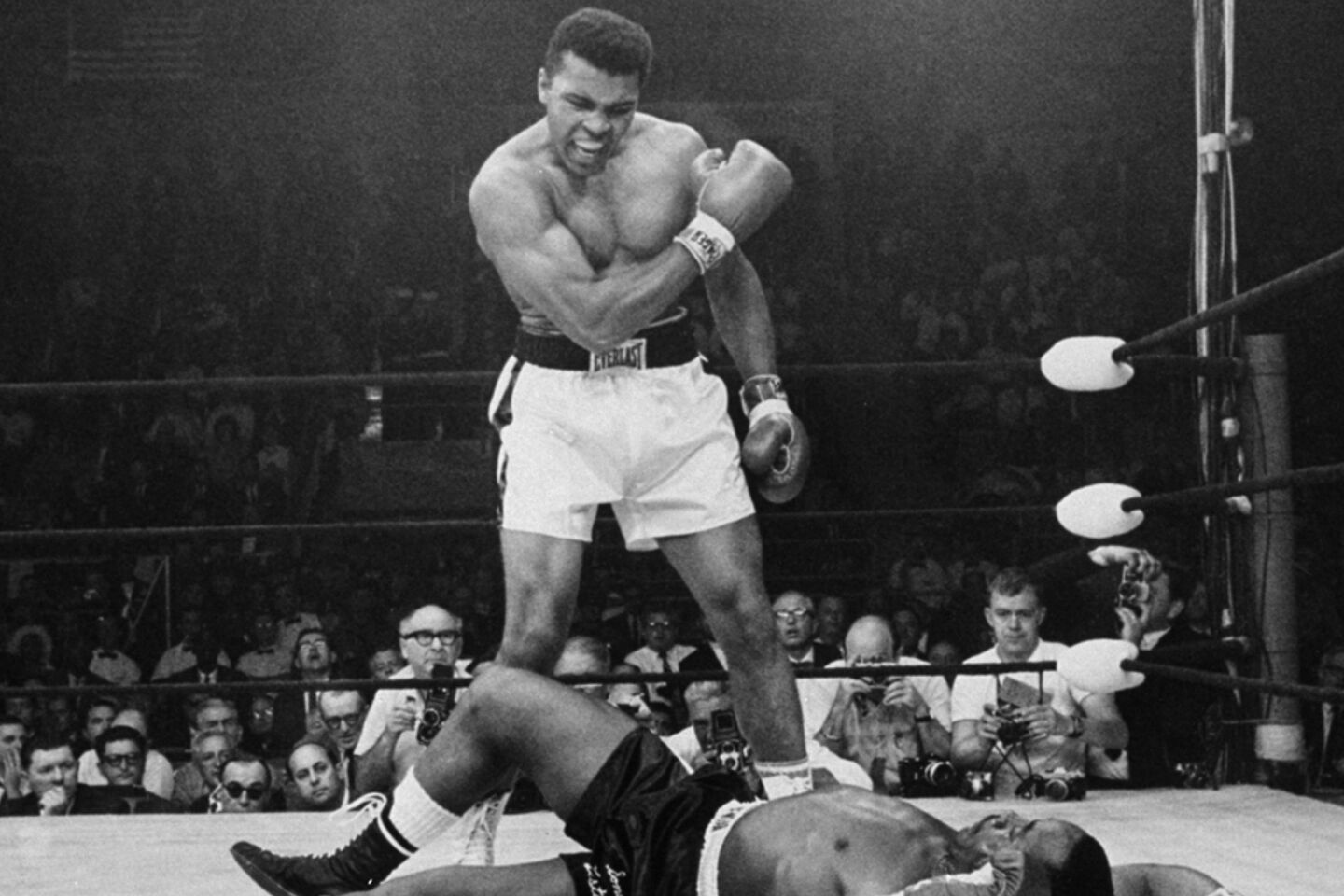 Heavyweight champion Muhammad Ali stands over fallen challenger Sonny Liston, shouting after knocking him down with a short, hard right to the jaw during their bout in Lewiston, Maine, on May 25, 1965.
(John Rooney / Associated Press)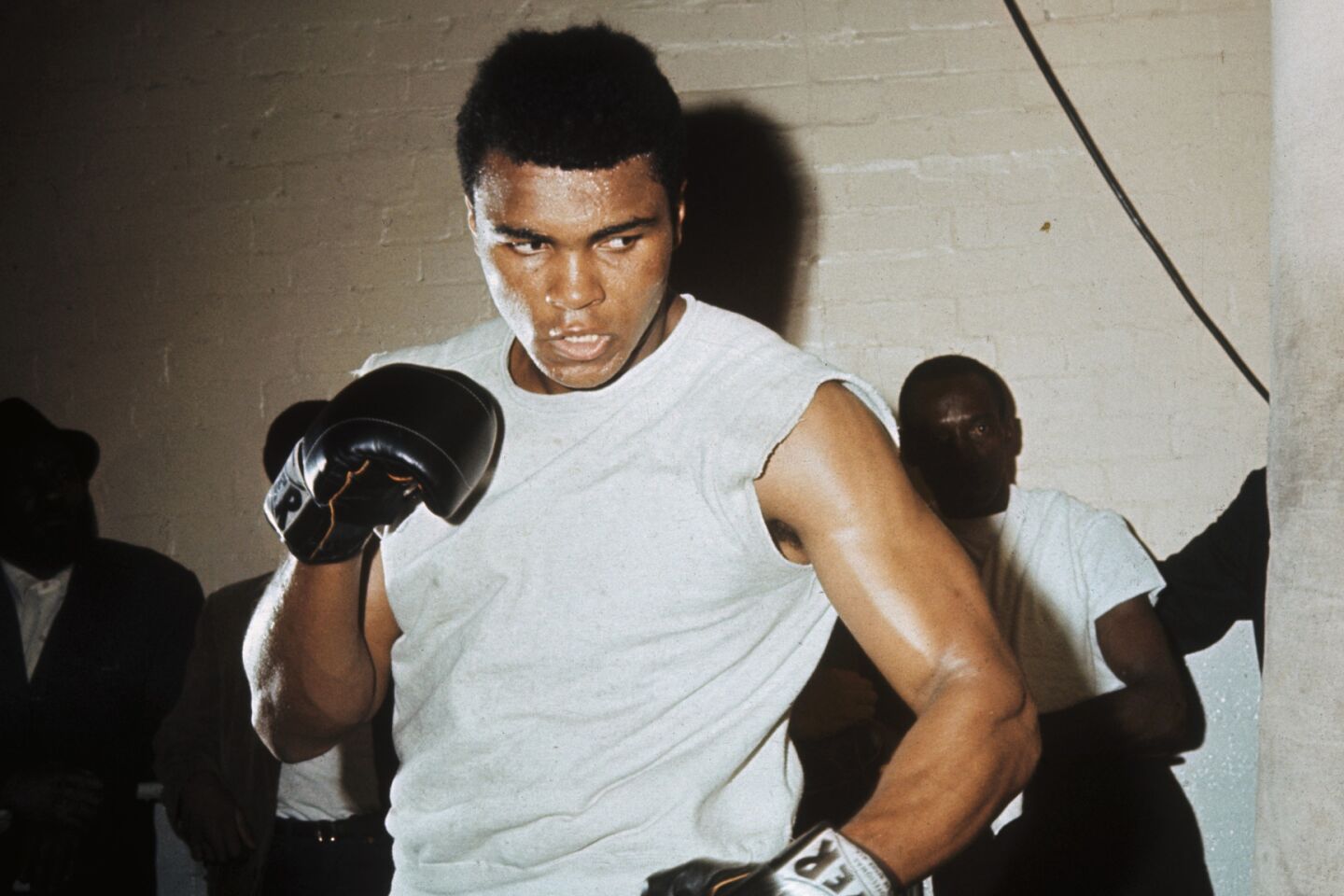 Muhammad Ali trains in London in 1966.
(Wesley / Getty Images)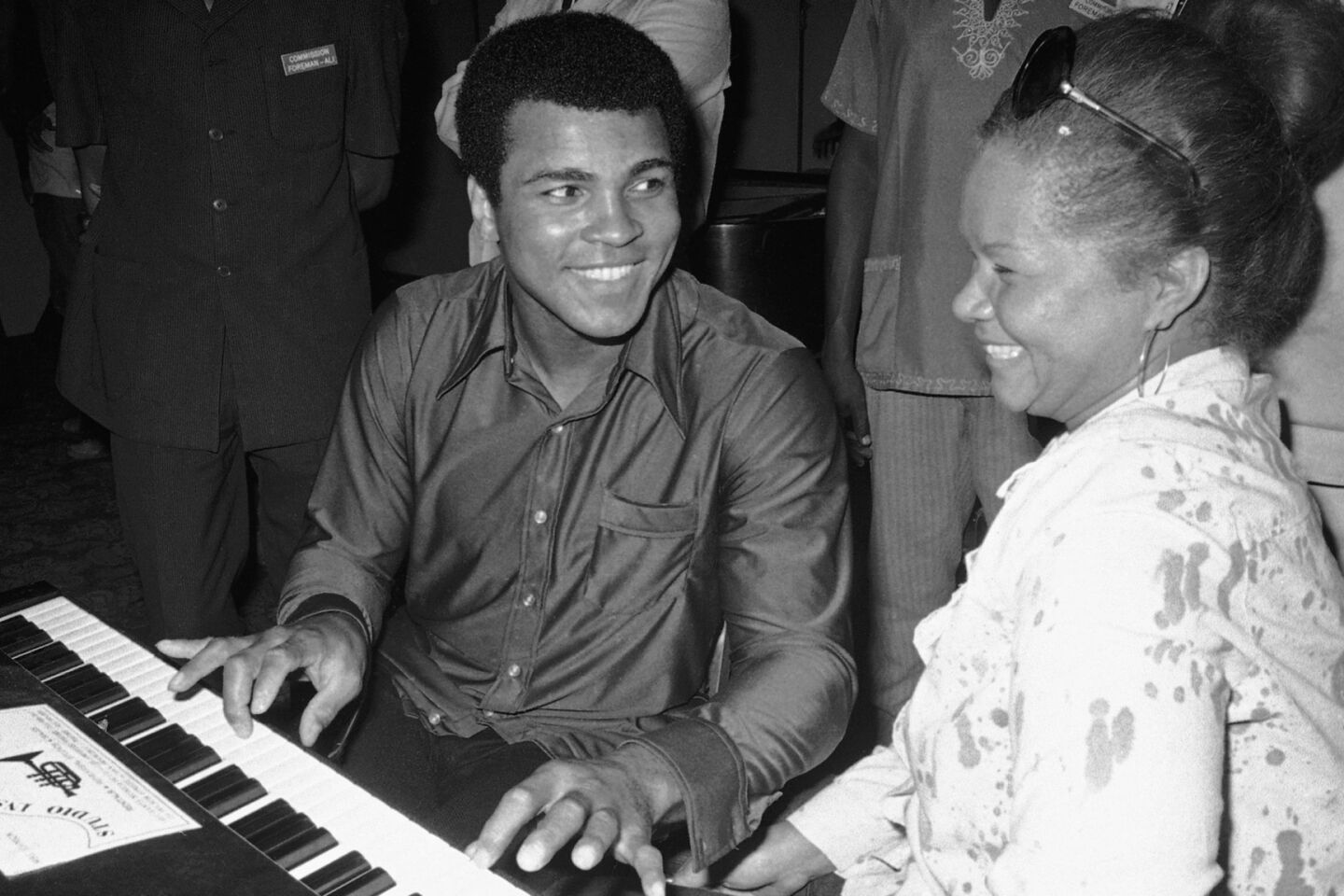 Muhammad Ali, left, smiles as he plays notes on a piano while sitting next to recording artist Etta James on Sept. 22, 1974.
(Horst Faas / Associated Press)
While in Zaire preparing for his upcoming bout against George Foreman, Muhammad Ali declares in the Lingala language, "ako bo mai ye," which translates as "I will kill him" while appearing before a crowd of fans on Sept. 12, 1974.
(Horst Faas / Associated Press)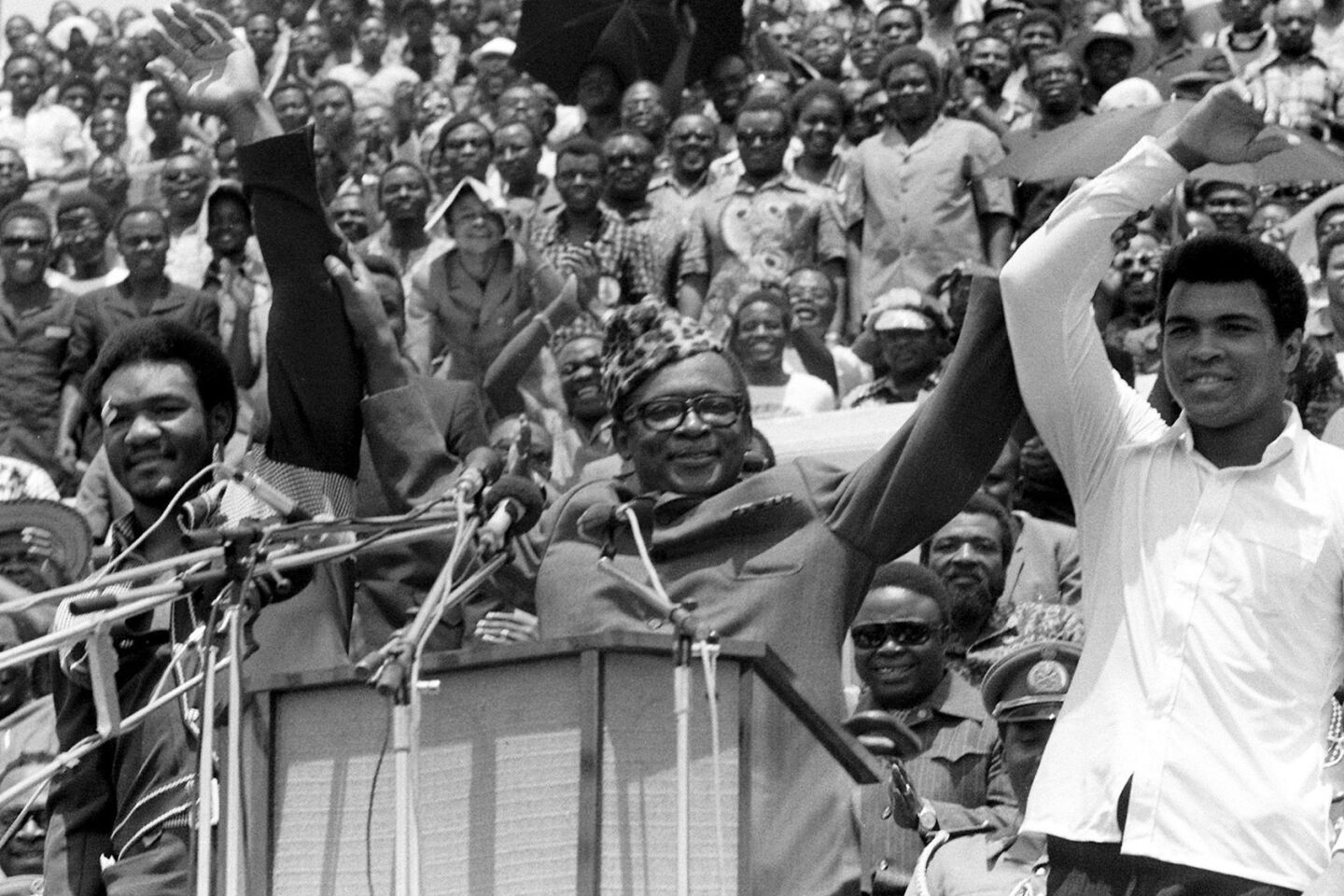 Mobutu Sese Seko, center, president of Zaire, raises the arms of George Foreman, left, and Muhammad Ali during a rally in Kinshasa on Sept. 22, 1974, to promote their upcoming heavyweight title bout.
(Horst Faas/ Associated Press)
Muhammad Ali, right, punches George Foreman in the head during their heavyweight title bout in Zaire on Oct. 30, 1974.
(Ed Kolenovsky / Associated Press)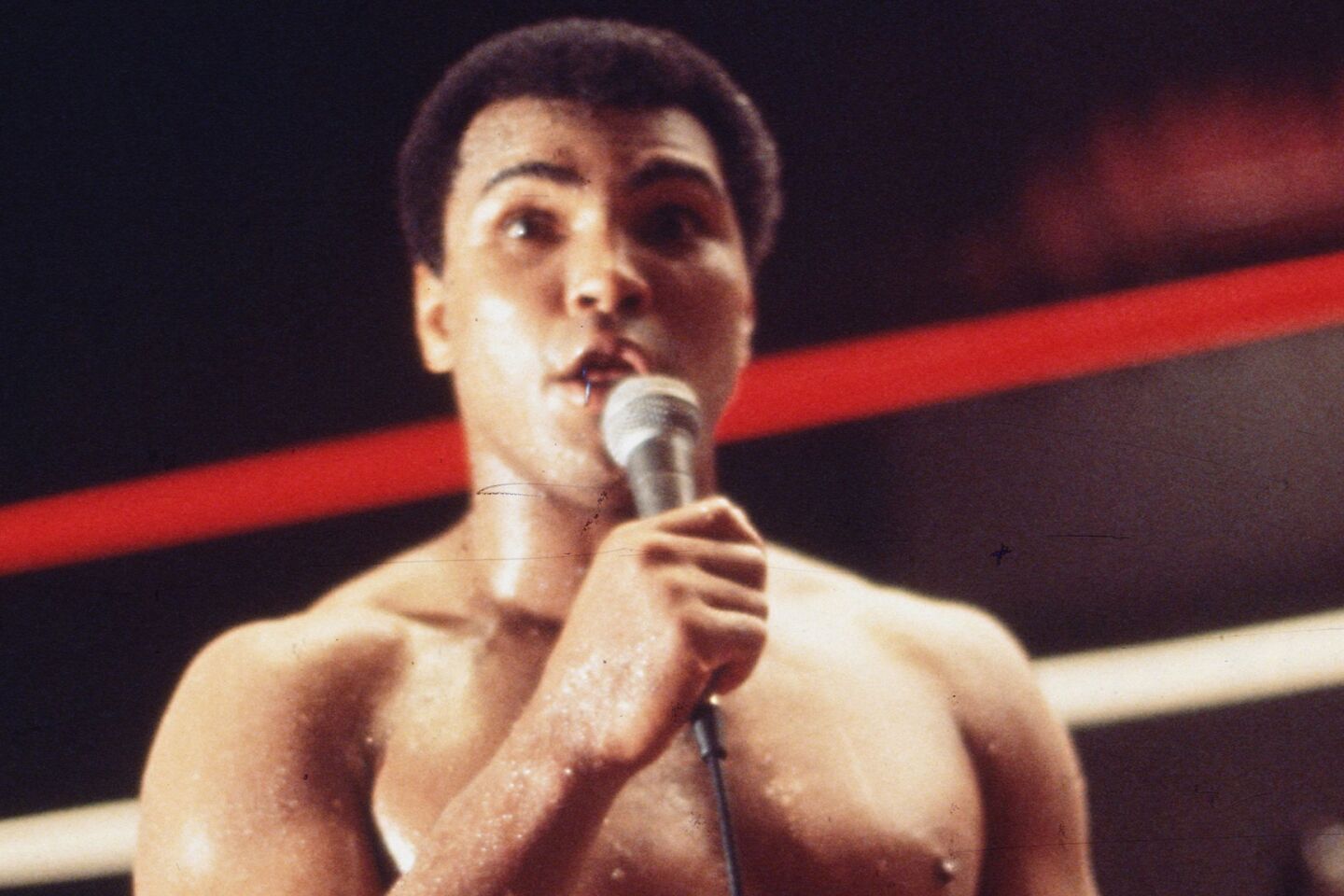 Muhammad Ali addressing the crowd before his heavyweight title victory over Leon Spinks in New Orleans in 1978.
(Keystone / Getty Images)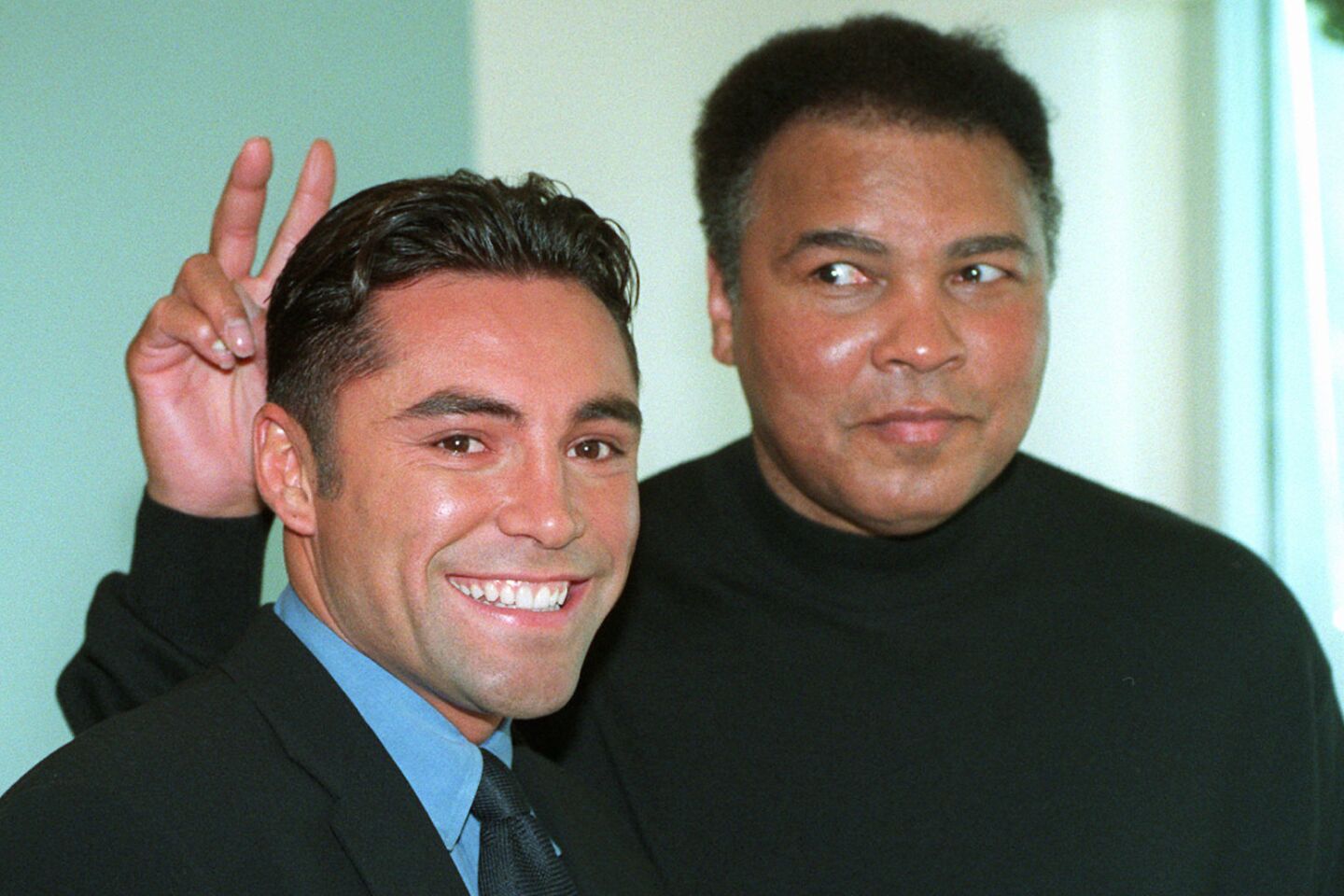 Boxing legend Muhammad Ali, right, clowns around with Oscar De La Hoya while appearing together in New York on Dec. 2, 1997.
(Doug Kanter / Associated Press)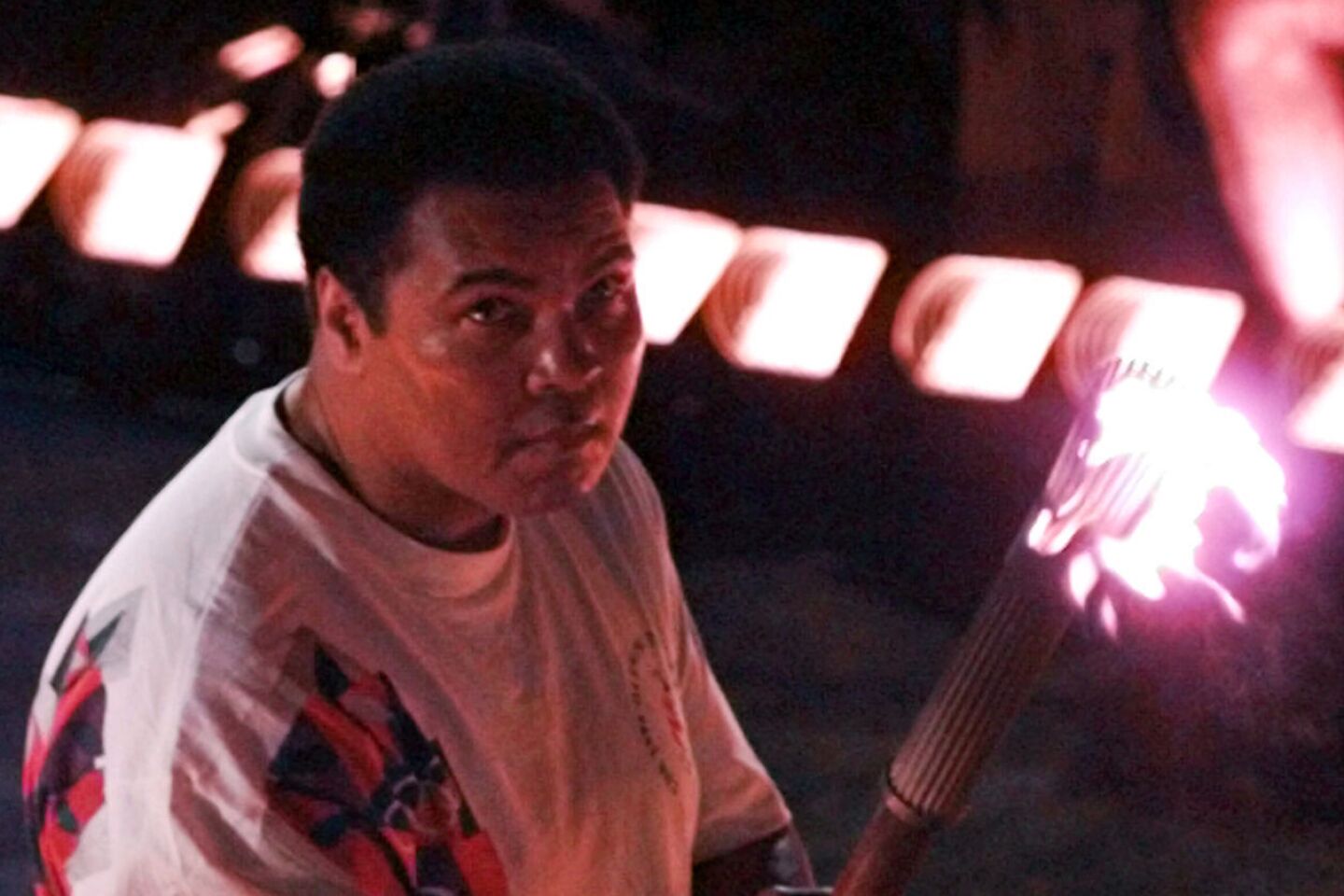 Muhammad Ali watches as the flame climbs up to the Olympic torch while taking part in the opening ceremonies of the 1996 Atlanta Olympic Games.
(Doug Mills / Associated Press)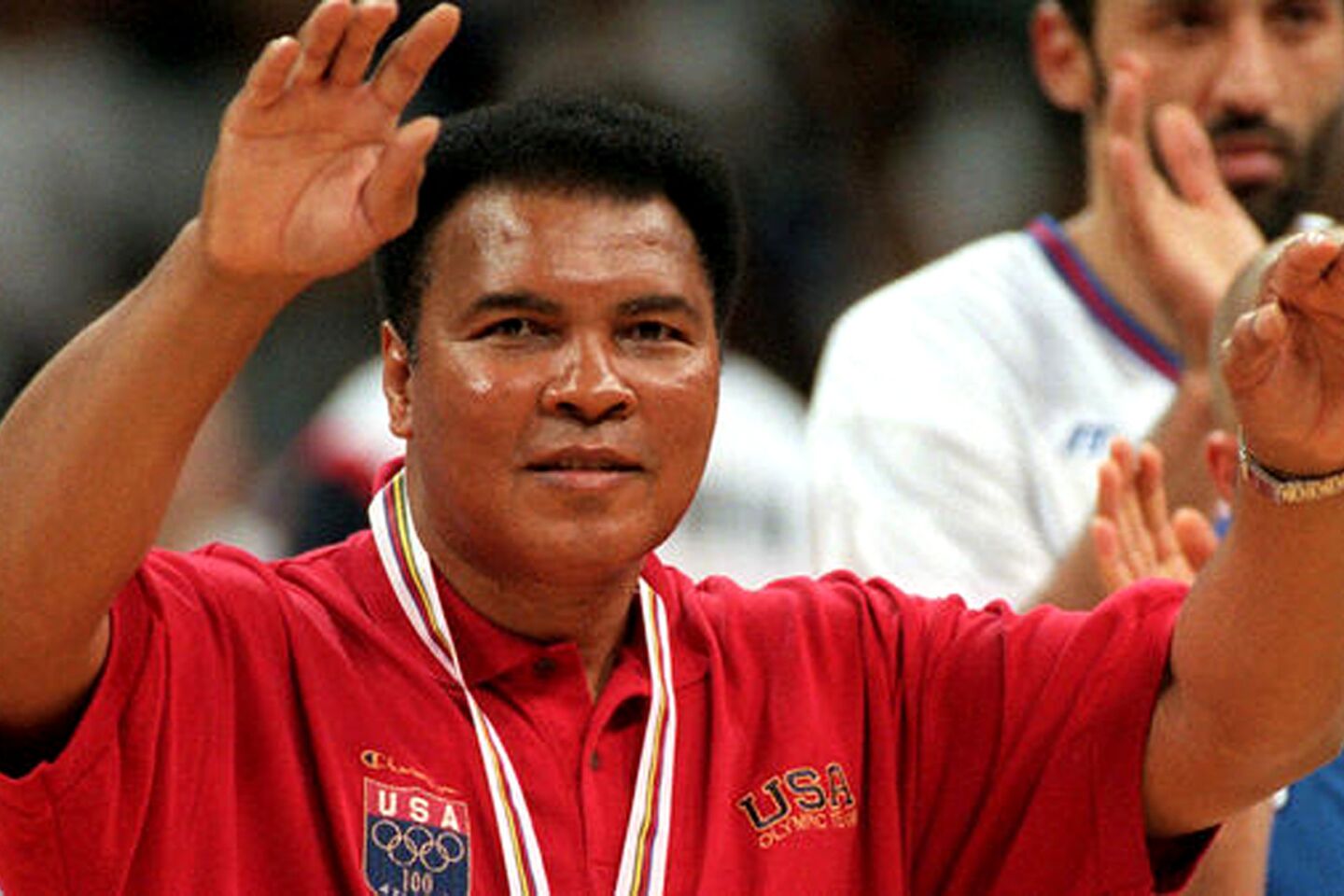 Muhammad Ali acknowledges the cheers of the crowd during halftime of the gold-medal basketball game between the United States and Yugoslavia at the Atlanta Olympic Games on Aug. 3, 1996.
(Paul Morse / Los Angeles Times)
Former heavyweight champion Muhammad Ali throws playful punch toward a photographer while sitting on a bus in front of Locke High School in December 1996.
(Ken Lubas / Los Angeles Times)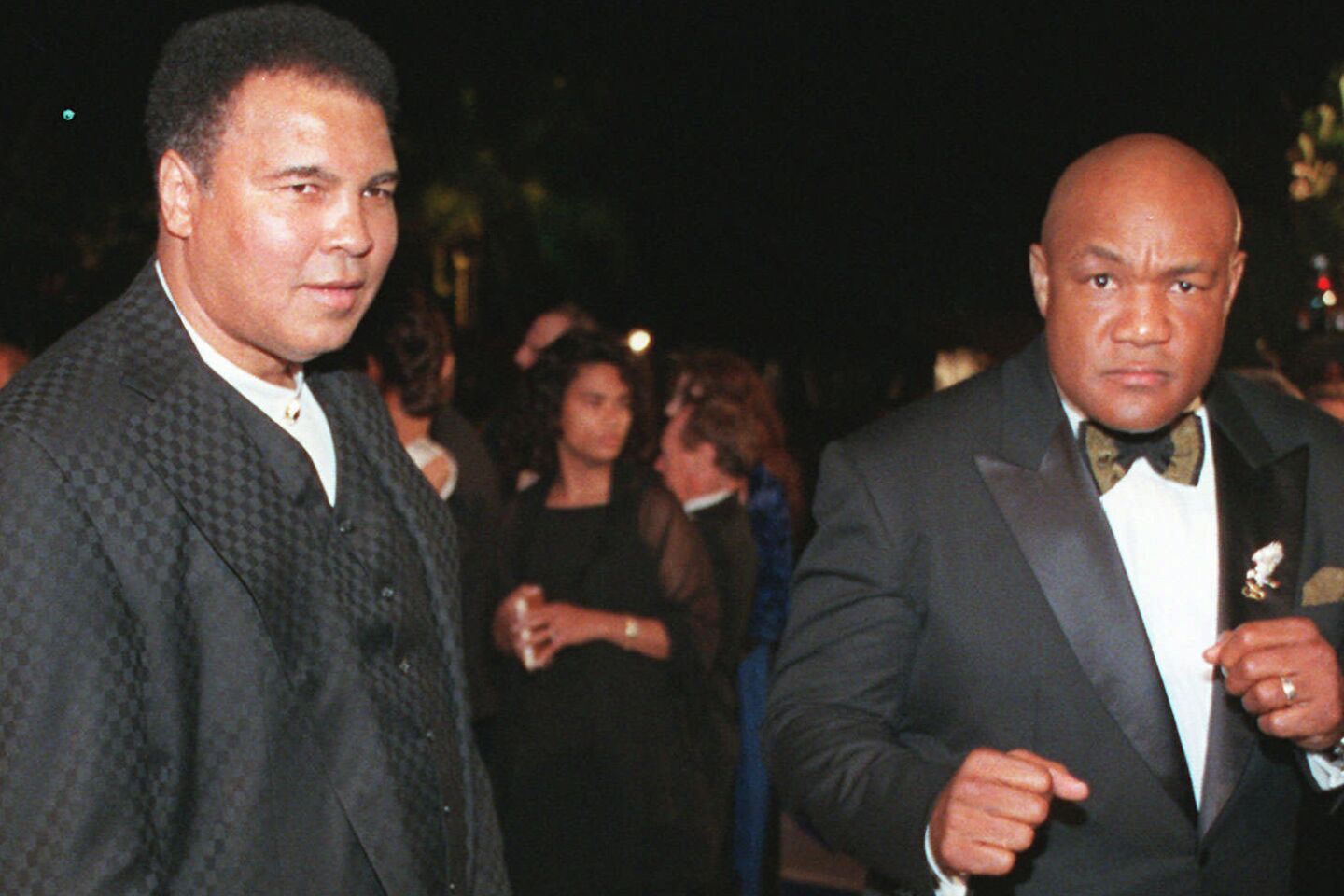 Muhammad Ali, left, and George Foreman arrive at the Vanity Fair Oscar party in Los Angeles on March 24, 1997.
(E.J. Flynn / Associated Press)
Boxing great Muhammad Ali, left, and heavyweight champion Evander Holyfield pose for the camera while attending the ESPY Awards in New York on Feb. 10, 1997.
(Timothy A. Clary / AFP / Getty Images)
Muhammad Ali, right, and his daughter, boxer Laila Ali, pose for a picture during a celebrity roast for charity in Los Angeles on Nov. 16, 2000.
(Kevork Djansezian / Associated Press)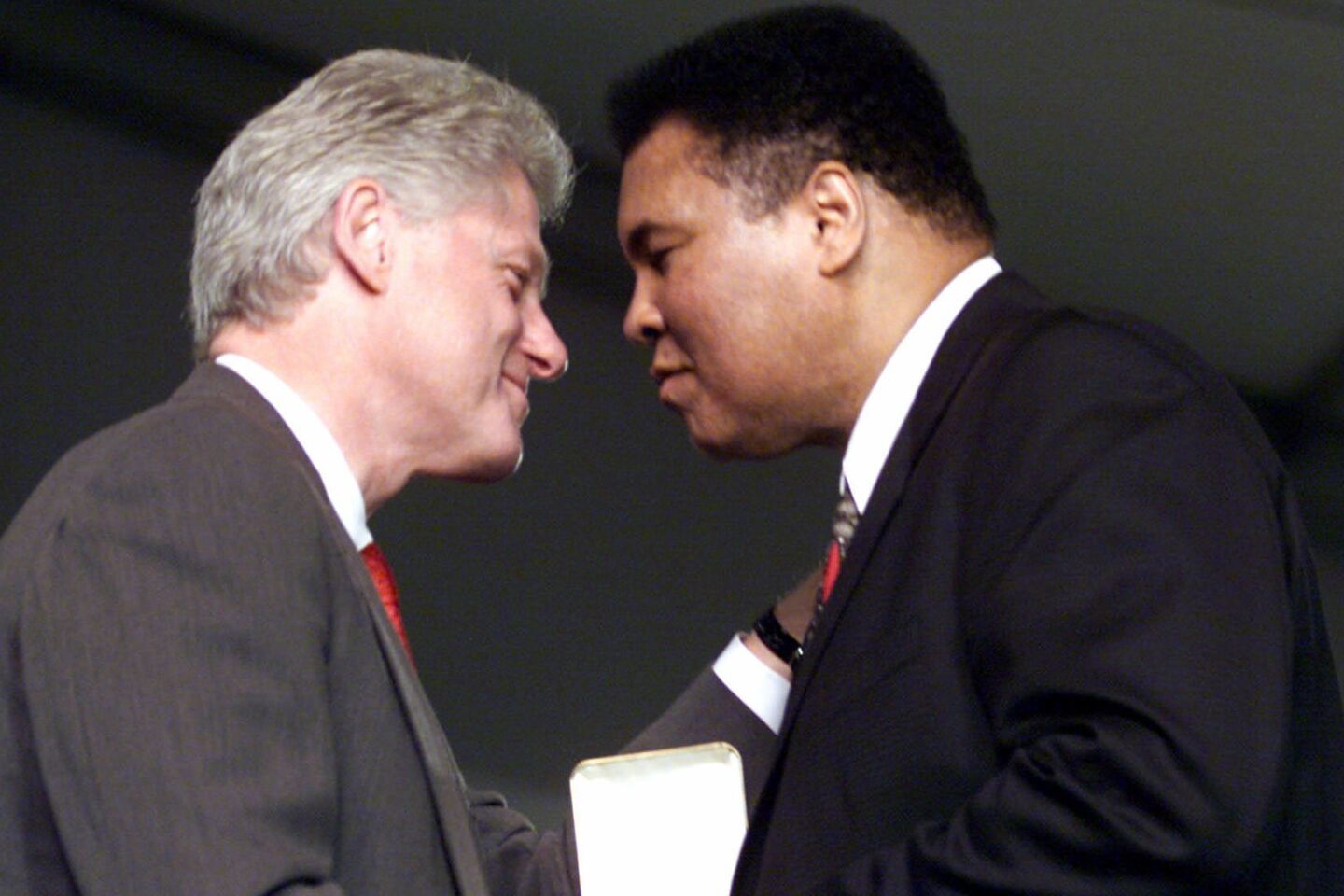 President Bill Clinton presents boxing great Muhammad Ali with a Presidential Citizens Medal during a ceremony at the White House on Jan. 8, 2001.
(Ron Edmonds / Associated Press)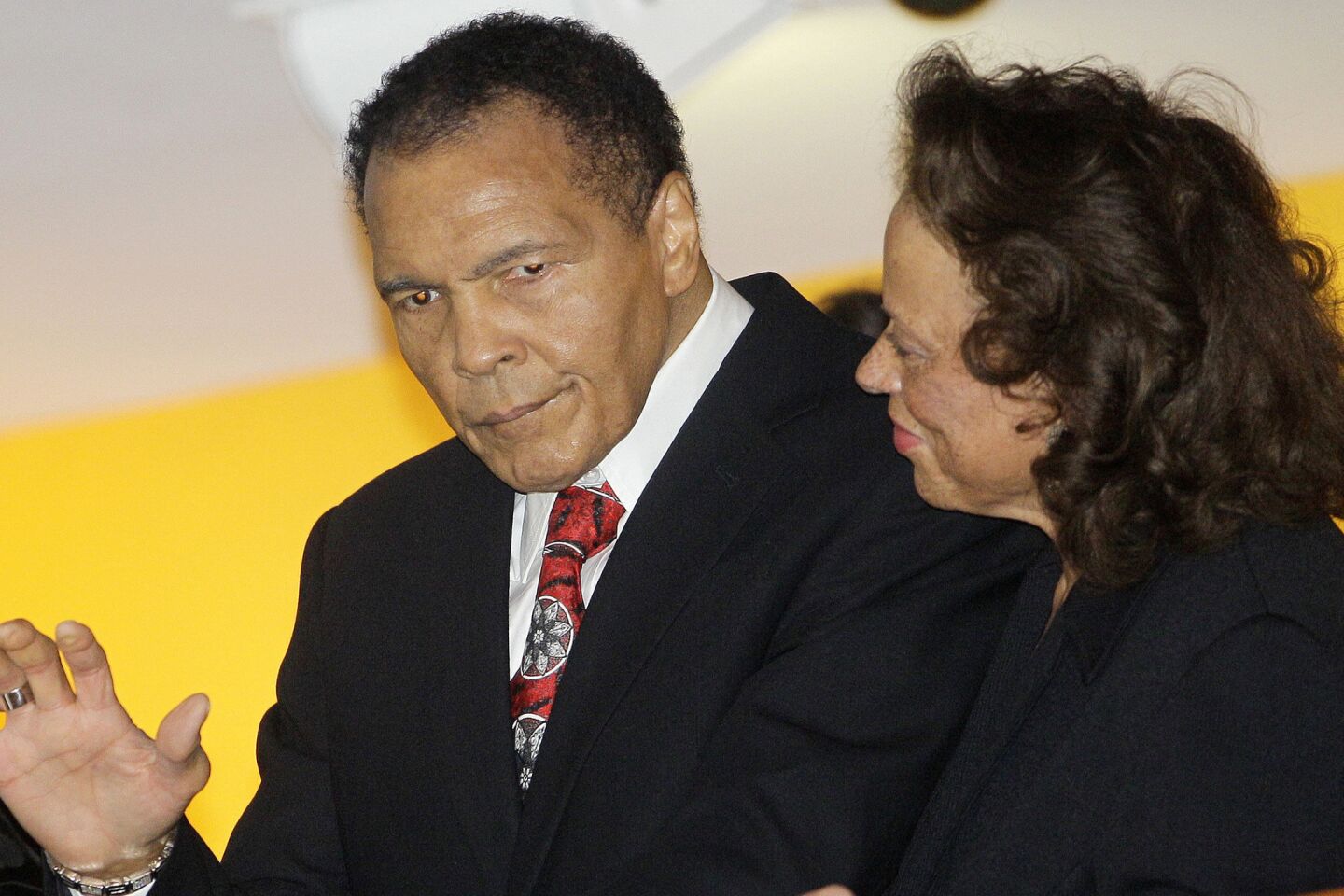 Muhammad Ali stands with his wife, Lonnie, while waving to friends attending his 70th birthday celebration at the Muhammad Ali Center in Louisville, Ky., on Jan. 14, 2012.
(Mark Humphrey / Associated Press)
"I was like a fly on the wall for that," Caplan said. "Ali was doing color on ABC with Howard Cosell. Ali couldn't be any kinder one-on-one. He gave Foreman advice on how to handle being the champion, like he was a Dutch uncle -- couldn't have been nicer.
"Then we walked outside, where there were a lot of people in the lobby and Ali said, 'You see this robot [emulating Foreman's slow-moving power punches]? You know what I'm going to do to him?'
"You saw the two faces of Ali in one second. George was laughing and laughing. He got it."
After Ali beat Sonny Liston for the heavyweight belt, he faced being drafted to the Vietnam War, and refused – provoking a three-plus-year absence from the ring and serving as a lightning rod during the height of the civil rights era.
"It's hard for people 50 or younger to realize what this country was like in the 1950s and '60s, how bad it was for African-Americans in this country – how they fought just to eat at a lunch counter or stay at a hotel," Arum said. "There was no opportunity.
"Ali spoke out against that in a way that really connected with people, even more than the melodic and philosophical way that Martin Luther King Jr. spoke out. Because Ali was a great sportsman and boxer, he was able to reach people and, I think, had a tremendous effect on bringing change to this country."
No act was more principled than giving up massive boxing purses to defy the draft, Arum said.
"Once people saw that he sacrificed his livelihood for what he believed in, that really elevated him in the minds of people to be almost saint-like," Arum said. "Everybody, myself included, counseled him not to take that step that led him to not fight for three and a half years, but he felt he was doing the right thing. And it ended up that it was the right thing – for him, the world and the country."
Ali proceeded to return to the ring against Joe Frazier in an epic 1971 showdown, then recaptured the heavyweight belt by knocking out Foreman in 1974 in Africa. Ali quickly avenged a 1978 loss to Leon Spinks for the third union with the belt.
"His story and his character and his life will be part of history that will be studied by whoever looks back on the last 50 years," said Arum, who promoted 26 Ali bouts, including the 1975 trilogy capping "Thrilla in Manila" fight with Frazier that is seen as the beginning of the brain damage that plagued his later life.
Foreman remembers learning a few lessons inside and outside the ring from Ali.
"Back in the time that Joe Frazier, Ali and I were going strong, they called us all great fighters. There's no question the greatest of all was Muhammad Ali," Foreman said Friday night. "I never had any animosity toward him. Never. I always respected him and I learned from him."
Foreman said what he learned most was how to get along with reporters and to be more clever in the ring -- an asset that allowed Foreman to recapture a heavyweight belt 20 years after the "Rumble in the Jungle."
Oscar De La Hoya, who fought in front of Ali sitting ringside in the first bout at Staples Center in 2000, said in a prepared statement, "Muhammad Ali is ... the fighter who ushered in the golden era of boxing and put the sport on the map. He paved the way for professional fighters including myself, elevating boxing to become a sport watched in millions of households around the world.
"Ali's talent was undeniable ... beyond his incredible talent, he also made boxing interesting. Ali was fearless in the ring, and took on the toughest, most challenging opponents. Ali exemplified courage -- he never took the easy route, something to be admired in and outside of the ring.
"Let us remember a man who pursued greatness in everything he did and be inspired to hold ourselves to that same standard. Rest in peace, my friend."
Former champion boxer Manny Pacquiao weighed in from the Philippines.
"We lost a giant today," said Pacquiao, who was inspired by Ali's devotion to the public and was recently elected to a Senate seat in his country. "Boxing benefited from Muhammad Ali's talents, but not nearly as much as mankind benefited from his humanity. Our hearts and prayers go out to the Ali family. May God bless them."
Arum witnessed Ali's standing as the most well-known person in the world when he accompanied the then-retired icon to China to promote a boxing show in the early 1990s, after the country banned the sport during Ali's reign.
"Going through customs, there were these massive groups of Chinese that recognized him and went crazy. I was stunned," Arum said. "He was a magical person and obviously the most amazing person I've had the privilege of being around in my lifetime."
Twitter: @latimespugmire
Get our high school sports newsletter
Prep Rally is devoted to the SoCal high school sports experience, bringing you scores, stories and a behind-the-scenes look at what makes prep sports so popular.
You may occasionally receive promotional content from the Los Angeles Times.