Highlights of Muhammad Ali's boxing career
Here are the highlights of Muhammad Ali's legendary boxing career:
1964
Ali, then known as Cassius Clay, stunned the boxing world in February by upsetting seemingly invincible champion Sonny Liston. At 22, Clay was the youngest boxer to take a title from a reigning heavyweight champion.
Shortly after, he announced that he had joined the Nation of Islam and had changed his name to Muhammad Ali. Ali famously said "Cassius Clay is my slave name."
1965
In the Ali-Liston rematch in May, Ali won a controversial fight with a first-round knockout in what was deemed a "phantom punch."
Later that year Ali fought Floyd Patterson, a former heavyweight champion. Ali believed Patterson had made disparaging remarks about his religion, and many felt Ali intentionally prolonged the lopsided fight before stopping Patterson with a a 12-round technical knockout. Ali had called Patterson a "white man's champion."
1967
Ali was criticized again for his antics against Ernie Terrell in a February title fight. Between punches, Ali taunted Terrell, saying, "What's my name, Uncle Tom? What's my name?" Ali, who won a lopsided 15-round decision, was upset that before the fight Terrell called him Clay, instead of Ali.
Ali was stripped of his boxing title in 1967 for his opposition to the Vietnam War. He was drafted but refused to enter the armed services, saying, "I ain't got no quarrel with the Vietcong. No Vietcong ever called me nigger."
World heavyweight boxing champion Muhammad Ali poses at the Royal Artillery Gymnasium in London while training for a 1966 fight against British champion Henry Cooper. Ali, who compiled a 56-5 professional record, is considered one of the greatest boxers of all-time.
(Trevor Humphries / Getty Images)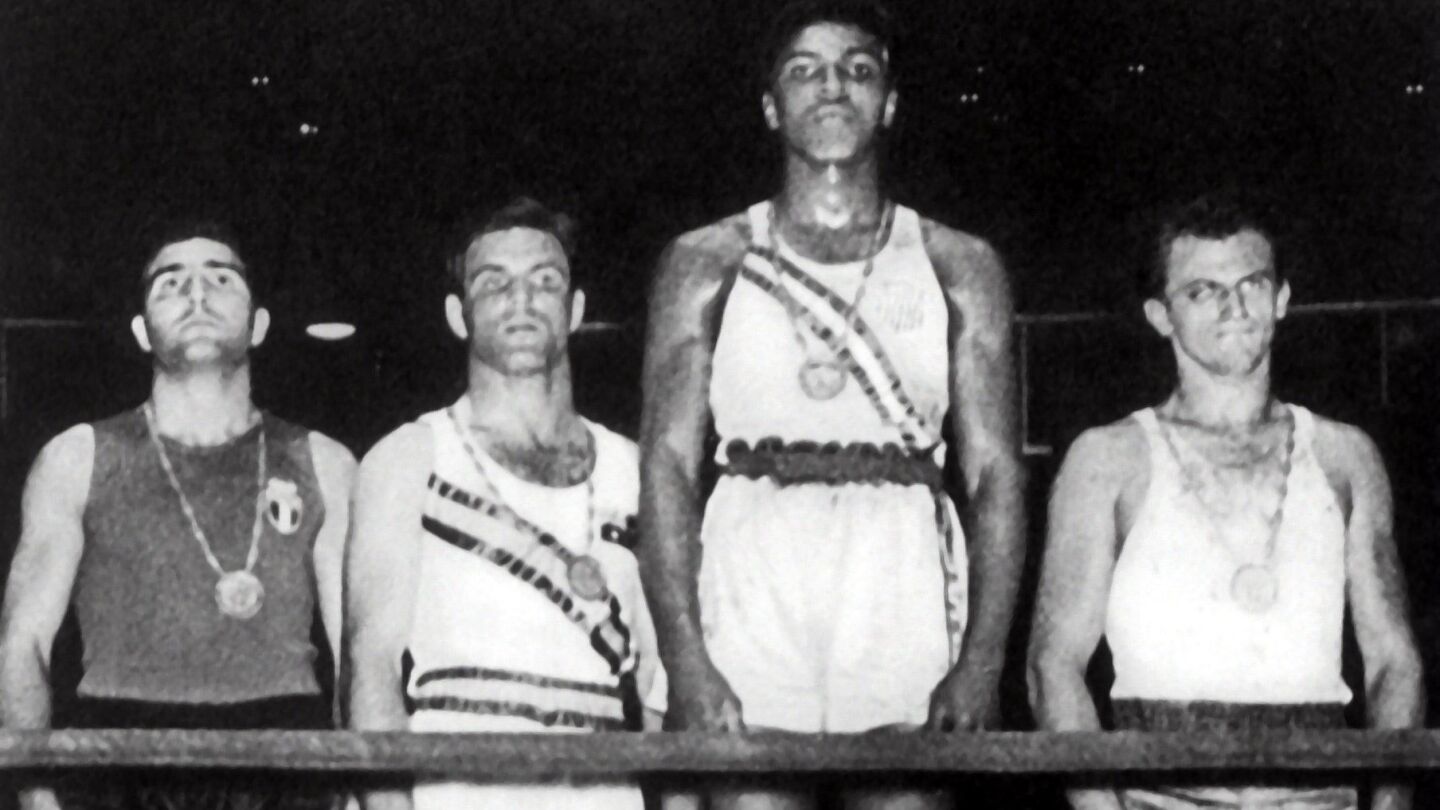 Muhammad Ali, second from right, stands on the medal podium at the Olympic Games in Rome after winning the light-heavyweight gold medal. Zbigniew Pietrzykowski of Poland, the man he beat in the final, is on his left.
(IOC / Allsport)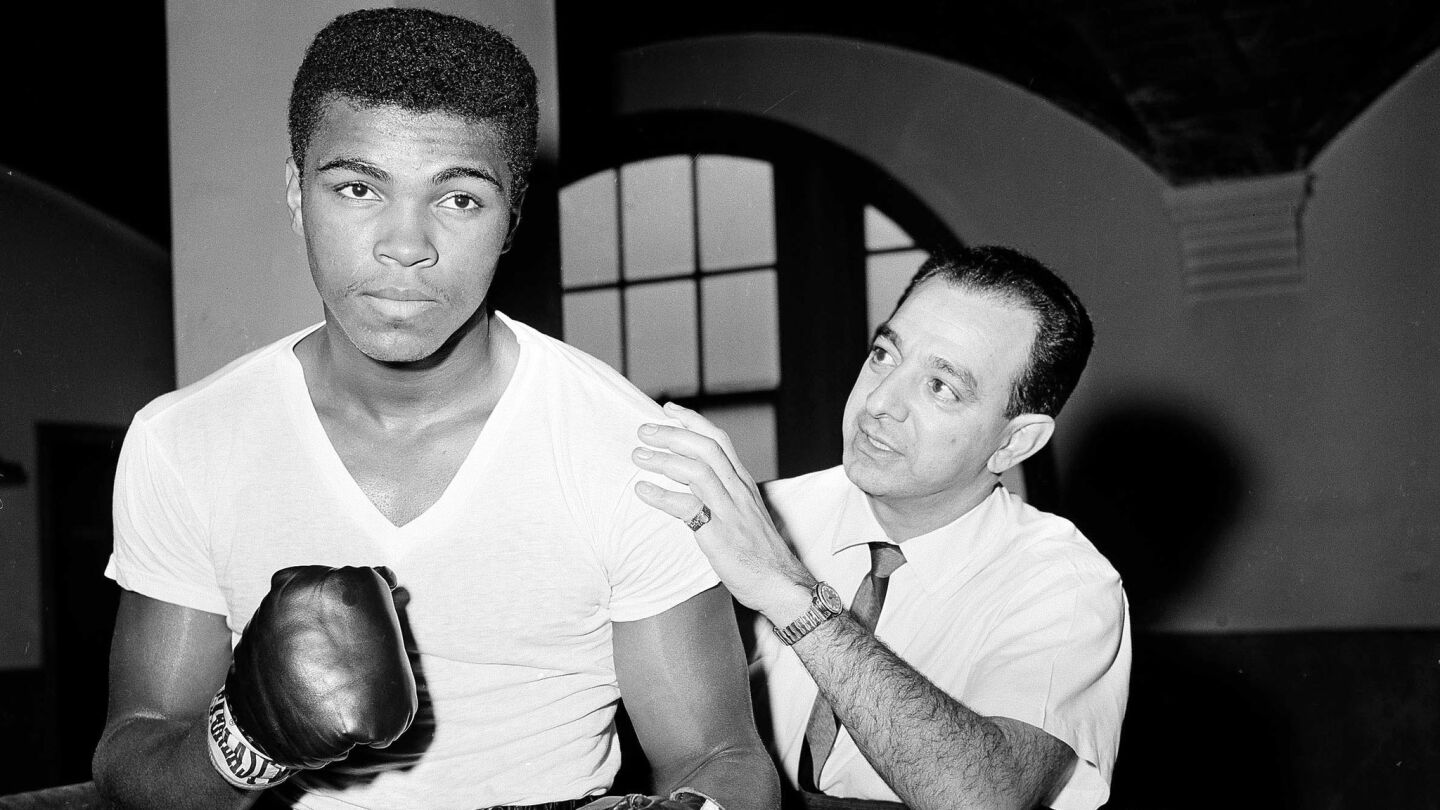 Boxer Muhammad Ali is seen with his trainer, Angelo Dundee, at City Parks Gym in New York on Feb. 8, 1962.
(Dan Grossi / Associated Press)
Heavyweight champion Sonny Liston, left, and Muhammad Ali exchange punches during their first fight in Miami on Feb. 25, 1964. Ali, then known as Cassius Clay, defeated Liston by technical knockout in the seventh round to claim the title.
(Hulton Deutsch / Allsport)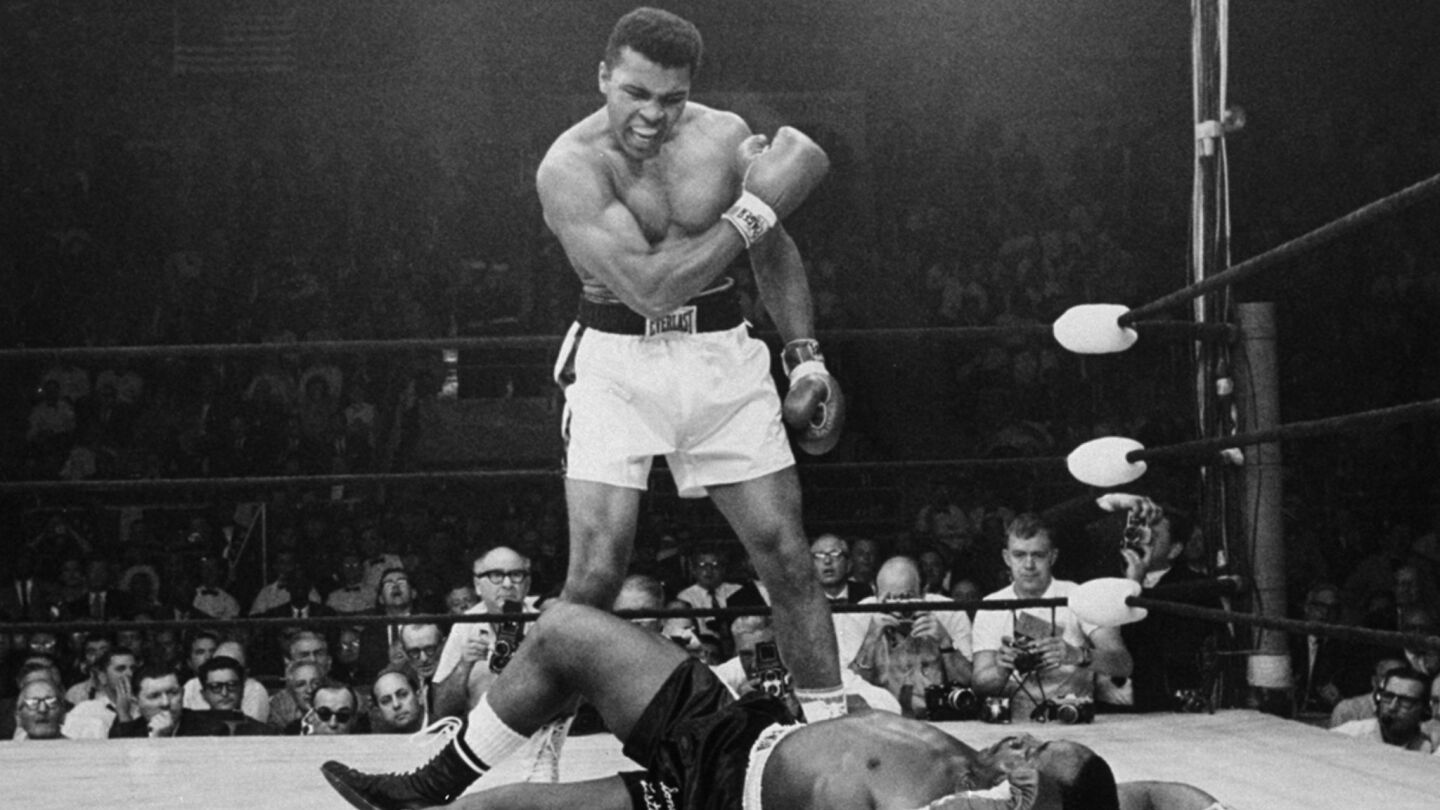 Heavyweight champion Muhammad Ali stands over fallen challenger Sonny Liston, shouting after knocking him down with a short, hard right to the jaw during their bout in Lewiston, Maine, on May 25, 1965.
(John Rooney / Associated Press)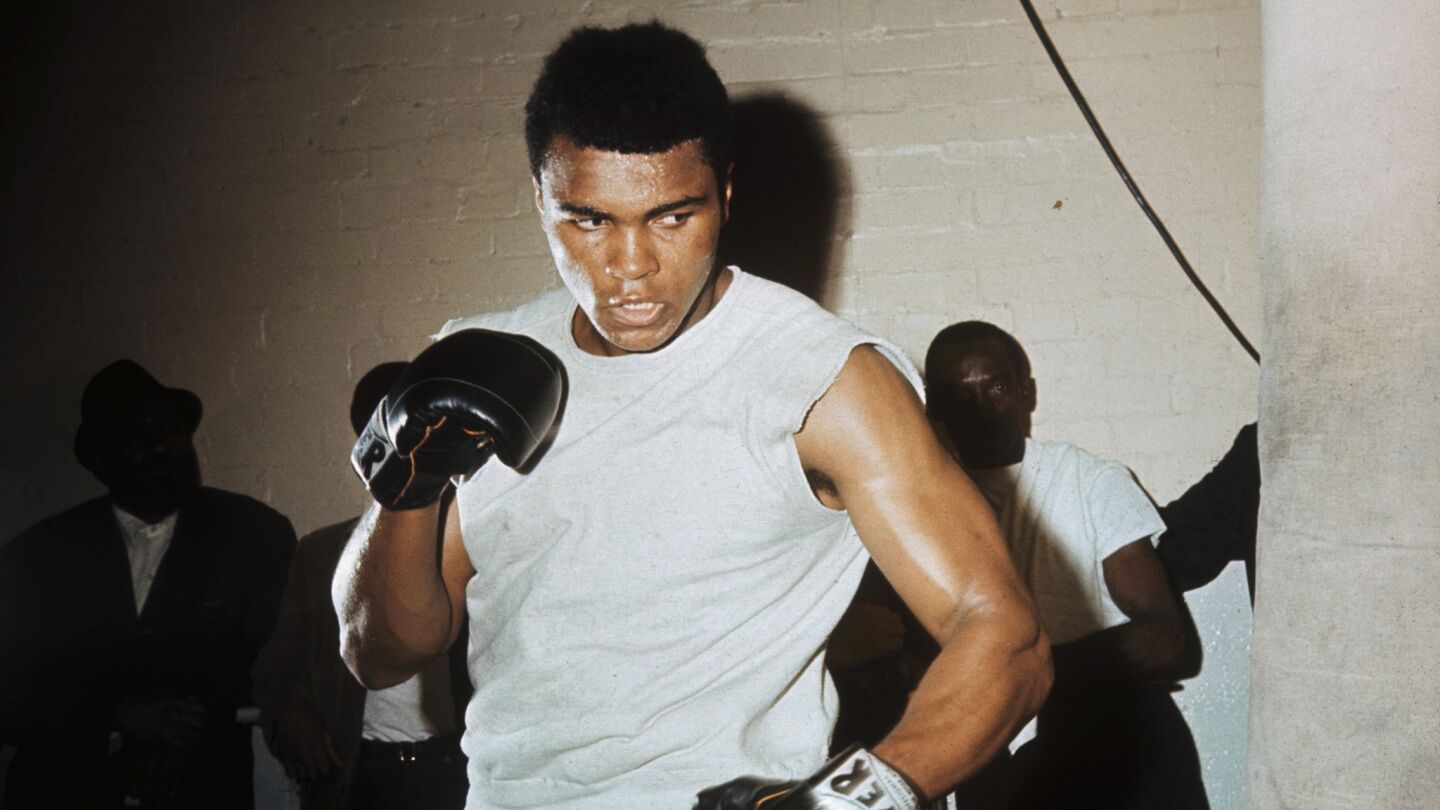 Muhammad Ali trains in London in 1966.
(Wesley / Getty Images)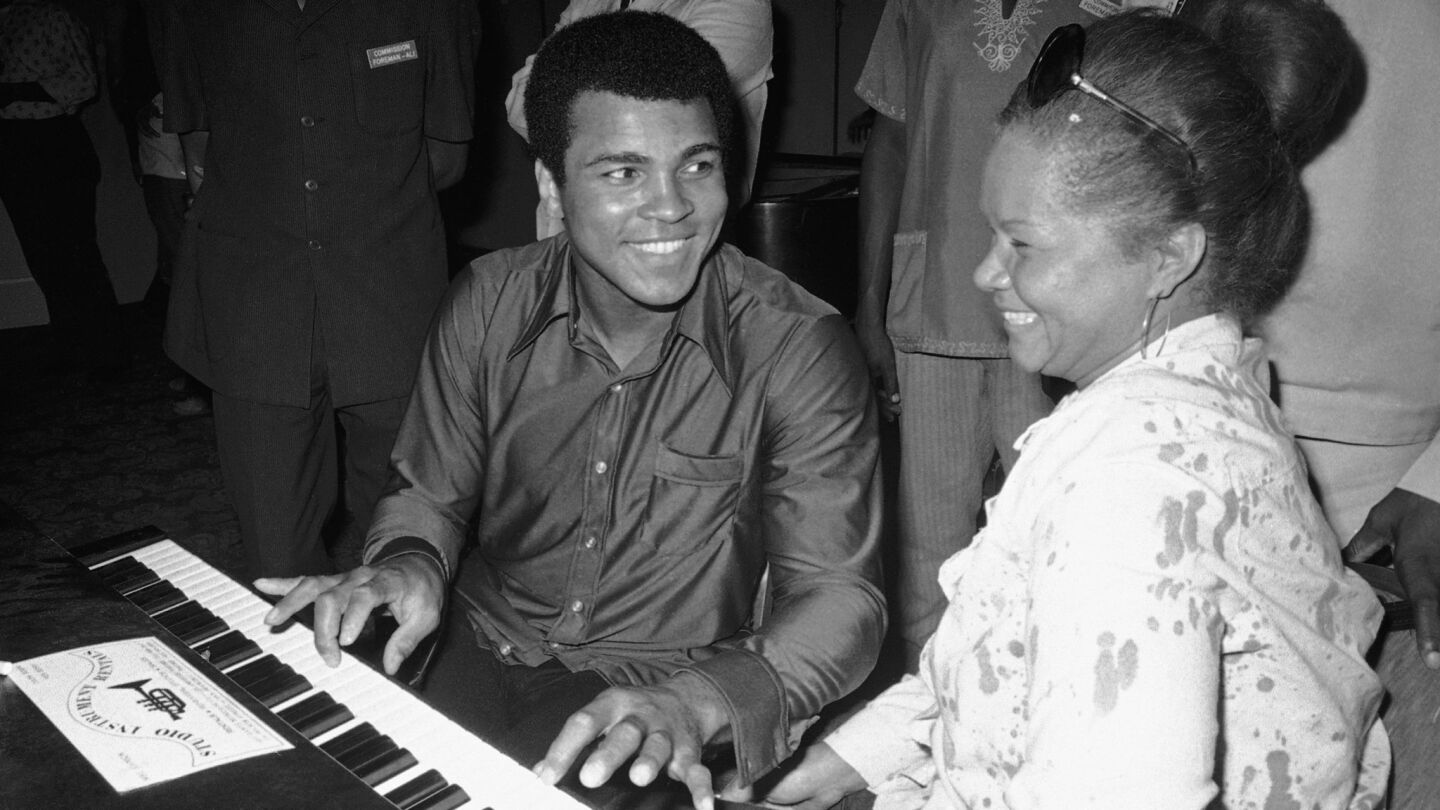 Muhammad Ali, left, smiles as he plays notes on a piano while sitting next to recording artist Etta James on Sept. 22, 1974.
(Horst Faas / Associated Press)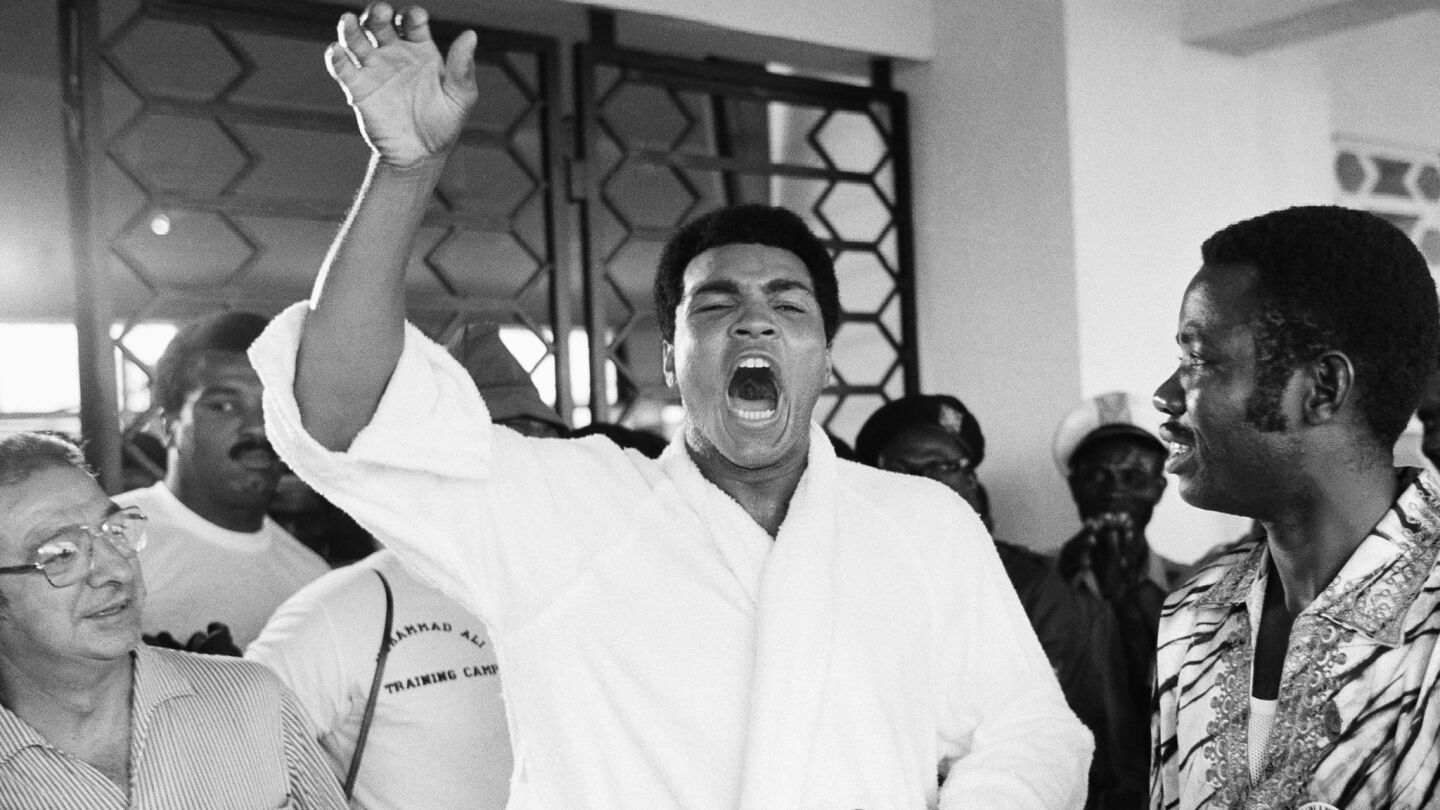 While in Zaire preparing for his upcoming bout against George Foreman, Muhammad Ali declares in the Lingala language, "ako bo mai ye," which translates as "I will kill him" while appearing before a crowd of fans on Sept. 12, 1974.
(Horst Faas / Associated Press)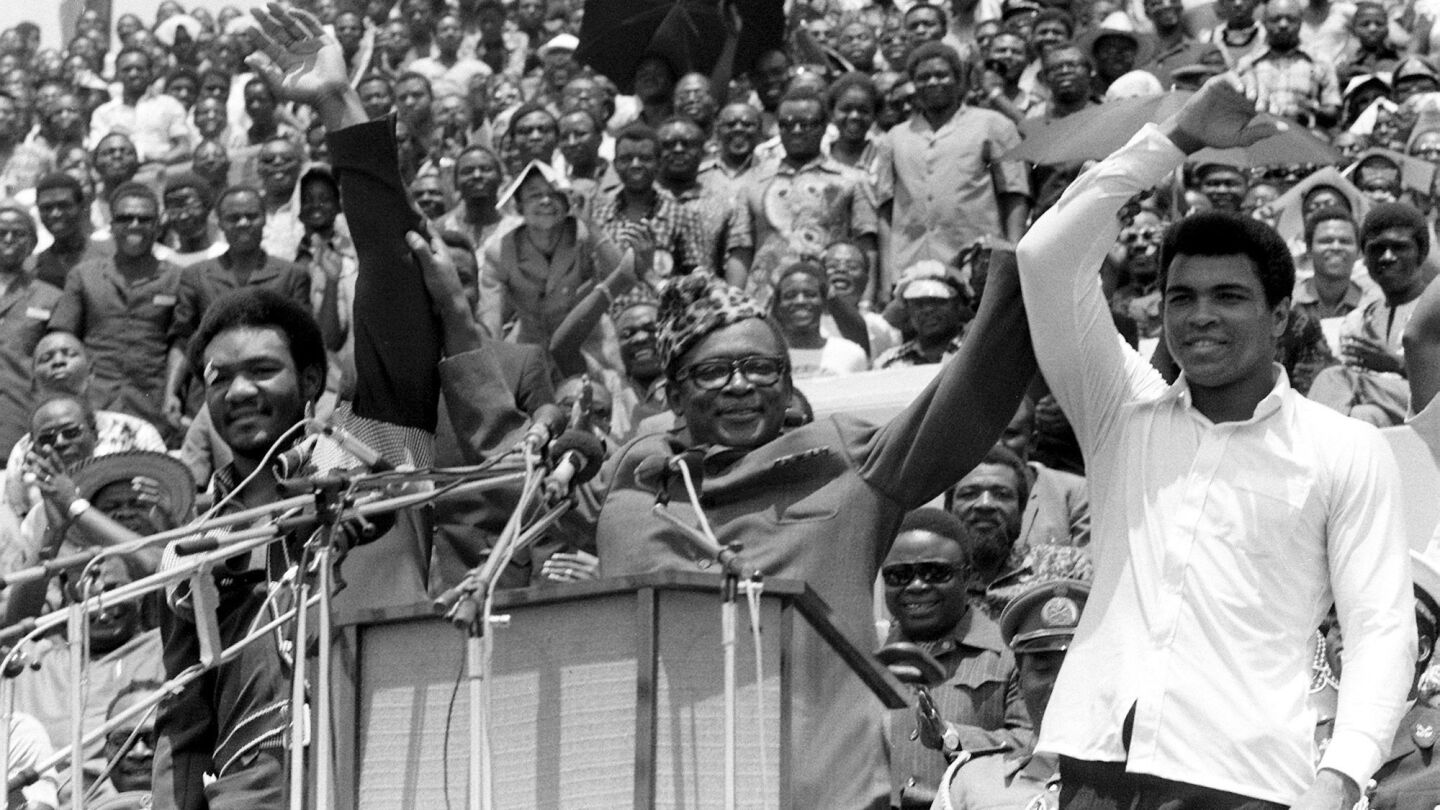 Mobutu Sese Seko, center, president of Zaire, raises the arms of George Foreman, left, and Muhammad Ali during a rally in Kinshasa on Sept. 22, 1974, to promote their upcoming heavyweight title bout.
(Horst Faas/ Associated Press)
Muhammad Ali, right, punches George Foreman in the head during their heavyweight title bout in Zaire on Oct. 30, 1974.
(Ed Kolenovsky / Associated Press)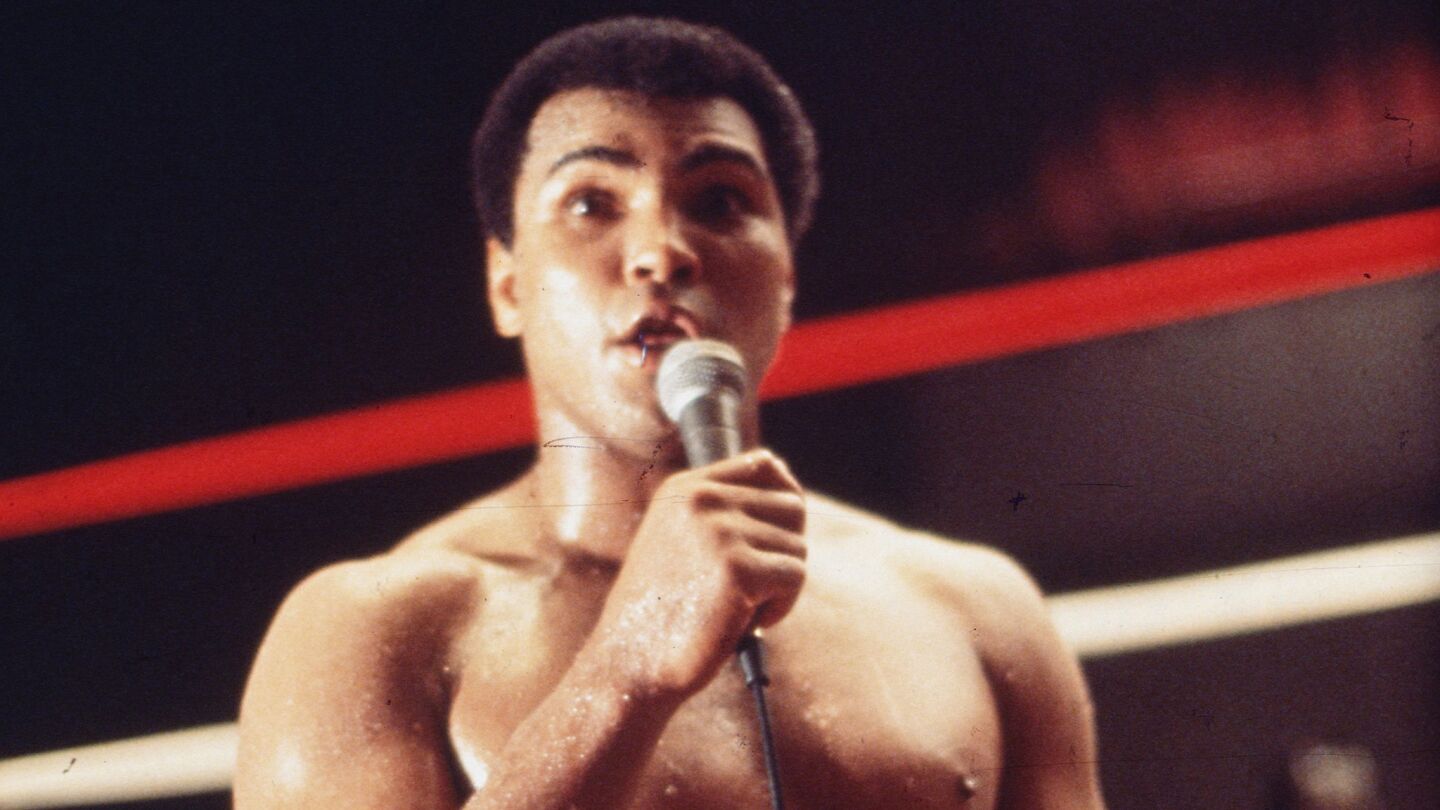 Muhammad Ali addressing the crowd before his heavyweight title victory over Leon Spinks in New Orleans in 1978.
(Keystone / Getty Images)
Boxing legend Muhammad Ali, right, clowns around with Oscar De La Hoya while appearing together in New York on Dec. 2, 1997.
(Doug Kanter / Associated Press)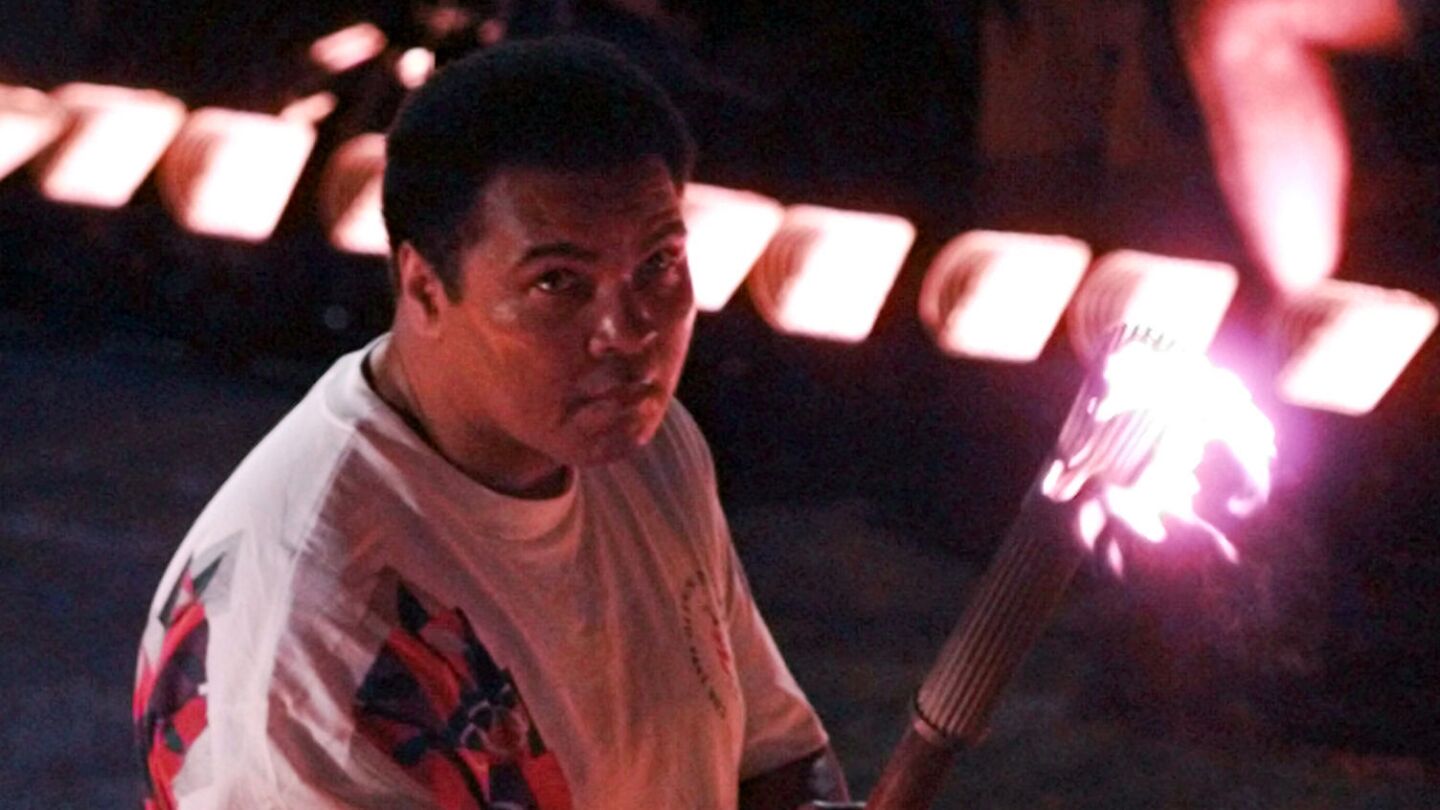 Muhammad Ali watches as the flame climbs up to the Olympic torch while taking part in the opening ceremonies of the 1996 Atlanta Olympic Games.
(Doug Mills / Associated Press)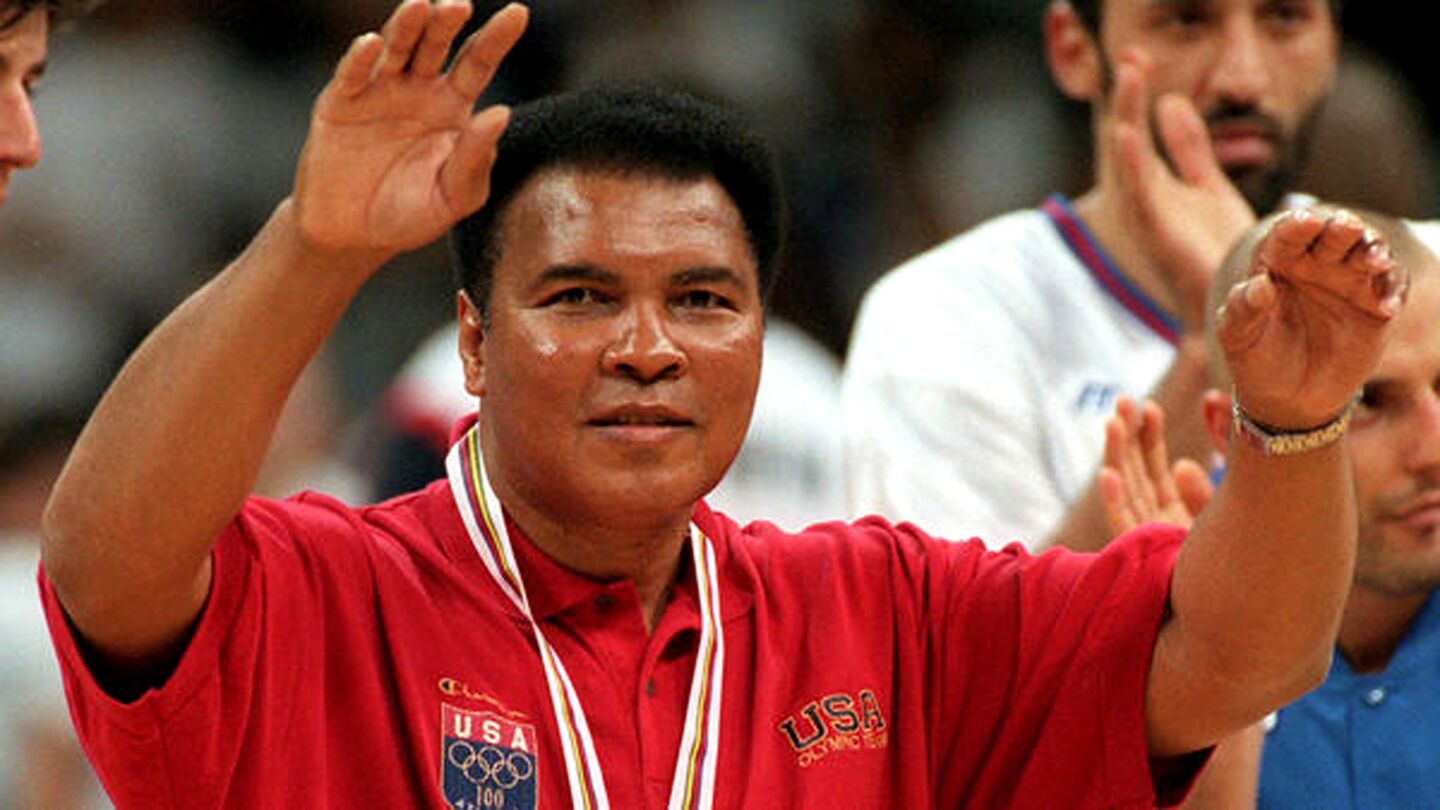 Muhammad Ali acknowledges the cheers of the crowd during halftime of the gold-medal basketball game between the United States and Yugoslavia at the Atlanta Olympic Games on Aug. 3, 1996.
(Paul Morse / Los Angeles Times)
Former heavyweight champion Muhammad Ali throws playful punch toward a photographer while sitting on a bus in front of Locke High School in December 1996.
(Ken Lubas / Los Angeles Times)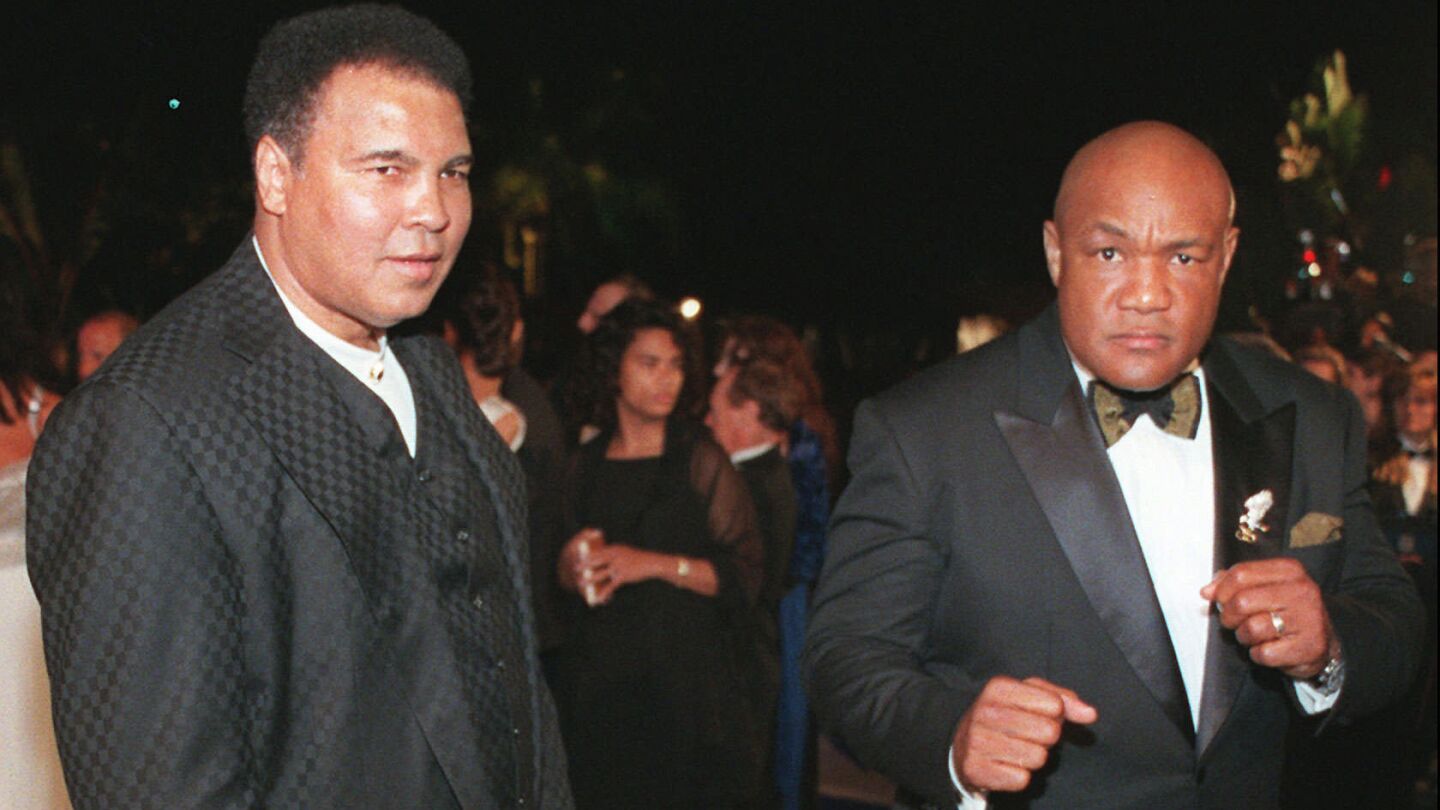 Muhammad Ali, left, and George Foreman arrive at the Vanity Fair Oscar party in Los Angeles on March 24, 1997.
(E.J. Flynn / Associated Press)
Boxing great Muhammad Ali, left, and heavyweight champion Evander Holyfield pose for the camera while attending the ESPY Awards in New York on Feb. 10, 1997.
(Timothy A. Clary / AFP / Getty Images)
Muhammad Ali, right, and his daughter, boxer Laila Ali, pose for a picture during a celebrity roast for charity in Los Angeles on Nov. 16, 2000.
(Kevork Djansezian / Associated Press)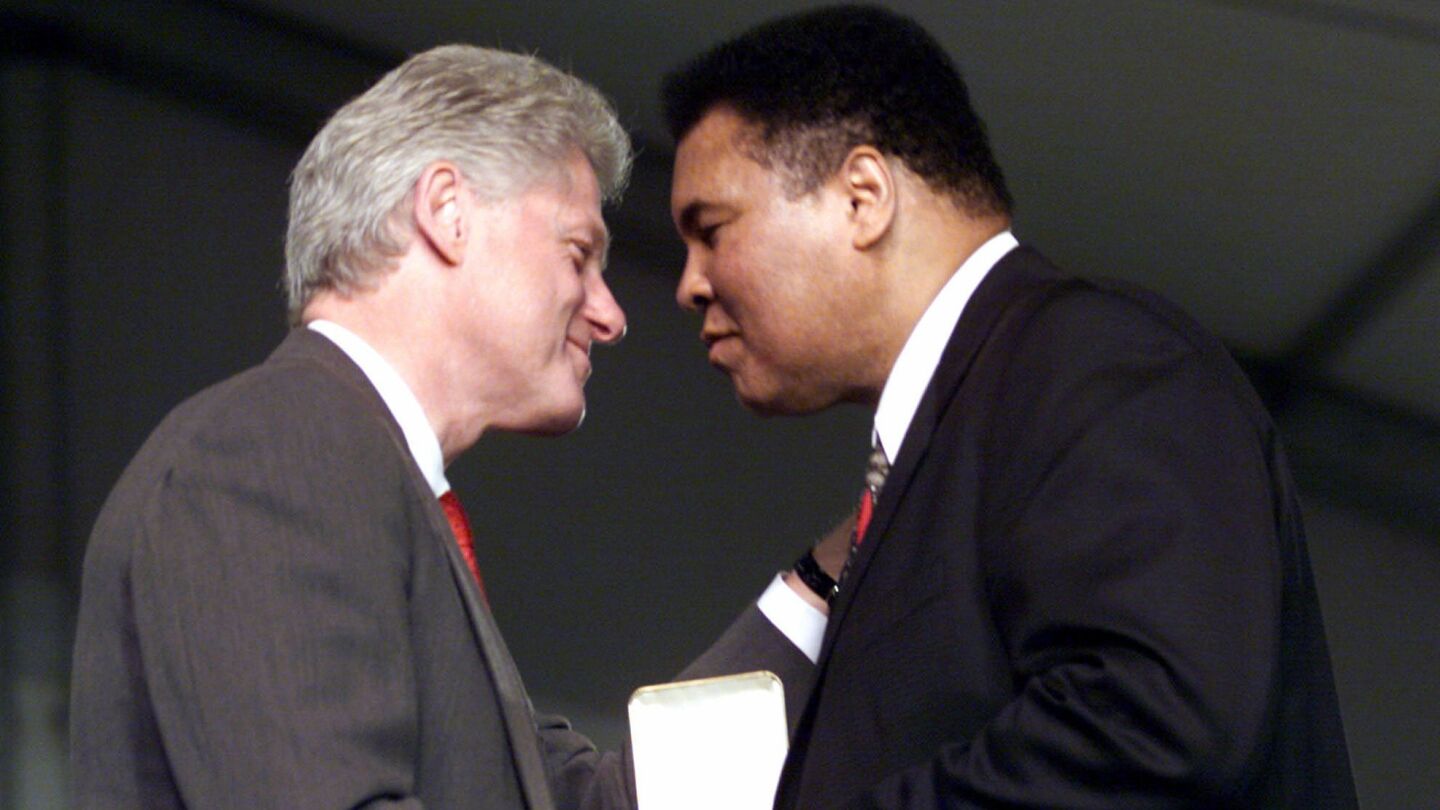 President Bill Clinton presents boxing great Muhammad Ali with a Presidential Citizens Medal during a ceremony at the White House on Jan. 8, 2001.
(Ron Edmonds / Associated Press)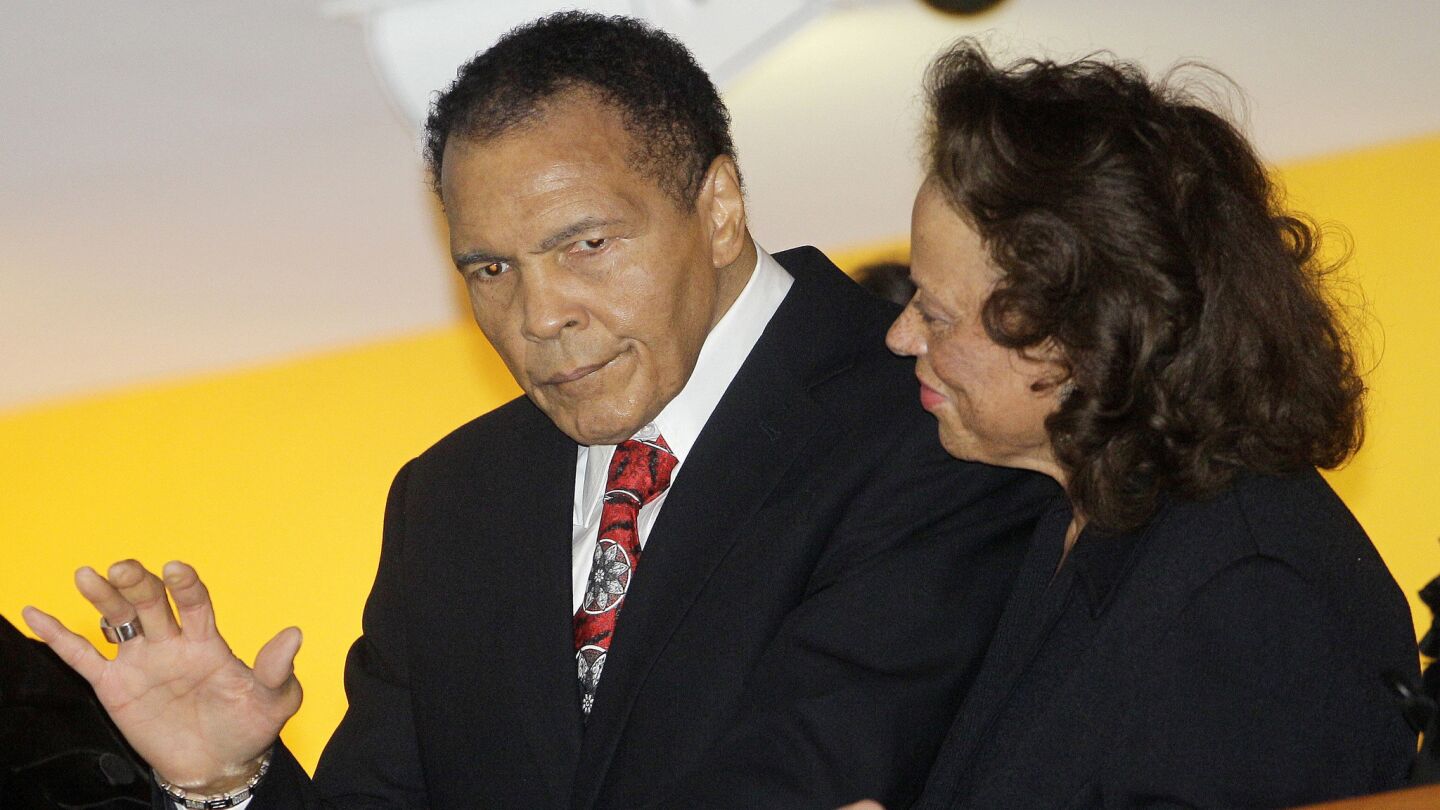 Muhammad Ali stands with his wife, Lonnie, while waving to friends attending his 70th birthday celebration at the Muhammad Ali Center in Louisville, Ky., on Jan. 14, 2012.
(Mark Humphrey / Associated Press)
1967-70
Ali didn't fight from March 1967 until October 1970, his prime boxing years taken away. In 1971, the U.S. Supreme Court overturned Ali's conviction for evading the draft in an 8-0 ruling.
1971
On March 8, in what was billed as the "Fight of the Century," undefeated heavyweight champions Ali and Joe Frazier fought at Madison Square Garden. Before the fight Ali called Frazier a "dumb tool of the white establishment." Ali was knocked down by Frazier's vicious left hook in the 15th round, as Ali lost his first fight in a unanimous decision.
1973
Ali was handed the second loss of his career to little-known Ken Norton, who broke Ali's jaw during their March fight. Ali narrowly won the rematch, by decision, against Norton in September.
1974
Dubbed "The Rumble in the Jungle," Ali took on the intimidating and hard-punching champion George Foreman for the heavyweight title in Kinshasa, Zaire, on Oct. 30. Ali was 32, didn't have the same speed or reflexes as in his '20s. But his "Rope-A-Dope" strategy tired out Foreman and Ali regained the title with an eight-round knockout.
1975
Ali beat Frazier by decision in a non-title bout in 1974. After Ali regained his title he fought Frazier for the final time on Oct. 1. Called the "Thrilla in Manila," Ali won by a technical knockout after Frazier's trainer, Eddie Futch, refused to let Frazier answer the bell for the 15th round. After the fight, Ali said it "was the closest thing to dying that I know."
1978
An unprepared Ali lost his title by a split decision in February to Leon Spinks, who entered the ring with just seven professional fights. Ali won the rematch in September, becoming the first heavyweight champion to win the belt three times.
1980
Instead of staying retired, the 38-year-old Ali fought WBC heavyweight champion Larry Holmes, Ali's former sparring partner. Ali was dominated during the Oct. 2, bout in Las Vegas. Ali's trainer, Angelo Dundee, stopped the fight before the 11th round. It was Ali's only loss by a knockout.
1981
Pleas to stay retired didn't stop Ali from fighting Trevor Berbick. Ali lost a 10-round decision in his final fight on Dec. 11. Ali was diagnosed with Parkinson's syndrome in 1984.
---
Get our high school sports newsletter
Prep Rally is devoted to the SoCal high school sports experience, bringing you scores, stories and a behind-the-scenes look at what makes prep sports so popular.
You may occasionally receive promotional content from the Los Angeles Times.