Stirring photography, music inspired by the Silk Road and everything you needed to know about the Tony Award nominations but were afraid to ask. I'm Carolina A. Miranda, staff writer at the Los Angeles Times, with the week's essential culture news, plus some words about the unexpected death of former art and music reporter Mike Boehm.
Poetry in ordinary life
At the Underground Museum, a new exhibition by the late Roy DeCarava, writes Times contributor Leah Ollman, dwells in photography as "any everyday act … a ritual not that different from prayer in its assertion of purposeful connect between individual and wider world."
Ollman also reviews Arlene Shechet's recent sculptures at Susanne Vielmetter's new downtown L.A. space — "an absolute jawbreaker of a show," she reports — and the stark photos of Simon Norfolk at Gallery Luisotti, which show the feeble ways humans are attempting to keep Switzerland's Rhône Glacier from melting.
Tony, Tony, Tony!
The Tony Award nominations have landed! Musicals "Hadestown," "Ain't Too Proud: The Life and Times of the Temptations" and "Tootsie" are in first, second and third place respectively, with 14, 12 and 11 nominations. Times culture reporter Ashley Lee breaks down who got what, who got snubbed (a lot of high-profile names) and what industry peeps have to say about it.
Times theater critic Charles McNulty analyzes what the nominations mean in an eclectic and erratic season. "Old formulas proved unreliable and a few long-shot experiments yielded unexpected rewards," he writes. The nominations "sent a message of support to artists with fresh and forward-leaning sensibilities, no matter if these endorsements occasionally came at the expense of recognizing worthier work."
Contributor Josh Getlin looks at how "Tootsie" adapted a 1982 movie for the post-#MeToo age. Reporter Ashley Lee talked with featured actress nominee Amber Gray about her "Hadestown" "audition from hell." And contributor Stuart Miller chatted with Laurie Metcalf, who nabbed her sixth nomination for playing Hillary Clinton in Lucas Hnath's "Hillary and Clinton." "I have no interest, frankly, in doing Shakespeare," she tells him. "I'm interested in contemporary pieces."
Plus, McNulty sat down with Aaron Sorkin, whose adaptation of "To Kill a Mockingbird" was conspicuously snubbed in the best play category, but nevertheless received nine Tony nominations, including one for star Jeff Daniels. McNulty turned his Sorkin conversation into a screenplay: "Zoom out as Critic asks how our divisive political environment has affected the cultural reception of this new 'Mockingbird.' Sorkin, squinting at the hazy question, says he could write a 5,000 word essay on the subject." Paging CAA. I think Charlie is ready to option…
Because we are handy that way, The Times has the full list of Tony noms.
And if you're looking for some local Tonys action, Jessica Gelt reports that Heidi Schreck's "What the Constitution Means to Me" — nominated for best play and lead actress for Schreck — will land at the Mark Taper Forum, as part of the 2019-20 season.
Elsewhere on the Stage
F. Kathleey Foley reviews Gay Walsh's "The End of Sex" — a "nuanced comedy-drama about the battle between the sexes" — at the Big Victory Theatre in Burbank.
Contributor Lisa Fung looks at the ways in which the public setting of theater can instigate the private act of crying in connection with Nia Vardalos's "Tiny Beautiful Things," currently at the Pasadena Playhouse.
At REDCAT, Margaret Gray checked out performance artist John Kelly's autobiographical one-man show "Time No Line," rich in biographical detail — a bit too rich, she notes. But as "a survivor of the AIDS pandemic, he has taken on the responsibility of representing his lost generation."
Your support helps us deliver the news on the culture stories that matter most. Subscribe to the Los Angeles Times.
Classical notes
Yo-Yo Ma's Silkroad Ensemble performed at Santa Barbara's Granada Theatre, the Soraya in Northridge and Costa Mesa's Segerstrom. After 20 years, the cross-cultural ensemble is at a thematic and professional crossroads, writes Times classical music critic Mark Swed. Yet there were seductive moments, like "the natural way of using instruments and musical techniques from one culture to express something about another one."
Swed also checks in with the Los Angeles Chamber Orchestra, soon to be led by Spanish conductor Jaime Martín. Swed says a "rousing program" at UCLA's Royce Hall bodes well for the orchestra's future.
The Times' Makeda Easter reports on the Long Beach Opera's adaptation of Philip Glass's 2000 opera, "In the Penal Colony," featuring formerly incarcerated Cal State Long Beach students in starring roles. For some of the actors, it was a "role so deeply familiar," writes Easter, that things got surreal.
Essential Image
When the late Paul R. Williams designed a botany building for UCLA in the 1950s, it included plans for a 285-square foot mosaic lobby mural echoing the banana leaf print wallpaper the architect had installed at the Beverly Hills Hotel. When L.A.-based firm CO Architects undertook a remodel of the La Kretz Botany Building's lobby last year, they came across Williams' remarkable drawing (see below) for the never-built mural and decided to install it. See the final results on the firm's online journal.
Egg-cellent
Little Tokyo is home to a gallery in a kiosk: the artist-run 123 Astronaut has been around for five months. I spent some quality time with the current exhibition, which features a hypnotic video about a cultish, corporate egg, courtesy of the mysterious Wong Group.
Ready for the Weekend
Margaret Gray rounds up what's doing in L.A.'s 99-Seat theaters, including Nilo Cruz's Pulitzer Prize-winning play, "Anna in the Tropics."
I've got all the latest art happenings in my weekly Datebook, including a show by Daniel Gerwin that puts parenting on canvas.
Plus, Matt Cooper has the week ahead in art, dance, theater and classical music, as well as his weekend picks, including the Los Angeles Master Chorale's "Great Opera & Film Choruses."
In other news…
— San Diego's Cassirer family has spent a decade trying to secure the return of a Nazi-looted painting that once belonged to their family. On Tuesday, a Los Angeles judge ruled against them.
— Venice Beach may lose a landmark sculpture by Mark di Suvero.
— ArtCenter College of Design is taking over the downtown L.A. space once occupied by the Main Museum, which shut down abruptly last year.
— Why can't we have passports as cool as Norway's? Or currency as cool as Canada's?
— A trove of historic assessors' photos of San Francisco has been made available to the public.
— A new documentary examines how and why, in the '70s, the Bronx burned.
— Union Station is turning 80. There is reason to celebrate, but the building's history — well, it's complicated, writes David Ulin.
— A great long read: Sam Bloch on how Los Angeles isn't providing equitable access to shade.
— The Instagram aesthetic is getting messier.
— As Sarah Whiting becomes the first woman to lead Harvard's Graduate School of Design, Mimi Zeiger examines the women's expanding role in architectural academia.
Last but not least...
This week, I got the news that former Times art and music reporter Mike Boehm had died unexpectedly from a cardiac condition.
Mike and I only intersected for two years, but in that short time, he was a tremendously generous and good-natured colleague. He was also a dogged reporter, writing up major stories about MOCA's financial troubles in 2008, and turning the 990 tax forms of various L.A. nonprofits into his bedtime reading. (There probably isn't a culture publicist in SoCal who hasn't been on the receiving end of a late-deadline call from Mike, asking about finances.)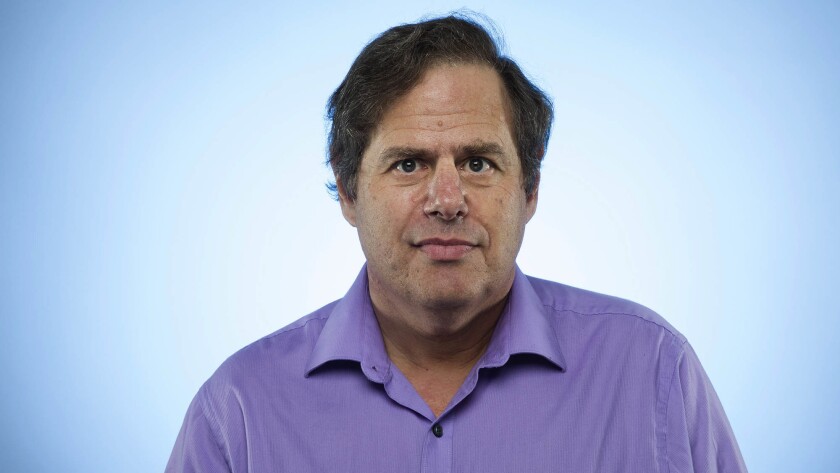 Even after he left The Times in 2015, Mike remained engaged, sending me notes about some of my stories and offering tips on others he thought I should be pursuing. He remained engaged with other subjects too. Last month, he took issue with The Times' criticism of rock music (which he loved) and fired off a tart letter to the editor on the subject: "If your critics think rock is a pox on today's musical landscape, and needs to be ignored and forgotten, it would be far more interesting and useful to see them argue the case in full-length commentaries backed by examples and evidence."
The world will be a less-informed place without Mike. In his honor, I may have to download some 990s … and start making calls.
carolina.miranda@latimes.com | Twitter: @cmonstah
---