Boxing world, and the world at large, react to Muhammad Ali's passing
World heavyweight boxing champion Muhammad Ali poses at the Royal Artillery Gymnasium in London while training for a 1966 fight against British champion Henry Cooper. Ali, who compiled a 56-5 professional record, is considered one of the greatest boxers of all-time.
(Trevor Humphries / Getty Images)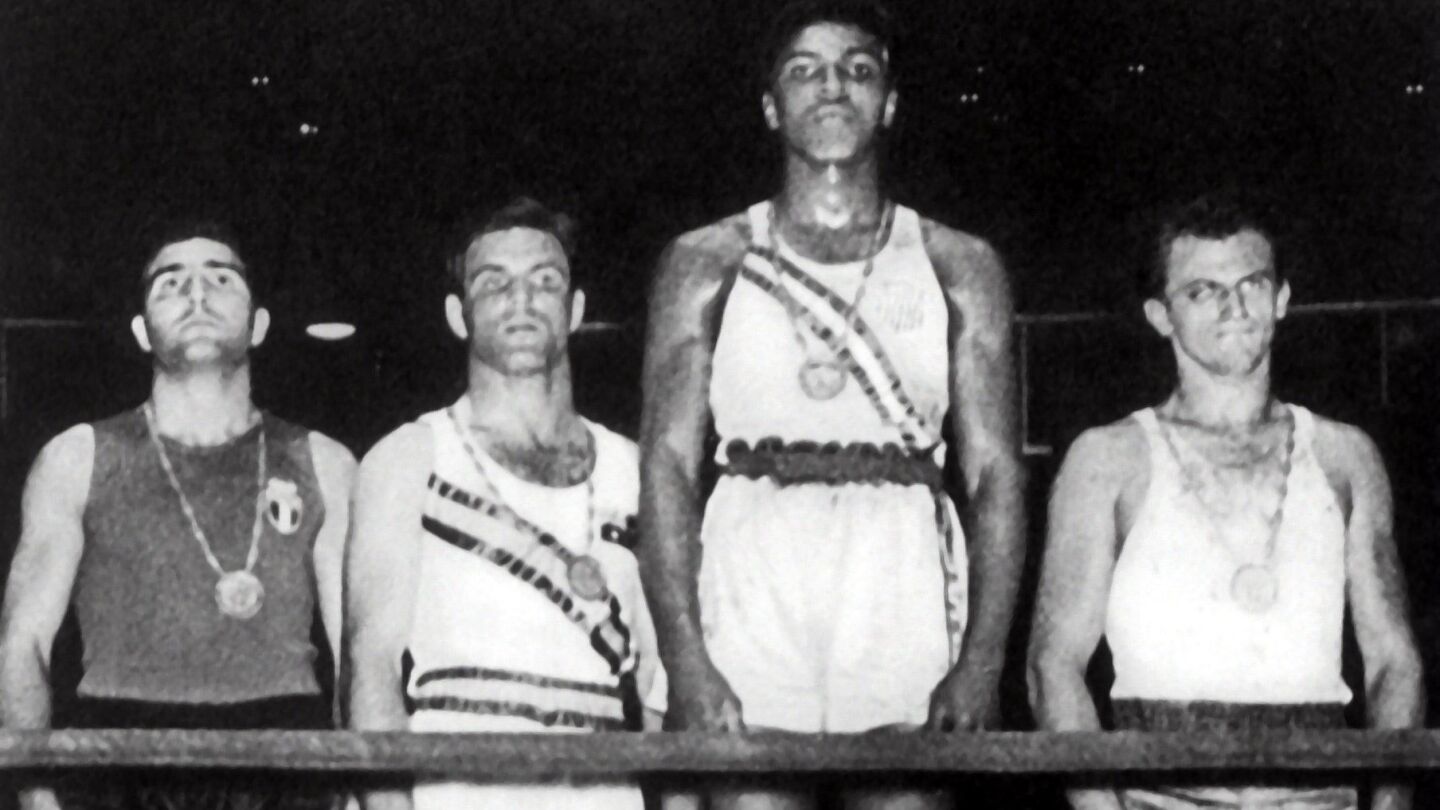 Muhammad Ali, second from right, stands on the medal podium at the Olympic Games in Rome after winning the light-heavyweight gold medal. Zbigniew Pietrzykowski of Poland, the man he beat in the final, is on his left.
(IOC / Allsport)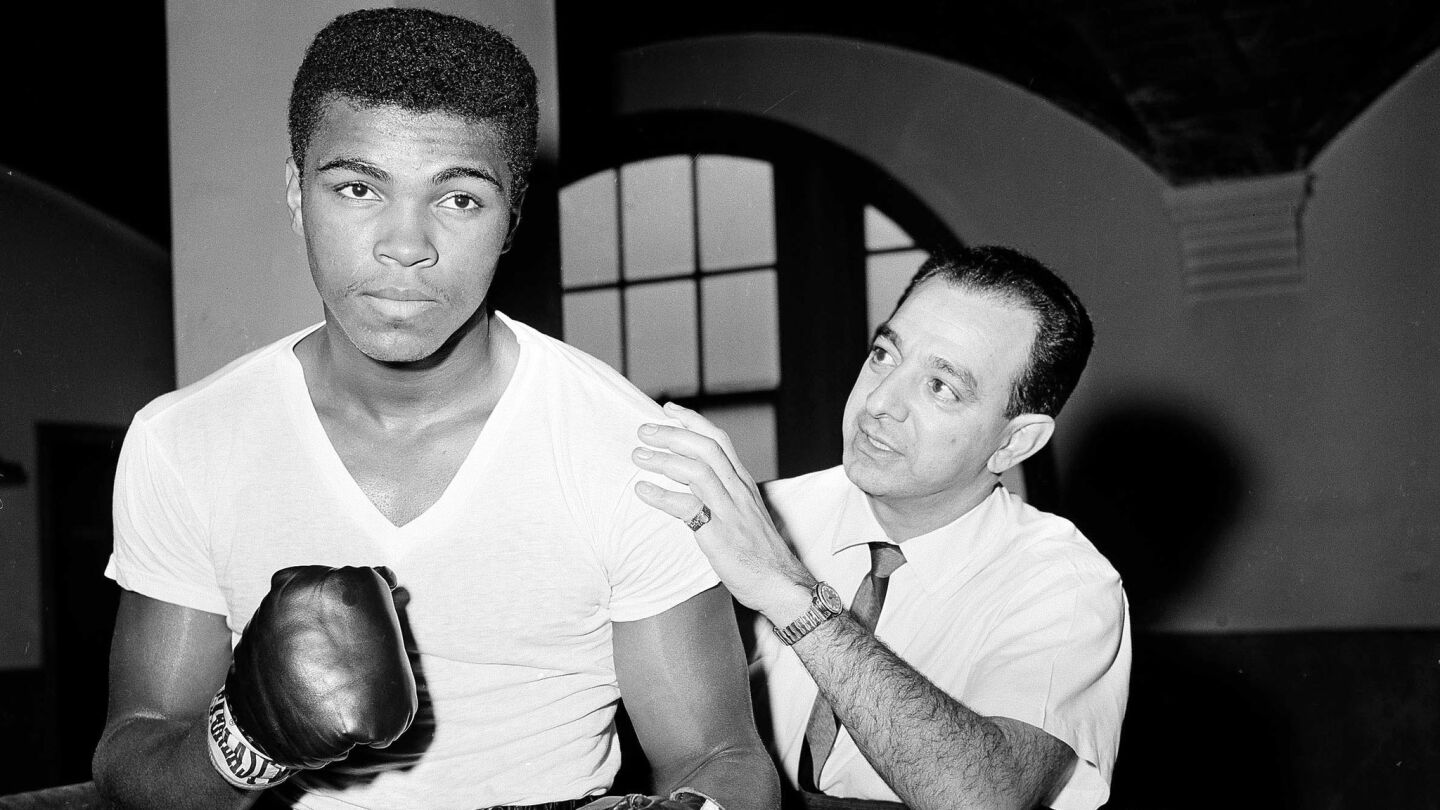 Boxer Muhammad Ali is seen with his trainer, Angelo Dundee, at City Parks Gym in New York on Feb. 8, 1962.
(Dan Grossi / Associated Press)
Heavyweight champion Sonny Liston, left, and Muhammad Ali exchange punches during their first fight in Miami on Feb. 25, 1964. Ali, then known as Cassius Clay, defeated Liston by technical knockout in the seventh round to claim the title.
(Hulton Deutsch / Allsport)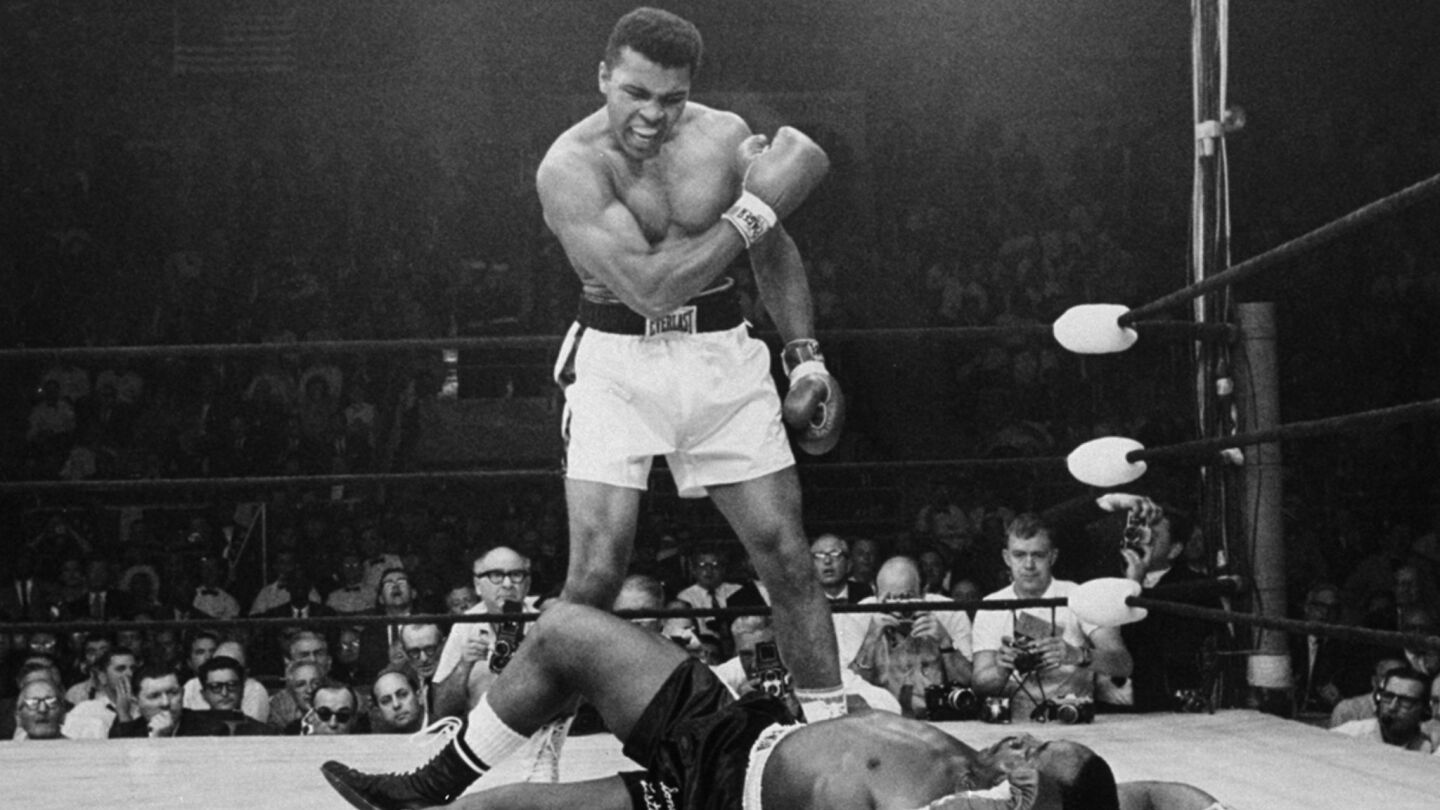 Heavyweight champion Muhammad Ali stands over fallen challenger Sonny Liston, shouting after knocking him down with a short, hard right to the jaw during their bout in Lewiston, Maine, on May 25, 1965.
(John Rooney / Associated Press)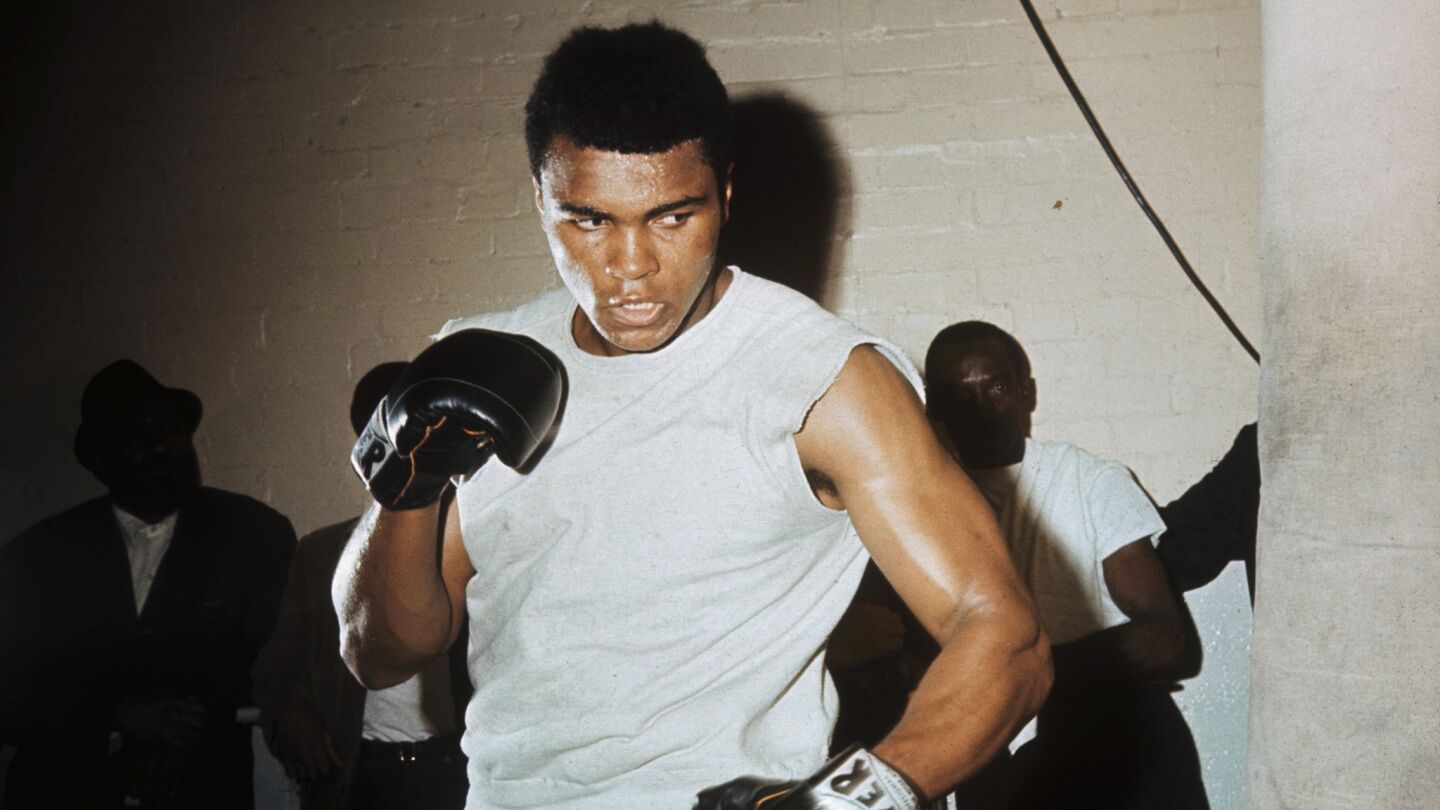 Muhammad Ali trains in London in 1966.
(Wesley / Getty Images)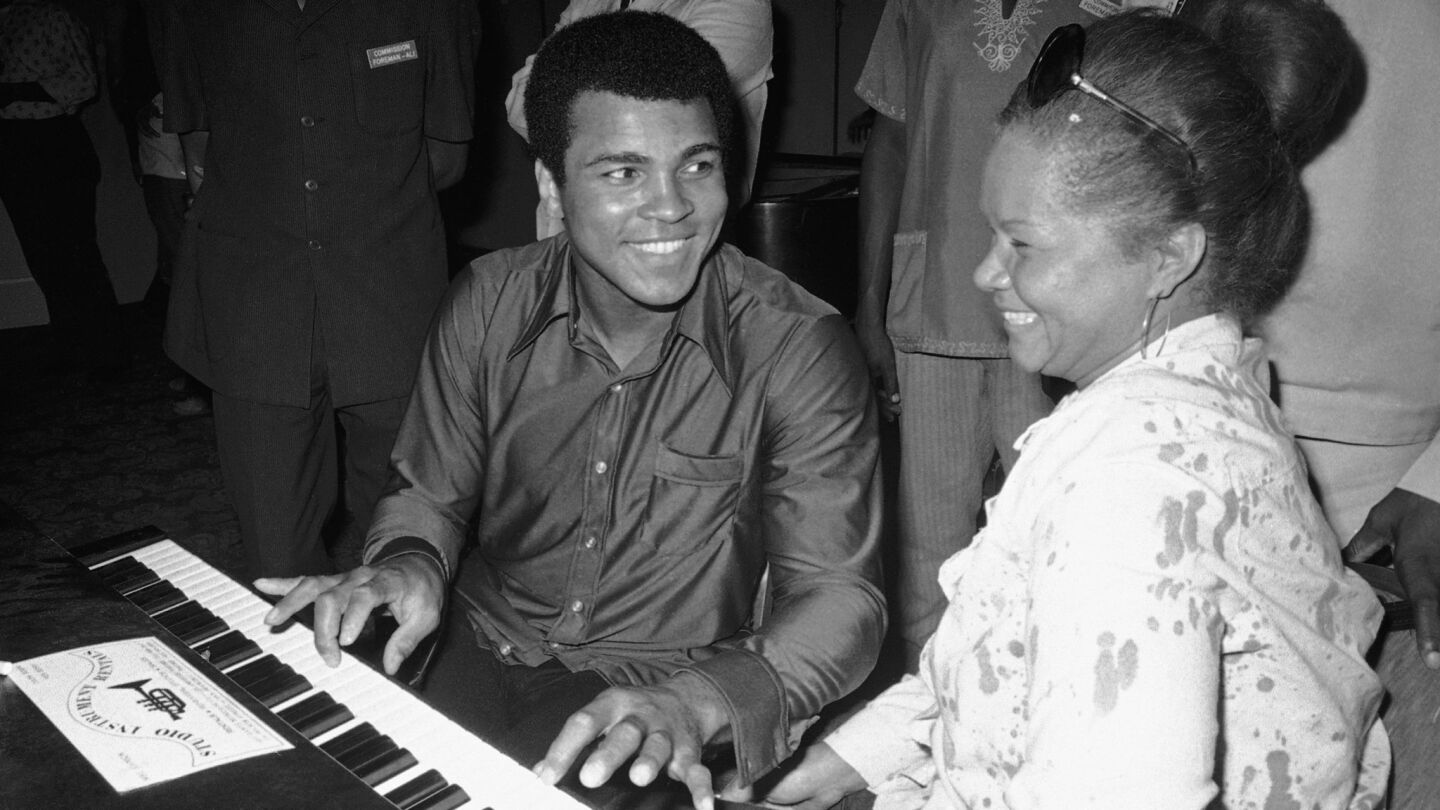 Muhammad Ali, left, smiles as he plays notes on a piano while sitting next to recording artist Etta James on Sept. 22, 1974.
(Horst Faas / Associated Press)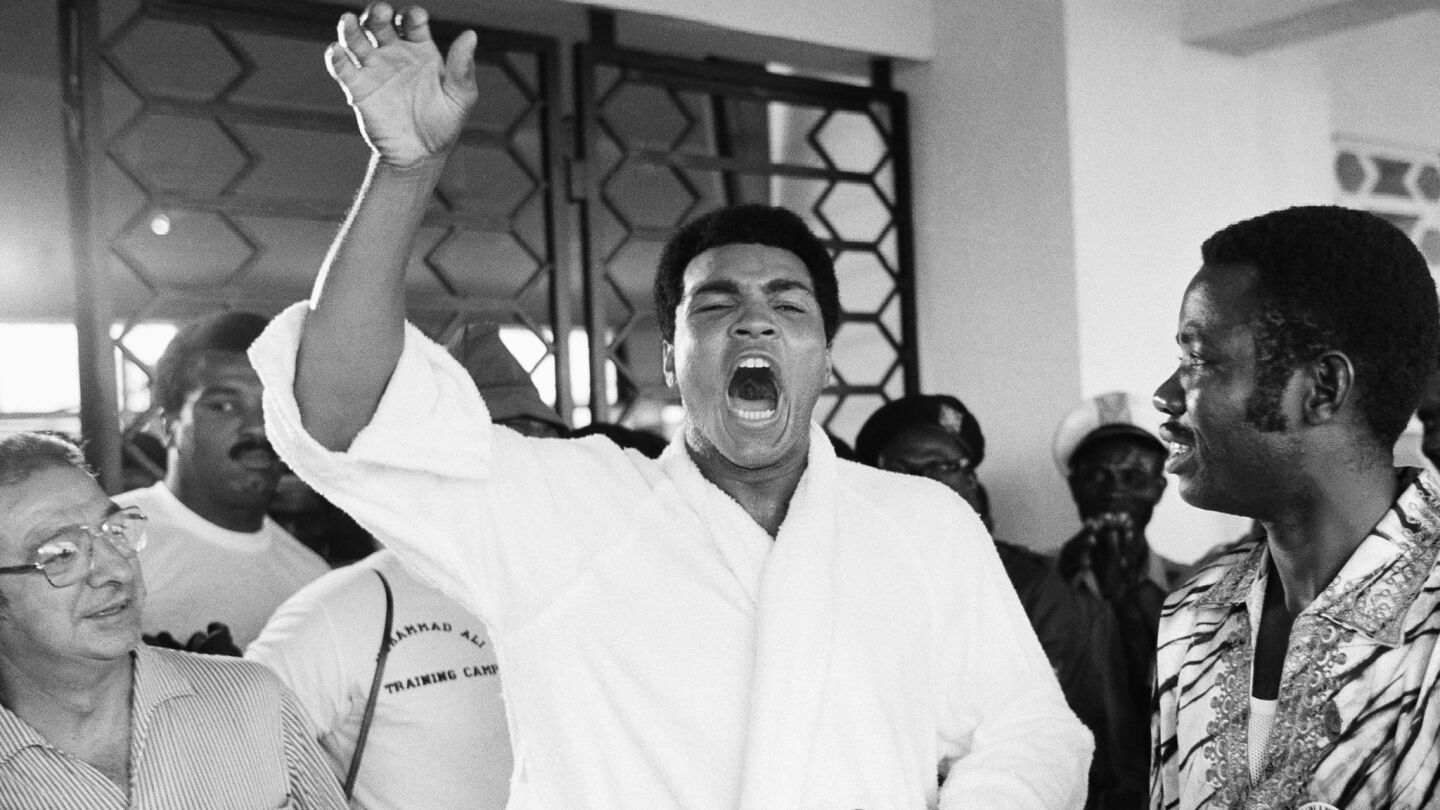 While in Zaire preparing for his upcoming bout against George Foreman, Muhammad Ali declares in the Lingala language, "ako bo mai ye," which translates as "I will kill him" while appearing before a crowd of fans on Sept. 12, 1974.
(Horst Faas / Associated Press)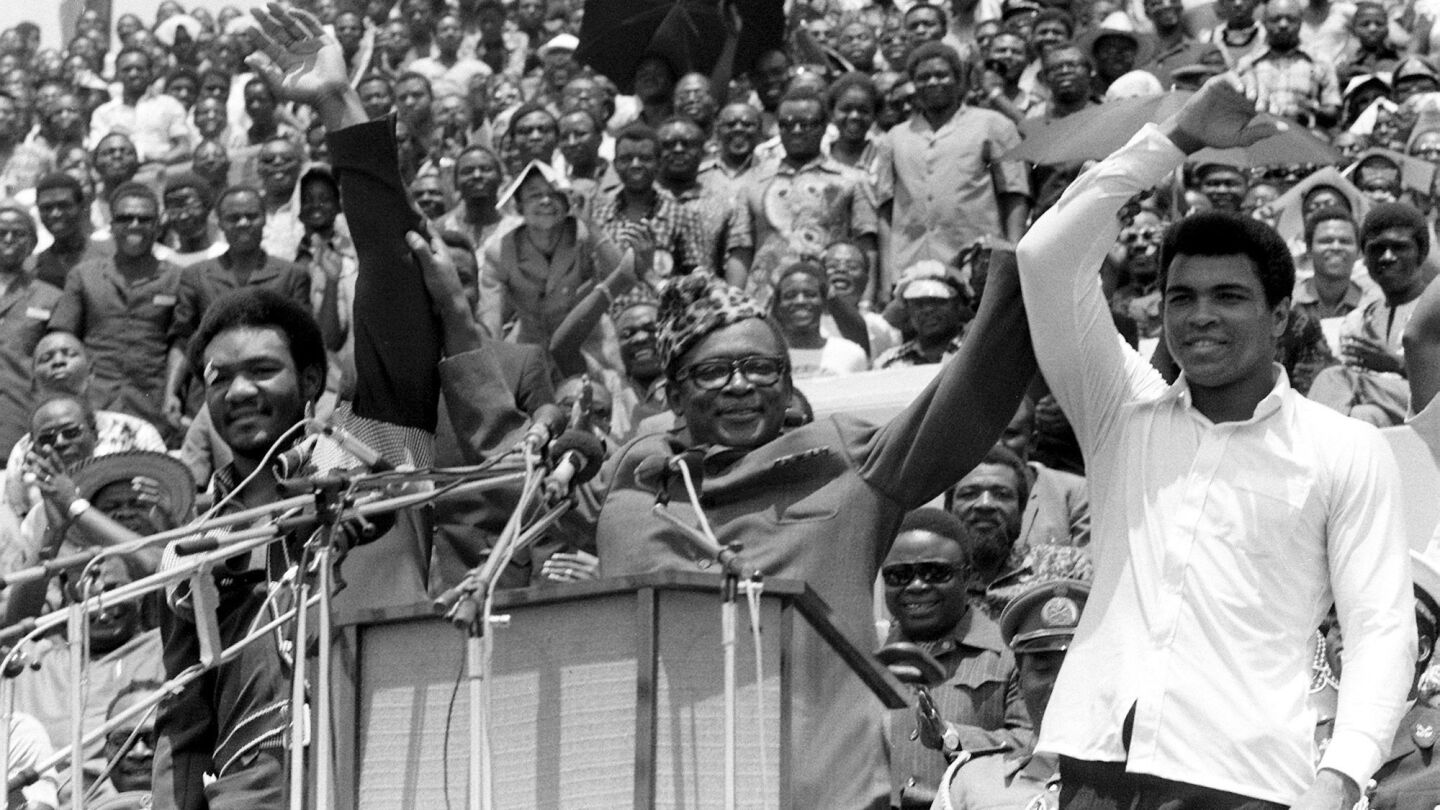 Mobutu Sese Seko, center, president of Zaire, raises the arms of George Foreman, left, and Muhammad Ali during a rally in Kinshasa on Sept. 22, 1974, to promote their upcoming heavyweight title bout.
(Horst Faas/ Associated Press)
Muhammad Ali, right, punches George Foreman in the head during their heavyweight title bout in Zaire on Oct. 30, 1974.
(Ed Kolenovsky / Associated Press)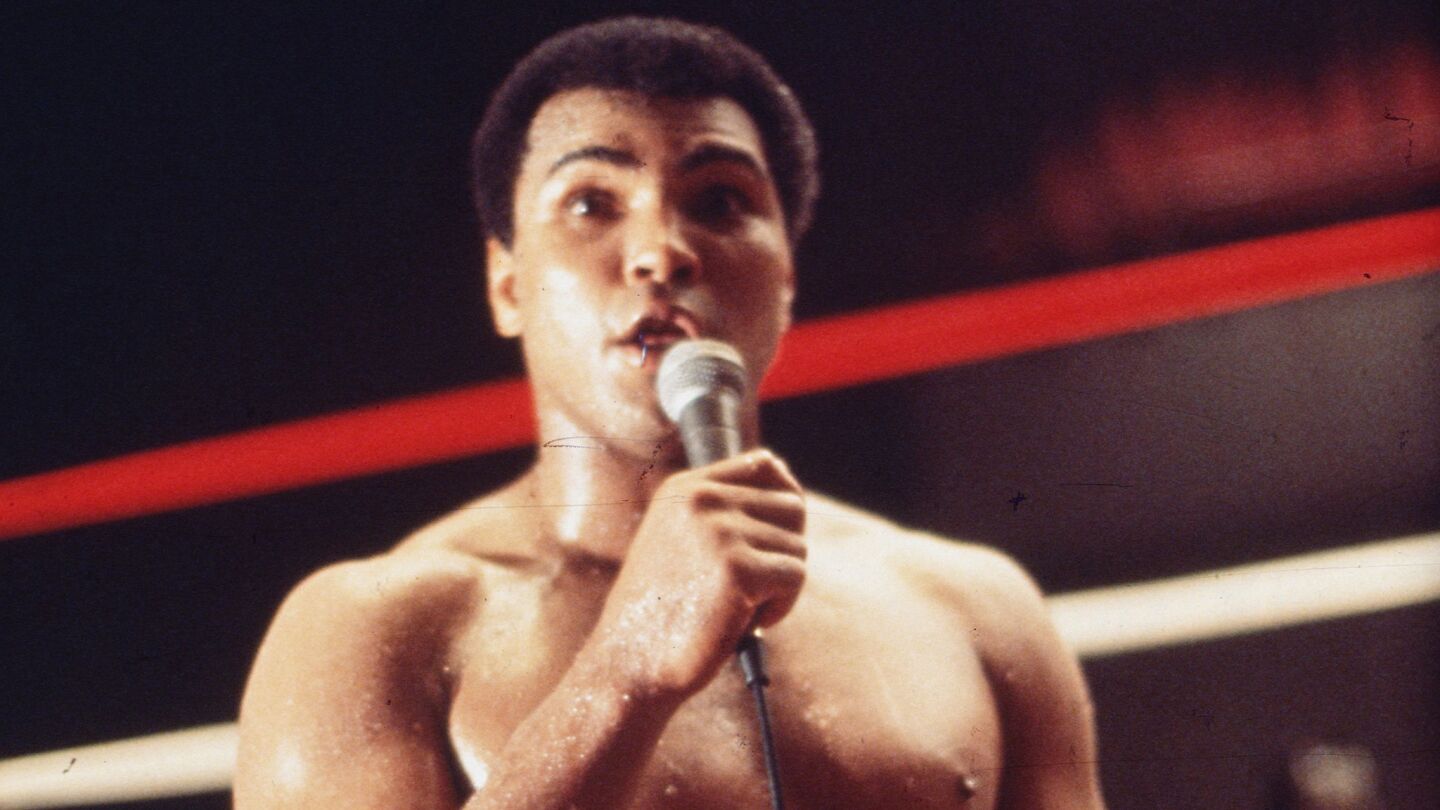 Muhammad Ali addressing the crowd before his heavyweight title victory over Leon Spinks in New Orleans in 1978.
(Keystone / Getty Images)
Boxing legend Muhammad Ali, right, clowns around with Oscar De La Hoya while appearing together in New York on Dec. 2, 1997.
(Doug Kanter / Associated Press)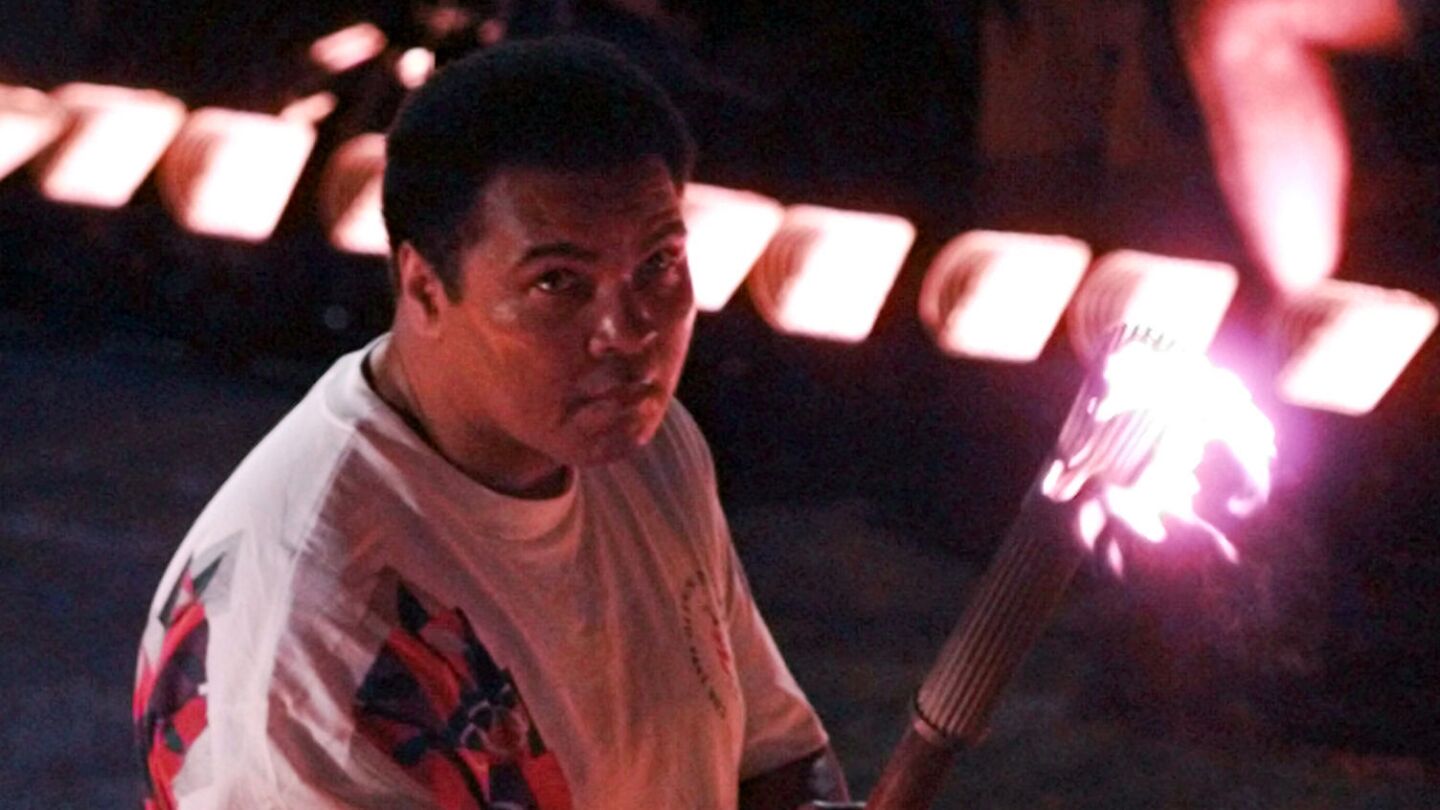 Muhammad Ali watches as the flame climbs up to the Olympic torch while taking part in the opening ceremonies of the 1996 Atlanta Olympic Games.
(Doug Mills / Associated Press)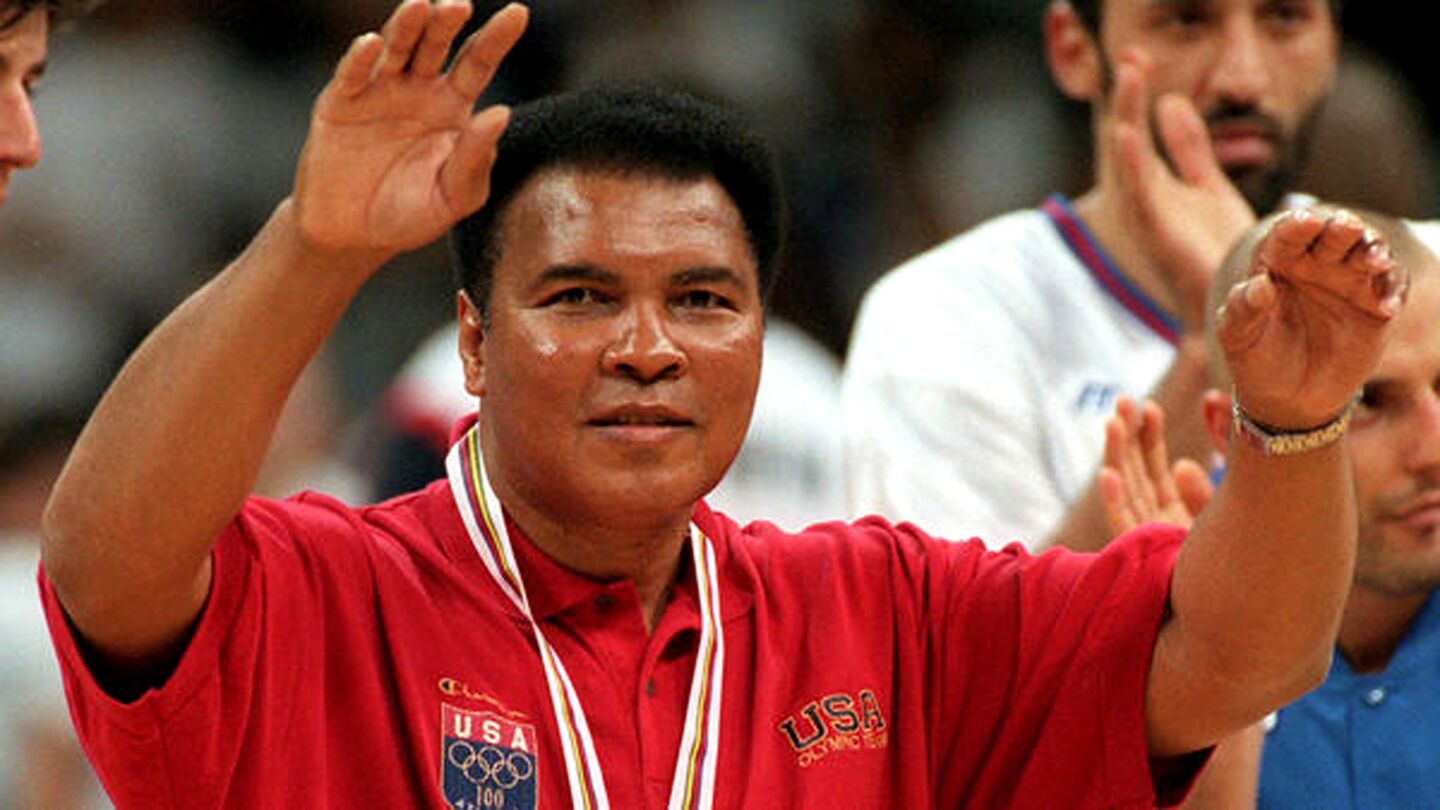 Muhammad Ali acknowledges the cheers of the crowd during halftime of the gold-medal basketball game between the United States and Yugoslavia at the Atlanta Olympic Games on Aug. 3, 1996.
(Paul Morse / Los Angeles Times)
Former heavyweight champion Muhammad Ali throws playful punch toward a photographer while sitting on a bus in front of Locke High School in December 1996.
(Ken Lubas / Los Angeles Times)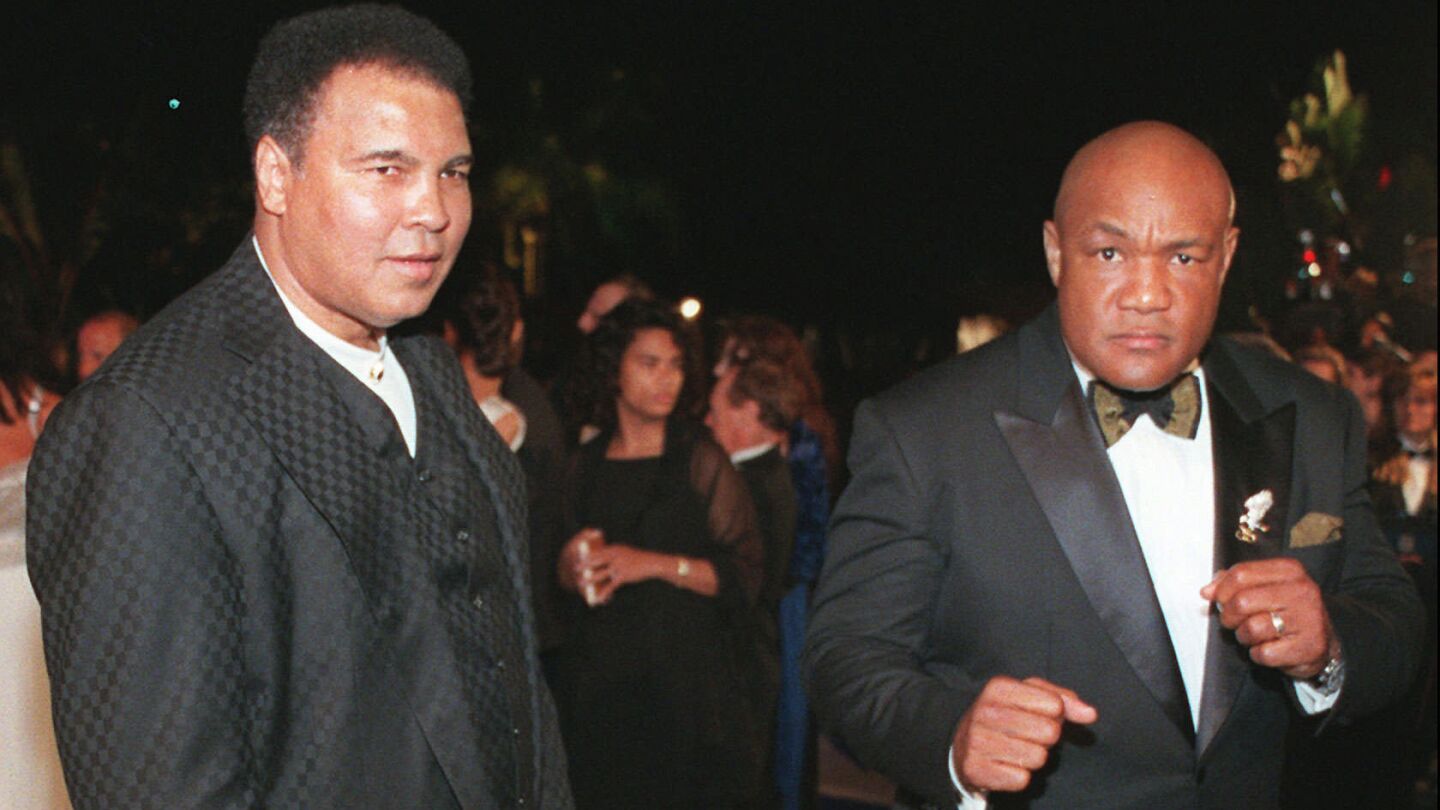 Muhammad Ali, left, and George Foreman arrive at the Vanity Fair Oscar party in Los Angeles on March 24, 1997.
(E.J. Flynn / Associated Press)
Boxing great Muhammad Ali, left, and heavyweight champion Evander Holyfield pose for the camera while attending the ESPY Awards in New York on Feb. 10, 1997.
(Timothy A. Clary / AFP / Getty Images)
Muhammad Ali, right, and his daughter, boxer Laila Ali, pose for a picture during a celebrity roast for charity in Los Angeles on Nov. 16, 2000.
(Kevork Djansezian / Associated Press)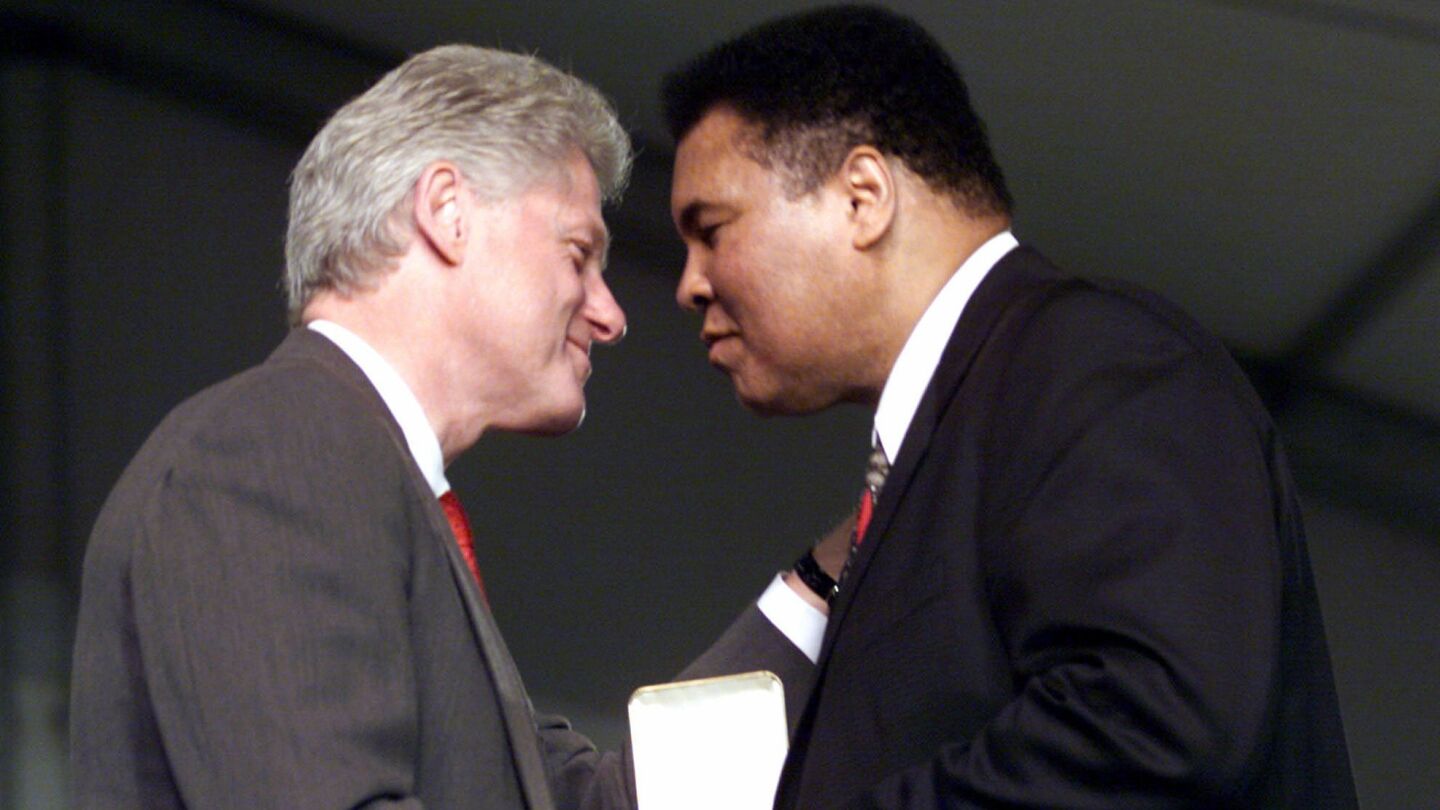 President Bill Clinton presents boxing great Muhammad Ali with a Presidential Citizens Medal during a ceremony at the White House on Jan. 8, 2001.
(Ron Edmonds / Associated Press)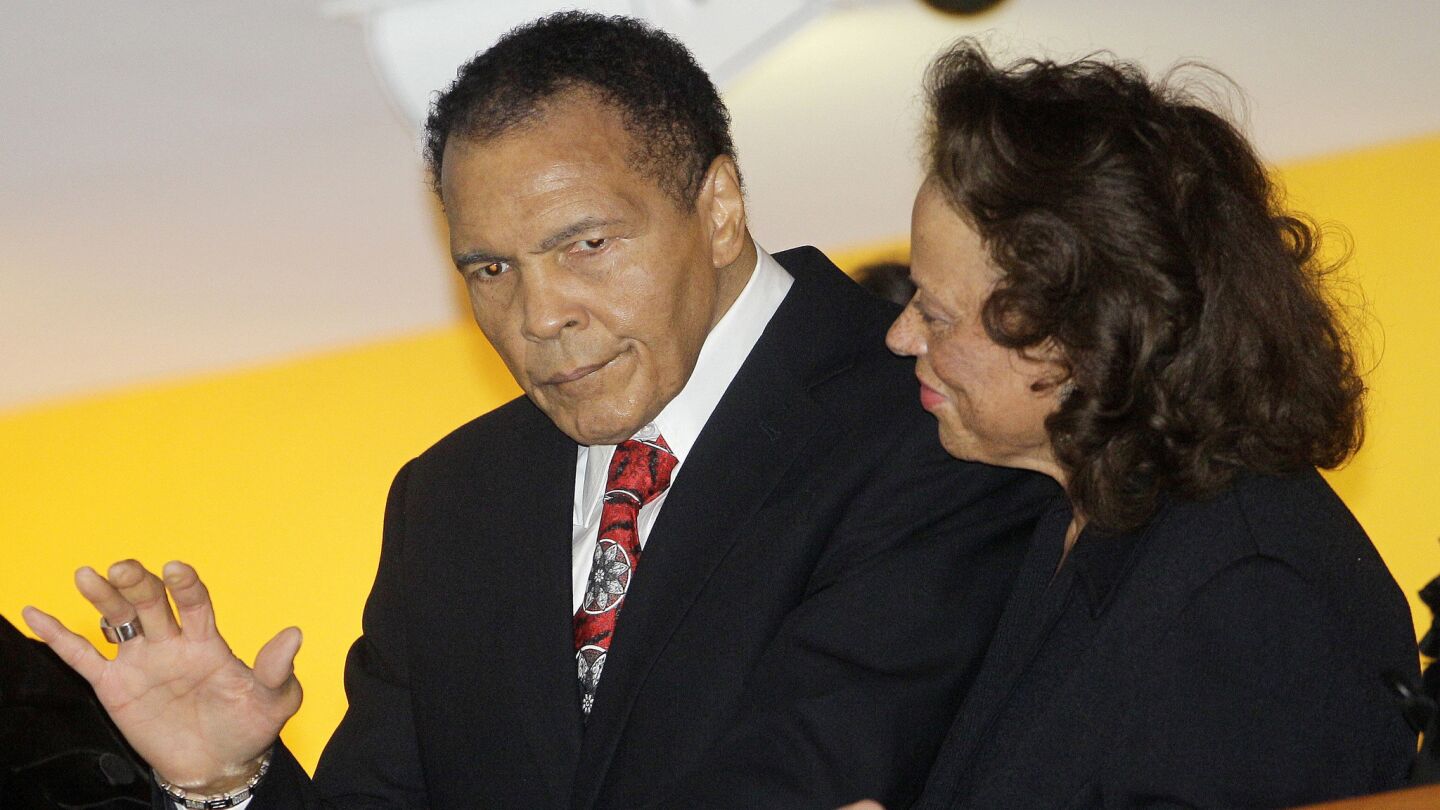 Muhammad Ali stands with his wife, Lonnie, while waving to friends attending his 70th birthday celebration at the Muhammad Ali Center in Louisville, Ky., on Jan. 14, 2012.
(Mark Humphrey / Associated Press)
The enormity of Muhammad Ali's death reverberated Saturday in the impact felt by the millions he touched, especially those in the fight game.
Manny Pacquiao said his decision to pursue a life in public service as a senator in the Philippines after winning a record eight division belts was influenced by Ali's embrace of mankind.
Unbeaten Floyd Mayweather Jr. said "words can't explain" what Ali did for boxing, acknowledging the three-time heavyweight champion "was one of the guys who paved the way for me."
And Ultimate Fighting Championship Chairman Lorenzo Fertitta credited Ali for spawning Fertitta's love of combat sports, and pointed to the "Louisville Lip's" showmanship as an example of how the UFC has banked on charismatic fighters to become the billion-dollar enterprise it is now.
Ali died in what a family spokesman described as a "peaceful passing" in a Phoenix hospital Friday night from what was said Saturday to be septic shock after entering the facility for respiratory problems.
Veteran promoter Bob Arum, who handled 26 of Ali's bouts, including the famed "Thrilla in Manila" trilogy-capping victory over Joe Frazier, recalled the charismatic and formerly polarizing figure as "the most transforming figure that I have encountered — for America and the world."
Ali was diagnosed with Parkinson's disease more than 30 years ago, moving many to tears with his arm-shaking lighting of the Olympic torch at the 1996 Summer Games in Atlanta, and family spokesman Bob Gunnell told reporters, "We don't have an official cause of death yet, but it has to be from complications of Parkinson's."
Fertitta said he pushed to institute protections for his 500-plus fighters partially as a result of Ali's brain trauma.
He routinely gives to the Lou Ruvo Center for Brain Health at the Cleveland Clinic in Las Vegas, extending a partnership to study the brains of UFC fighters at the facility with a $1-million donation in February.
"Safety is the most important thing," Fertitta said. "We want our fighters to know from a health and safety standpoint exactly where they stand. That's why we participate in this program and encourage everyone to go to the Cleveland Clinic and get annual checkups – MRIs, tests from the latest technology they have to study what's going on with the fighter's brains. We think it's a very important element not only in this sport, but all contact sports."
While Ali's health battle was extended and powerful, silencing a brash, entertaining voice, it was his dynamic personality, wit and fighting that will be most remembered.
Fertitta said that, with Ali in mind, he and UFC President Dana White made a conscious effort to allow their top fighters , including Conor McGregor, Ronda Rousey and Jon Jones, to expand on their personalities, helping the organization rise from debt 15 years ago to become a $1.65-billion operation, according to Forbes.
Ali "definitely, clearly created the road map for our promotion," Fertitta said.
Boxing benefited from Muhammad Ali's talents, but not nearly as much as mankind benefited from his humanity.
— Manny Pacquiao
Veteran boxing publicist Bill Caplan saw Ali's well-plotted self-publicity at play while working on two of his fights, including the momentous 1974 "Rumble in the Jungle" against then-unbeaten George Foreman.
"He was a great athlete, but the greatest publicity man I've ever known. He would do anything you asked [promotion-wise] and would think of a lot of it himself," Caplan said, recalling a scene months before a Foreman fight against Ken Norton, when Foreman and Ali crossed paths and met casually inside an empty Hilton Hotel boardroom in Caracas, Venezuela.
"I was like a fly on the wall for that," Caplan said. "Ali was doing color [commentary] on ABC with Howard Cosell. Ali couldn't be any kinder one-on-one. He gave Foreman advice on how to handle being the champion, like he was a Dutch uncle — couldn't have been nicer.
"Then we walked outside, where there were a lot of people in the lobby, and Ali said, 'You see this robot [emulating Foreman's slow-moving power punches]? You know what I'm going to do to him?'
"You saw the two faces of Ali in one second. George was laughing and laughing. He got it."
After Ali beat Sonny Liston for the heavyweight belt in 1964, he faced being drafted to serve in the Vietnam War, and refused — provoking a three-year-plus absence from the ring and serving as a lightning rod during the height of the civil rights era.
"It's hard for people 50 or younger to realize what this country was like in the 1950s and '60s, how bad it was for African Americans in this country — how they fought just to eat at a lunch counter or stay at a hotel," Arum said. "There was no opportunity.
"Ali spoke out against that in a way that really connected with people, even more than the melodic and philosophical way that Martin Luther King Jr. spoke out. Because Ali was a great sportsman and boxer, he was able to reach people and, I think, had a tremendous effect on bringing change to this country."
No act was more principled than giving up massive boxing purses to defy the draft, Arum said.
"Once people saw that he sacrificed his livelihood for what he believed in, that really elevated him in the minds of people to be almost saint-like," Arum said. "Everybody, myself included, counseled him not to take that step that led him to not fight for three and a half years, but he felt he was doing the right thing. And it ended up that it was the right thing — for him, the world and the country."
Ali returned to boxing in 1970 and lost an epic 1971 showdown with Joe Frazier, then reunited with the World Boxing Assn. heavyweight belt he lost due to the Vietnam stance by knocking out Foreman in 1974 in Africa.
Veteran boxing writer Jerry Izenberg, who covered the "Rumble in the Jungle," found Ali after his eighth-round knockout victory standing alone at sunrise, overlooking the Congo River.
Without knowing anyone was behind him, Ali raised his famously long arms skyward, turned to see three writers watching the scene and said, "Fellas, you'll never know what tonight meant to me."
Izenberg wrote, "In that moment, he was indeed the king of the world."
Ali quickly avenged a 1978 loss to Leon Spinks to claim the belt for a third time.
"His story and his character and his life will be part of history that will be studied by whoever looks back on the last 50 years," said Arum, who, like others, blames the toll of the brutal "Thrilla in Manila" as the beginning of the brain damage that plagued Ali.
Ali said his fatigue in the bout was "the closest thing to death" he ever experienced.
"We lost a giant today," Pacquiao said. "Boxing benefited from Muhammad Ali's talents, but not nearly as much as mankind benefited from his humanity. Our hearts and prayers go out to the Ali family. May God bless them."
The California Boxing Hall of Fame announced Saturday that it will induct Ali into its posthumous wing Oct. 22 after he went 4-1 in five California fights, including three 1962 victories at the Los Angeles Sports Arena and a split-decision triumph over Ken Norton at the Forum in 1973.
Perhaps fittingly, UFC middleweight Kevin Casey, married to Ali's daughter, Hana, fought to a split-draw Saturday at UFC 199 at the Forum.
Current World Boxing Council heavyweight champion Deontay Wilder, an Alabama product, won his belt last year on Ali's 73rd birthday.
"It's definitely a sad day for boxing and all the fans throughout the world," Wilder said. "Ali, as a fighter and a man outside the ring — his character, charm, personality and his fighting skill were all phenomenal. I truly feel there will never be another Muhammad Ali, no matter what.
"People can emulate him, try to talk like him, but there will never be another man like him. So it's just a sad moment for me.
"When I won that title on his birthday, I sort of felt as if he was passing the torch for me to carry. As he leaves, I'm even more determined to keep that Ali legacy going to bring excitement to the heavyweight division."
Twitter: @latimespugmire
ALSO
For a kid from Louisville, there was no one like Muhammad Ali
Muhammad Ali was the greatest, but his greatest fights took a lot out of him
Op-Ed: Don't remember Muhammad Ali as a sanctified sports hero. He was a powerful, dangerous political force
---
Get our high school sports newsletter
Prep Rally is devoted to the SoCal high school sports experience, bringing you scores, stories and a behind-the-scenes look at what makes prep sports so popular.
You may occasionally receive promotional content from the Los Angeles Times.