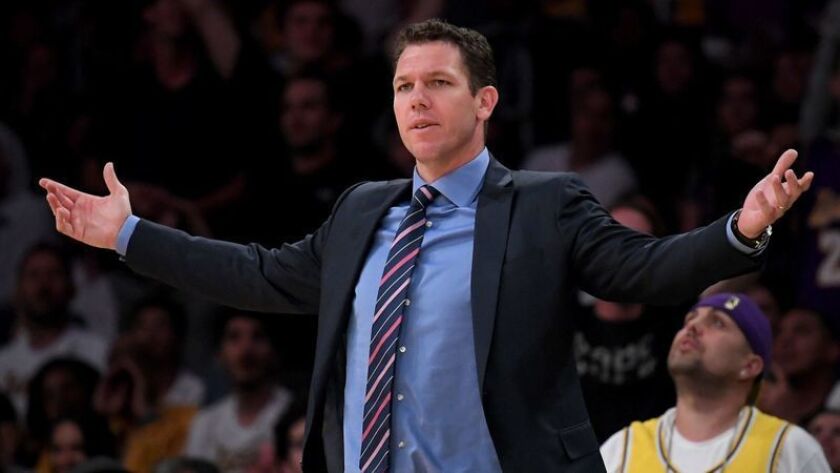 Good morning, and welcome to the Essential California newsletter. It is Saturday, April 13. Here's what you don't want to miss this weekend:
TOP STORIES
The Lakers hired Luke Walton almost three years ago with visions of him helping to resurrect the franchise, bringing Golden State Warriors-style basketball south, and being the team's coach for decades to come. Instead, he and the Lakers have "mutually" agreed to part ways, the team announced in a statement Friday afternoon. Walton was brought in the year after Kobe Bryant retired. The Lakers' record improved each season but they also didn't make the playoffs; they've now missed the playoffs for a franchise-record six consecutive seasons. Los Angeles Times
The big winner? Columnist Bill Plaschke says Walton is coming out ahead in this. Los Angeles Times
Plus: The departures of Walton and Magic Johnson leave the Lakers listing aimlessly, writes columnist Arash Markazi. Los Angeles Times
New findings from the Inspector General
Officials working under Los Angeles County Sheriff Alex Villanueva have been inactivating internal investigations of department personnel at a high rate, with most of the cancellations not conforming with department policies, according to a report issued Friday by the Sheriff's Department's chief watchdog. A handful of the 45 inactivated investigations from Jan. 1 through Feb. 28 involve criminal allegations such as child abuse, domestic violence and having sexual relations with an inmate, according to the report by Rodrigo A. Castro-Silva, the interim leader of the Los Angeles County Office of Inspector General. Los Angeles Times
One year later
A year ago this month, the Trump administration chaotically unveiled its family separation policy. After two months of public outcry, Trump signed an order to end separation. Now, he and some of his closest advisors talk of bringing it back in a new form. But the impact of the first go-round still reverberates from Central America to the White House, from detention centers in Texas to committee rooms in Congress. Los Angeles Times
Trump's new threat: President Trump singled out California on Friday with an attention-grabbing threat to unleash detained migrants into sanctuary cities, despite warnings from his advisors that the action would run afoul of the law. Los Angeles Times
Plus: In Mexico, reality differs from Trump's claims of migrant crackdown. Los Angeles Times
AROUND CALIFORNIA
Some fun this weekend: The L.A. Times Festival of Books takes place today and Sunday on the USC campus. Here's everything you need to know before you go. Los Angeles Times
And the award goes to … : Some of the most provocative topics in American political discourse were at the heart of the books celebrated Friday night during the 39th annual Los Angeles Times Book Prizes. Los Angeles Times
In the desert: How the first Coachella upended the festival business. Los Angeles Times
About that afternoon: One of the men who was wounded in the shooting that killed beloved South L.A. rapper and community activist Nipsey Hussle has been arrested on a parole violation, according to officials and court records. Los Angeles Times
Happening this weekend: An effort by Hollywood's writers and their agents to resolve a dispute over industry practices appeared to collapse Friday night, as the guild said it had not reached a settlement to end the standoff. Los Angeles Times
Pleading guilty: He was so brilliant, prosecutors said, that you could pick the score you wanted on the SAT or ACT, and he would hit it. Mark Riddell, a 36-year-old Harvard graduate who was accused of doctoring dozens of college entrance exams for the children of wealthy families, pleaded guilty Friday to charges of fraud conspiracy and money laundering conspiracy, federal authorities in Boston said. Los Angeles Times
Looking for help: Gov. Gavin Newsom urged lawmakers Friday to rethink existing rules regarding when utility companies pay for wildfires sparked by their equipment, though he stopped short of embracing any specific solution to the long-standing political impasse over the issue. Los Angeles Times
Captured: A teenage murder suspect who had escaped from a juvenile hall in Orange County was recaptured by sheriff's deputies late Friday, officials said. Los Angeles Times
Scary: Passengers may have been exposed to measles at Long Beach Airport. Los Angeles Times
Plea deal: Dealio Lockhart was sentenced Friday to 22 years in prison for his role in a fiery street racing crash that killed three people on the 5 Freeway in Commerce. After the crash, the LAPD and CHP formed a task force to tackle the problem of illicit racing. Los Angeles Times
The Embarcadero: The fight over a waterfront homeless shelter shows divisions in a diverse San Francisco district. San Francisco Chronicle
Perspective: The real costs of Rep. Devin Nunes' defamation lawsuit against the Fresno Bee. Columbia Journalism Review
"Ennobling smut": What's up with "Now Apocalypse"? The New Yorker
Columnist Michael Hiltzik: UC's deal with Catholic hospitals threatens the health of women and LGBTQ patients. Los Angeles Times
Arrested: The head of a Sherman Oaks firm accused of bilking thousands of investors in a $1.3-billion Ponzi scheme was arrested Thursday along with two associates on federal criminal charges. Los Angeles Times
Is your stomach ready for this? Meet the new 16-inch, $21 hot dog at Dodger Stadium. LAist
Get the Essential California newsletter »
THIS WEEK'S MOST POPULAR STORIES IN ESSENTIAL CALIFORNIA
1. Here's what happened inside Trump National Golf Club during the president's South Bay visit. Orange County Register
2. Stanford kicks out a student as the fallout from the college admissions scandal grows. Los Angeles Times
3. The college admissions scandal enters a new phase as many parents set guilty pleas. Los Angeles Times
4. One of California's last black enclaves is threatened by Inglewood's stadium deal. Los Angeles Times
5. An Uber driver dropped passengers at an airport, then tried to burglarize their home, police say. Los Angeles Times
ICYMI, HERE ARE THIS WEEK'S GREAT READS
Behind the gates: Tucked off a turn on Highway 101, down an unmarked fork in the road, the elusive gates of Hollister Ranch swung open to a 14,500-acre oasis — described by many as the last vestige of the old California coast. Andy Mills waved to the guard and, familiar with every bump and turn, navigated his truck around the ranch's first narrow curve. He braked for a cow that ambled across the pavement. Three more grazed nearby. Los Angeles Times
Changing times: In the age of legal marijuana, many employers drop "zero tolerance" drug tests. Los Angeles Times
Game Workers Unite: As video games make billions, the workers behind them say it's time to unionize. Los Angeles Times
Havens: Susan Orlean and R.M. Schindler, a love story in two chapters. Los Angeles Times
Bombay Beach Biennale: How much hip can the desert absorb? New York Times
Back from adversity: Golden State center DeMarcus "Boogie" Cousins enters the playoffs with a championship run, and his career, in the balance. The Undefeated
Please let us know what we can do to make this newsletter more useful to you. Send comments, complaints and ideas to Benjamin Oreskes and Shelby Grad. Also follow them on Twitter @boreskes and @shelbygrad.
---