The Sports Report: Maybe the U.S. women should be paid more than the men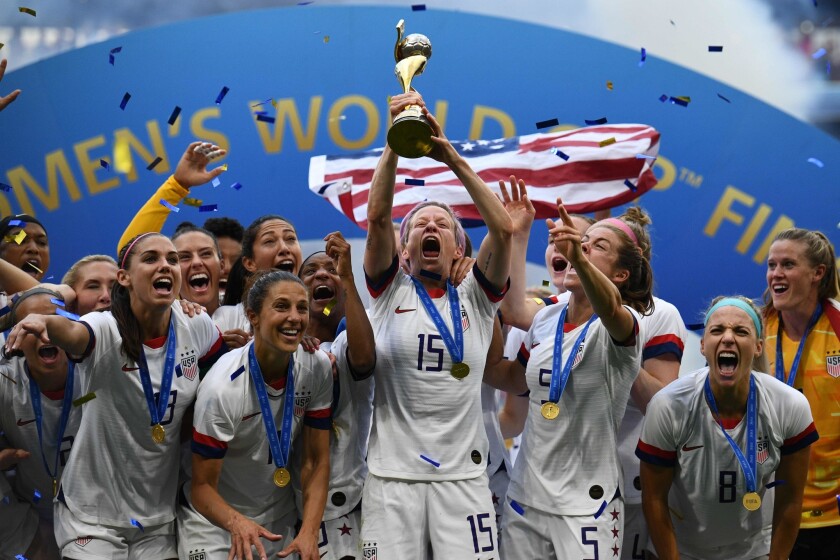 Howdy, my name is Houston Mitchell and it looks like the Dodgers are getting a break at the right time.
Women's World Cup
As I am sure everyone knows by now, the U.S. team won its second consecutive women's World Cup with a 2-0 victory over Netherlands on Sunday. The goals came from Megan Rapinoe, who was named the tournament MVP, on a penalty kick in the 61st minute and from Rose Lavelle, who scored in the 69th minute.
Overall, the U.S. outscored their opponents 26-3 and never trailed at any point. But let's get to the player reactions.
"I don't know if I've collected my thoughts just yet. I'm so emotionally exhausted," said Alex Morgan, the co-captain who finished with six goals in this World Cup.
"The whole experience hasn't really hit me yet," Lavelle said. "It's so surreal now."
"It's been a roller coaster. And I think any player that you ask has gone through their own individual ride where it was high, where they were low," said defender Becky Sauerbrunn. "You just kind of had to ride that roller coaster to make the team. And then to win this tournament is kind of a testament to all those paths and all those journeys."
"I got really emotional because I didn't know if I'd be here or not," Kelley O'Hara said. "If you would have talked to me even two months ago, I wouldn't have expected this — for myself especially. Winning a World Cup is probably the hardest thing you can do in football. And maybe in life, I don't know. And this is the hardest path we've had to take to win a major tournament."
What is this "path" and "roller coaster" Sauerbrunn and O'Hara are talking about?
The U.S. was eliminated in the quarterfinals of the 2016 Olympics. That was a stunning, unexpected exit. So coach Jill Ellis completely rebuilt the team from top to bottom. Roster, tactics, everything.
"I knew after 2016 we had to deconstruct this and reconstruct it," Ellis said. "That was the plan. We had to continue to evolve because the game was growing so fast.
"That was hard. But I think that was ultimately the right decision. To get to this point and see the validation in that and the trust in the players that came through that, it speaks for itself.
"The level overall around the world is growing exponentially every year. So yeah, this is incredibly difficult. The teams we had to come through were some of the best teams in the world. So in terms of the path and the level, this was pretty challenging."
Near the end of the game, supporters in the U.S. part of the stadium (the tournament was played in France) were chanting "Equal pay! Equal pay!" a reference to the lawsuit 28 U.S. players filed against the country's soccer federation in March alleging gender discrimination that affects their pay, training, travel, scheduling and medical treatment.
But I have to disagree. The women do not deserve to be paid equal to the men. After all, the women have won two consecutive World Cups. The men have never won zero. Sounds to me like the U.S. women should be paid more.
By the way, the U.S. men lost to Mexico, 1-0, in the Gold Cup final.
More reading
Helene Elliott: USWNT once again shines on biggest stage at Women's World Cup
U.S. victory tour could include Aug. 3 game at Rose Bowl
Baseball
The Dodgers stumbled slightly heading into the All-Star break, losing to the San Diego Padres, 5-3, for their third straight loss.
"We played the first half with such high energy and emotion, something like this was bound to happen at some point," said All-Star infielder Max Muncy, who hit his 22nd home run. "Thankfully for us, it's happening at a time where we're going to get a break and a chance to recover from it."
Hyun-Jin Ryu will start Tuesday's All-Star game, and Jorge Castillo takes a look at Ryu's journey from South Korea to the Dodgers and how L.A. ended up with him. Click here to read.
Meanwhile, the Angels lost to the Houston Astros, 11-10, to go into the break one game below .500. There was an ugly incident during the game when Houston's Jake Marisnick lowered his shoulder and leveled catcher Jonathan Lucroy while attempting to score. Lucroy had to be taken off the field. Marisnick should get suspended for the play, where he went out of his way to run into Lucroy, changing his path at the last moment to barrel into him.
You can watch the play here. Pay no attention to the doofus Astros announcers defending the play.
Lakers/Clippers
There is still a lot of fallout over the stunning series of moves over the weekend. I thought it was great for basketball, and great for L.A. basketball particularly. Staples Center should be sold out, or close to it, all season long no matter who is playing. I talked about my thoughts the last couple of newsletters, let's check in with what other Times reporters are saying:
Andrew Greif: How the Clippers landed two stars in Kawhi Leonard and Paul George
Bill Plaschke: Why did Lakers lose Kawhi Leonard and Paul George to Clippers? Their biggest weakness
From Magic Johnson to Charles Barkley, NBA legends applaud Kawhi Leonard
What do the rosters of each team look like right now? (Players listed under the position they are listed on each team's official roster)
Clippers
Guards
Patrick Beverley
Jerome Robinson
Landry Shamet
Sindarius Thornwell
Tyrone Wallace
Lou Williams
Forwards
Wilson Chandler
Paul George
JaMychal Green
Maurice Harkness
Montrezl Harrell
Mifondu Kabengele
Kawhi Leonard
Terance Mann
Rodney McGruder
Jonathan Motley
Centers
Angel Delgado
Ivica Zubac
Lakers
Guards
Kentavious Caldwell-Pope
Alex Caruso
Quinn Cook
Troy Daniels
Danny Green
Talen Horton-Tucker
Zach Norvell Jr.
Rajon Rondo
Lance Stephenson
Forwards
Anthony Davis
Jared Dudley
LeBron James
Kyle Kuzma
Centers
Tyson Chandler
DeMarcus Cousins
JaVale McGee
Which brings us to our next weekly…..
Sports poll
You see the rosters above. You know how deep the Western Conference is. So, who will win the Western Conference this season? Click here to vote in our poll. Or, if you prefer, you can email me here.
Results from last week's poll
We asked "Is the U.S. women's soccer team arrogant or just having fun?" After 3,668 votes, here are the results:
Just having some fun, 77.5%
Arrogant, 22.5%
Your favorite sports moment
What is your favorite all-time L.A. sports moment? Click here to tell me what it is and why, and I'll start running them in future newsletters. And yes, if your favorite moment is about the Angels or Ducks or a team just outside of L.A., I'll count that too. And the moment doesn't have to have happened in L.A., just needs to involve an area team.
Our next one comes from Gordon Pattison of Los Angeles:
"I have lived in Los Angeles 66 of my 73 years and have seen many, many of the greatest sports events during that time. I could vote for any of them and they would be worthy, but I will single out one that may seem obscure now.
"It was the summer of 1964 when I had finished my freshman year at USC. The U.S. vs USSR track meet was held in Los Angeles that year. This meet occurred every year alternating between U.S. and USSR venues. We were in the height of the Cold War so tensions were high, and a lot of national pride went into the rivalry. The USSR had won all of the previous meetings and were favored again.
"The meet was held in the Coliseum over two days in an atmosphere reminiscent of the Olympics. I managed to get two tickets, taking my girlfriend who is now my wife of 49 years. Dallas Long and Fred Hansen set world records. Valeriy Brumel won the high jump, but Ralph Boston was edged out in the long jump. For me the highlight of the meet was the improbable win of young Gerry Lindgren in the 10,000 meters against veteran Soviet distance runners. He steadily pulled ahead and with each lap, it became apparent he would win an event we never thought we had a chance of beating the Soviets.
"As he rounded the track, each lap seemed like a victory lap. The crowd came to its feet as he passed, cheering and clapping in what was maybe the first "wave." I will never forget the sheer joy of that moment. We went on the beat the Soviets for the first time since the meets began in 1958. USA! USA!"
Odds and ends
Brazil defeats Peru for first Copa America title since 2007…. Nneka Ogwumike and Chelsea Gray's big games help Sparks rout WNBA-leading Mystics…. What Dodgers non-all-star players will do over the All-Star break
Other newsletters
We also have other newsletters you can subscribe to for free. They are emailed to you and we don't sell your name to other companies, so no spam from us. They are:
Our Dodgers newsletter, written by me. Subscribe here.
Lakers newsletter, written by Tania Ganguli. Subscribe here.
Horse racing newsletter, written by John Cherwa. Subscribe here.
Soccer newsletter, written by Kevin Baxter. Subscribe here.
Today's local major sports schedule
No major events scheduled.
Born on this date
1923: Sprinter Harrison Dillard
1931: Sports TV pioneer Roone Arledge
1952: NFL player Jack Lambert
1963: Volleyball player Bob Ctvrtlik
1970: Tennis player Todd Martin
1980: Soccer player Robbie Keane
Died on this date
2015: NFL player Ken Stabler, 69
And finally
Highlights of Ken Stabler's NFL career. Click here to watch.
That concludes the newsletter for today. If you have any feedback, ideas for improvement or things you'd like to see, please email us here. If you want to subscribe, click here.
---
Get our high school sports newsletter
Prep Rally is devoted to the SoCal high school sports experience, bringing you scores, stories and a behind-the-scenes look at what makes prep sports so popular.
You may occasionally receive promotional content from the Los Angeles Times.