The year's best movies are led by the hit true story that proved audiences will still support adult dramas.
Amazon Studios' campaign for 'The Aeronauts' illustrates the challenges of making 'events' out of movies that will primarily be seen online, not in theaters.
Golden Globes nominations will arrive Monday. 'The Irishman' and 'Once Upon a Time ... in Hollywood' lead our predictions.
Leonard Goldberg's TV credits ranged from "Starsky and Hutch" to "Blue Bloods" and his independent movies included "WarGames" and "Sleeping with the Enemy."
If Trump thought Ukraine was irredeemably corrupt, why did he ask a corrupt government to investigate the Bidens?

As a physician who studies health economics, I wonder: Can our society afford to pay for the kind of medicines that have kept my wife's cancer at bay?
By retaining Clay Helton as football coach, USC President Carol L. Folt and athletic director Mike Bohn demonstrate they're fine with mediocrity.
Former No. 1 and 2018 Australian Open champion Caroline Wozniacki will retire from professional tennis after competing in Melbourne next year.
Milwaukee's Giannis Antetokounmpo will see Clippers' Kawhi Leonard on the court for the first time since he couldn't get past the Toronto Raptors in the Eastern Conference Finals in May.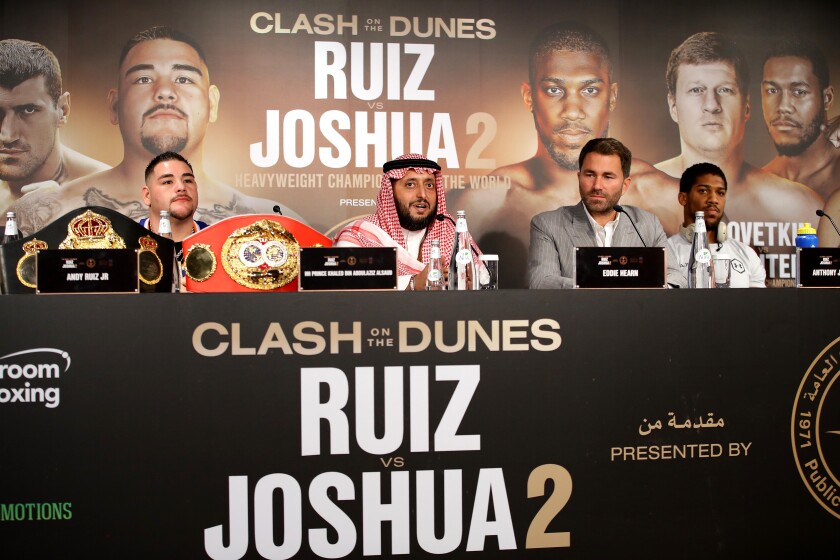 Fifty million dollars. That's the site fee that landed the Andy Ruiz-Anthony Joshua title fight for Saudi Arabia, which has a history of human rights violations.
A UPS driver and a person in a nearby car are among the dead after an apparent jewelry store robbery in Coral Gables turns into a deadly police chase.

Four men accused of raping and killing a woman in India's southern city of Hyderabad were fatally shot by police Friday, a police official said.
Welcome to the Los Angeles Times' 2019 holiday gift guide, where our editors and writers are sharing their favorite gifts to give — and receive!